As long as there has been college football, there has been an unofficial gap between the haves and the have-nots. Disparities have always existed in money, facilities, talent, depth, etc.
CUPCAKE SEASON 2008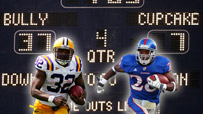 In 1998, that divide became official with the formation of the Bowl Championship Series, a coalition of the six major conferences and Notre Dame that was created to secure more broadcast money for the football powerhouses.
In 2008, however, most BCS programs still need their non-BCS cousins to carbo-load on cupcakes each September. Except, of course, when they prefer to invite a Division I-AA (Football Championship Subdivision) team for a pummeling in preconference play.
We decided to take a close look at nonconference matchups from the time the BCS was formed in 1998 through last season to determine several things:
• Which BCS schools absolutely won't pick on someone their own size?
• Which BCS schools consistently play the most BCS opponents out of conference?
• Which non-BCS schools boast the most victories over the big boys?
Here are the BCS schools that chose to play the lowest percentage of their nonconference games in the past decade against BCS opposition. Obviously, teams don't get to select their opponents in bowl games, so bowls are not factored into this study. The following data represent regular-season nonconference games from 1998 to 2007.


1. Minnesota 5.9%

No. of nonconf. gms.
Rec. vs. BCS
Rec. vs. I-A non-BCS
Rec. vs. I-AA
Pct. of gms. vs. BCS
34
1-1 (.500)
21-4 (.840)
6-1 (.857)
.059
Congratulations, Golden Gophers. You're officially the biggest bully in college football. Minnesota played only two nonconference games against other BCS programs from 1998 to 2007 -- a loss to Cal and a win over Baylor. Former coach Glen Mason did lead the Gophers to three bowl victories during his tenure in the Twin Cities, but he also compiled arguably the softest nonconference slate in the nation. It remains to be seen whether current coach Tim Brewster will follow suit. Although, after his team finished 11th in the Big Ten and lost to Florida Atlantic and I-AA North Dakota State in 2007, now probably isn't the time to toughen up the schedule.


2. Arkansas 11.8%

No. of nonconf. gms.
Rec. vs. BCS
Rec. vs. I-A non-BCS
Rec. vs. I-AA
Pct. of gms. vs. BCS
34
1-3 (.250)
25-0 (1.000)
5-0 (1.000)
.118
Unlike Minnesota and Kansas, the Razorbacks have enjoyed consistent success over the past 10 seasons. Arkansas has played in eight bowl games in that span and would seem to have little business picking on the directional schools of the world. The Hogs' most recent tough nonconference matchup ended badly, as USC swept a home-and-home set by a combined score of 120-31. This past weekend, the Razorbacks opened the Bobby Petrino era by narrowly avoiding a home loss to I-AA Western Illinois.


3. Kansas 14.3%

No. of nonconf. gms.
Rec. vs. BCS
Rec. vs. I-A non-BCS
Rec. vs. I-AA
Pct. of gms. vs. BCS
35
1-4 (.200)
15-5 (.750)
10-0 (1.000)
.143
Let's zero in on a team that loves to load up on the fluffiest cupcakes of all. The Jayhawks are the only BCS school to have played a I-AA or provisional I-A team in each of the past 10 seasons. Maybe that strategy has something to do with Kansas' lack of nonconference success in the past decade: 1-4, with two losses to Northwestern. Ouch. Kansas does travel to South Florida this season, but the 2008 menu also includes home games against Florida International, Louisiana Tech and Sam Houston State. Bon appetit.


4. Mississippi 14.7%

No. of nonconf. gms.
Rec. vs. BCS
Rec. vs. I-A non-BCS
Rec. vs. I-AA
Pct. of gms. vs. BCS
34
0-5 (.000)
21-4 (.840)
4-0 (1.000)
.147
With former Arkansas coach Houston Nutt calling the shots in Oxford, it seems unlikely that Ole Miss will deviate from its soft nonconference slates of the past decade. From 1998 to 2007, Mississippi was a combined 13-2 against two of its smaller neighbors, Memphis and Arkansas State. The Rebels played at Memphis four times during that span. Ole Miss is winless against nonconference BCS foes, with two losses each to Texas Tech and Missouri and one to Wake Forest. It gets another shot at the Demon Deacons, currently ranked No. 20, in Winston-Salem on Saturday.


4. Oklahoma State 14.7%

No. of nonconf. gms.
Rec. vs. BCS
Rec. vs. I-A non-BCS
Rec. vs. I-AA
Pct. of gms. vs. BCS
34
2-3 (.400)
15-6 (.714)
8-0 (1.000)
.147
From 1998 to 2007, only Baylor lost more games to non-BCS teams than the Cowboys among Big 12 teams. Those defeats came at the hands of Houston, Louisiana Tech, Southern Mississippi (twice), Troy and Tulsa. At least Oklahoma State was willing to play Houston and Troy on the road, which is relatively rare among BCS teams. Also, the Cowboys did travel to Georgia last season, and they've already defeated as many BCS nonconference teams on the road in 2008 -- Washington State last week -- as they did in the previous 10 seasons combined.


6. Oregon State 15.2%

No. of nonconf. gms.
Rec. vs. BCS
Rec. vs. I-A non-BCS
Rec. vs. I-AA
Pct. of gms. vs. BCS
33
3-2 (.600)
16-4 (.800)
8-0 (1.000)
.152
Admirably, the Pac-10 scheduled the fewest I-AA opponents of any conference from 1998 to 2007. Oregon State, however, was the exception. Eight of the 24 I-AA opponents scheduled by the Pac-10 during that span visited Corvallis. They weren't just regional matchups, as Oregon State lured Eastern Kentucky and Georgia Southern to Reser Stadium. The Beavers do play a relatively difficult nonconference slate this year, with trips to Penn State and Utah, and they have been willing to play giant killers Fresno State and Boise State twice each on the road. But two of their three BCS nonconference wins came against lowly Baylor and Temple.


7. Texas Tech 16.7%

No. of nonconf. gms.
Rec. vs. BCS
Rec. vs. I-A non-BCS
Rec. vs. I-AA
Pct. of gms. vs. BCS
36
2-4 (.333)
21-3 (.875)
6-0 (1.000)
.167
The Red Raiders can defend some of their nonconference scheduling as important to maintaining rivalries with former Southwest Conference foes, such as TCU and SMU, and regional opponents, such as New Mexico and UTEP. Playing six I-AA opponents is more difficult to defend, although six other Big 12 teams had as many or more from 1998 to 2007. Tech plays two I-AA teams this season, although its opener against Eastern Washington was added because Tulsa backed out of its contract to play in Lubbock just seven months before the teams' scheduled game.


8. LSU 17.6%

No. of nonconf. gms.
Rec. vs. BCS
Rec. vs. I-A non-BCS
Rec. vs. I-AA
Pct. of gms. vs. BCS
34
4-2 (.667)
22-2 (.917)
4-0 (1.000)
.176
The Tigers, winners of two of the past five BCS national championships, have played just three road nonconference games against BCS teams in the past 10 seasons. They're 26-2 against non-BCS foes over that span, with the losses coming at home against UAB and Houston. You might remember when two of our top 10 bullies squared off in Baton Rouge in 2004. The Tigers, coming off the 2003 BCS national championship, escaped with a 22-21 win over Oregon State when Beavers kicker Alexis Serna missed three extra points.


8. Mississippi State 17.6%

No. of nonconf. gms.
Rec. vs. BCS
Rec. vs. I-A non-BCS
Rec. vs. I-AA
Pct. of gms. vs. BCS
34
1-5 (.167)
15-7 (.682)
5-1 (.833)
.176
The Bulldogs lost more games to non-BCS opponents from 1998 to 2007 than any SEC team not named Vanderbilt. They also suffered as many losses at the hands of I-AA foes as they had nonconference victories over BCS opponents. Take away Mississippi State's 6-0 mark against Memphis during that span, and the Bulldogs are just 9-7 against I-A competition from smaller conferences. Don't look now, but this season began with a 22-14 loss at Louisiana Tech.


10. Alabama 18.9%

No. of nonconf. gms.
Rec. vs. BCS
Rec. vs. I-A non-BCS
Rec. vs. I-AA
Pct. of gms. vs. BCS
37
1-6 (.143)
22-6 (.786)
2-0 (1.000)
.189
Clearly, the Crimson Tide have no business being on this list. Alabama claims 12 national championships. Yet a program that gave us Joe Namath, Derrick Thomas, Shaun Alexander and Ken Stabler gave its fans just one nonconference win -- over Duke -- against a BCS opponent between 1998 and 2007. In fairness, we should mention last week's impressive showing at Clemson, although it doesn't fall under the timeline of this study. Nevertheless, here's one defeat that Nick Saban isn't likely to live down anytime soon: Louisiana-Monroe 21, Bama 14.
So there you have it. Five SEC teams rank among our top 10 BCS bullies. Admittedly, the argument can be made that the SEC provides better competition than any other conference, and its members face enough difficulty getting through their league schedule. But couldn't it also be said that SEC teams should pick on someone their own size if they're really that good?
Note: Former Big East member Temple and current Big East members Cincinnati, Connecticut, Louisville and South Florida aren't tabulated in this study because they weren't BCS conference members during the entire span of 1998 to 2007. These schools are considered BCS opponents for the years they were Big East members: Temple (1998 to 2004), Connecticut (2004 to '07), Cincinnati (2005 to '07), Louisville (2005 to '07) and South Florida (2005 to '07). Additionally, Connecticut counts as a Division I-AA or provisional I-A member through the 2001 season and a non-BCS I-A member in 2002 and 2003. South Florida was a Division I-AA or provisional I-A member through the 2000 season and a non-BCS I-A member from 2001 to 2004. Other schools that moved up to the Division I-A classification from 1998 to 2007 are classified as I-AA until their first official I-A season.
Thomas Neumann is an editor for Page 2. You can contact him here.