The kid with the magic touch
"... and it sends Fenway Park into a frenzy ..."
-- Don Orsillo, Sept. 1, 2007, 10:07 p.m., Fenway Park, Boston
---
My son Daniel is 5 years old. Like his dad, he is a huge Red Sox fan, minus the years of torture. He's already pumped up for the new season. It is perfectly acceptable for a kid growing up in Connecticut to root for the Red Sox ... but for his dad, who grew up in Brooklyn, not so much.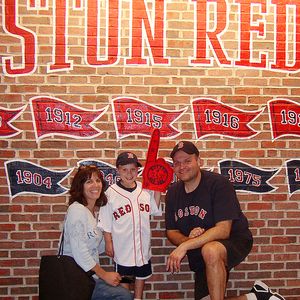 Courtesy of Ira Fritz
The Fritz family had no idea what they were in store for at Daniel's first game.
Last season, my wife and I decided Daniel was ready for his first trip to Fenway Park to celebrate his birthday. (He actually thought he was ready the year before.) Of course, Daniel was hoping to see the Red Sox play the Yankees. Much to my wife's chagrin, Daniel has followed a bit too closely in his father's footsteps, walking a path lined with a deep, unabashed distaste for the Evil Empire. When he was 3, Daniel approached a man in a restaurant wearing a Yankees jersey and let him know exactly what he thought of the Bronx Bombers. I was never more proud of my little boy.
However, a quick Internet search determined that a Yankees game at Fenway was not going to happen unless we ignored the utilities bill for a month or two -- and perhaps a mortgage payment as well. Plus, we didn't think getting a call the next day from kindergarten that Daniel wouldn't stop chanting "Jeter sucks" was a good way to kick off his elementary school career.
We decided on a game in early September, on a Saturday night against the Orioles. We could get decent tickets, and it wouldn't be so late in the season where it gets cold in the late innings. Daniel was primed and ready for the game for weeks. He even received a David Ortiz jersey and a personal note from the Red Sox telling him how excited they were about his visit. (OK, so my Carolyn and I bought the jersey, wrote the note and put it in the mailbox.)
That afternoon, while walking around Faneuil Hall and eating a vanilla ice cream cone larger than his head, Daniel told me the Red Sox were going to win. His reason was simple: They knew he would be at the game, so they couldn't let him down. Trying to temper his expectations by telling him how many times they'd let me down since 1978, I told him that even if they didn't win, the Red Sox would try their best for him, and no matter what it would be a lot of fun. He told me it would actually be even more fun if he had one of those giant "#1" foam fingers to wave around at the game ... and a new Red Sox hat ... and perhaps a new Red Sox shirt, too.
My first trip to Fenway Park was on August 12, 1981, just shy of my 14th birthday. But I saw the Green Monster for the first time on this night -- through my son's wide eyes, ear-to-ear smile, and irrepressible giggle. As he stared out at the Monster, his gaze transfixed, he squeezed my hand tighter and tighter. I could feel his excitement, a father-son moment we'll always remember.
Foam finger in one hand, hot dog in another, he cheered as the Red Sox lineup was announced. The man sitting behind us asked if this was his first Red Sox game. When we told him it was, he said, "Well, let's hope the little guy brings us some luck ..."
Boy, we had no idea.
Though Daniel was a bit upset Manny Ramirez wasn't in the lineup (I tried to explain what a pulled oblique meant, to no avail) he forgot all about that once the Sox jumped out to an early lead. It was 4-0 after 4, 8-0 after 6. Clearly, the Sox had this one in hand, and with the air growing cooler, and the night moving past Daniel's bedtime, my wife suggested we consider leaving. I agreed ... until I took a closer look at the scoreboard. Clay Buchholz was pitching a no-hitter.
"Uh, honey, we're not going anywhere ... we can't leave now ..."
Whispering, so as not to be blamed in case the next pitch rendered a Baltimore hit, I told Carolyn what was going on. But when I tried to explain it to Daniel, he told me I was wrong. It couldn't be a no-hitter because "the Orioles have been hitting the ball all night." In a literal sense, of course, he was right. I explained that hitting the ball for outs does not count as hitting the ball for hits. After boldly continuing the debate for a few more minutes, Daniel decided to accept my ruling. My wife then pointed out that while Daniel and I were embroiled in our discussion, Buchholz had made it through 7.
I realized I had to do everything possible to help my son understand the gravity of what might happen. I'd been to countless games and never seen a no-hitter ... most baseball fans never witness what he was seeing. Slowly, my point seemed to be landing. The air seemed to be growing less chilly. My wife was cheering every pitch. Daniel's bedtime was no longer an issue. With three outs to go, nobody on Yawkey Way was more awake than Daniel.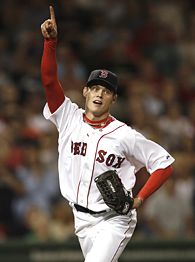 Winslow Townson/AP Photo
In just his second major league start, Clay Buchholz finished off his no-hitter.
We gasped through every pitch to start the ninth. The first two Orioles came up ... and went down. With the entire crowd on its feet, my son standing on his chair so he could hopefully see history, more wide-eyed than when he saw the Green Monster, Buchholz threw strike one. The noise was now deafening and I could see it frightened my son a bit. So I picked him up, and decided we were going to hold on tight to each other -- and to a moment I'd never want to end.
Another pitch brought us all to just one strike away. Just one more simple strike ... just like Calvin Schiraldi needed in Game 6 ... wait, no, no, no ... no negative Red Sox karma allowed now. The baby-faced hurler went into his windup and made his pitch at history. If only time could be frozen the way Nick Markakis was on that last curveball. Yes, Clay Buchholz got his story ... and now my son has his. The three of us hugged, cheered, hugged again, jumped up and down, took pictures, and watched the wild scene unfold on the field.
As we made our way out of Fenway, fans were high-fiving Daniel and asking him if this was his first game ever. When he said it was, they just went wild. "His first game ever ... a no-hitter ... no way ... get this kid season tickets." People he didn't know were treating him like a rock star. He might have been a bit overwhelmed, but the smile never left his face as we made it back to the car.
On the ride home, a sleepy voice rose up from the back seat ... "Did Clay Buchholz make that no-hitter for me?"
My wife and I looked at each other. She nodded toward me as if to say, "This one's all yours ..." I decided to go with the truth.
"He sure did, Daniel. He sure did."
He fell back asleep still clutching the giant "#1" foam finger.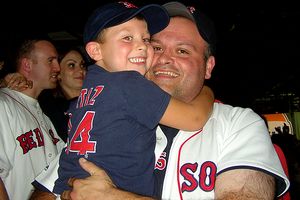 Courtesy of Ira Fritz
Father and son celebrate a moment neither will ever forget.
---
Four weeks later, Daniel and I went to Shea Stadium to see the Mets play the Marlins, joining my brother Todd and his son, Jordan. It wasn't Fenway Park, but Daniel was still very excited.
Daniel's second major-league game featured a must-win situation for the Mets, who were on the verge of blowing a seven-game lead in their final 17 games. It was the next-to-last game of the season. The Mets led 8-0 after three innings. The fifth inning featured a wild, bench-clearing brawl.
As the Mets continued to score, I explained to Daniel that no matter what happened, it still wouldn't be as incredible as what we saw in Boston. While I was making my case, my brother was trying to get my attention. He nodded toward the scoreboard and told me to look at how many hits the Marlins had.
John Maine was throwing a no-hitter.
It was too soon to bring it to Daniel's attention ... Maine was only through five innings, and no Mets pitcher has ever thrown a no-hitter. And, more importantly, the chance of Daniel seeing two no-hitters at his first two major-league games seemed impossible. Surely, the Marlins would get a hit in the sixth. But they did not. So Uncle Todd decided to let Daniel in on what was going on. Daniel then turned to me for confirmation.
"Uh, yeah, nine more outs, and you're going to see another no-hitter," I told him.
"Cool," he nodded.
"Yeah, cool," I calmly agreed.
Moments later, Maine was just six outs away. This could not happen again.
On to the eighth ... two up, two down. Just four outs away.
"Ya think anyone has ever seen two no-hitters at their first two major-league games?" my brother asked me.
"No, it's quite possible Daniel will be the only person to actually be able to say that."
It was then that the magnitude of this reality set in.
Leno, Letterman, Jimmy Kimmel, maybe even "The View" ... who knows? As I began to adjust my calendar to make us available to fly out to Chicago to do Oprah, with the crowd roaring every pitch, someone by the name of Paul Hoover hit this sad little excuse for a ground ball to the left side of the infield. It dribbled out there like it was hit off a tee by a 4-year-old who had just swung a bat for the first time.
No way was anyone in the Mets infield getting to it on time.
After letting loose, very loudly, with a specially chosen, and dare I say very fitting four-letter expletive, I punched the back of my chair in frustration and disgust. Paul Hoover was now more evil to me than Bucky Dent or Aaron Boone.
"Don't worry, Daddy ... it's OK ... we already saw a no-hitter this season ... remember?"
"Yeah, but ..."
"It's OK, Daddy. It's OK. Can I have my ice cream now?"
When I told this story to someone who probably knows more baseball than anyone, ESPN's Tim Kurkjian, he agreed that to the best of his knowledge, Daniel would have been the only kid he has ever heard of to see two no-hitters at his first two games. But he also suggested that 16 2/3 innings of no-hit ball most likely qualifies as unmatched, too.
On the way home from Shea Stadium, Daniel and I talked about how amazing it all was.
"Hey, Daddy ..."
"Yes, Daniel ..."
"Can we go back to Fenway for our next game?"
"Sure."
"Maybe Big Papi will hit 10 home runs ..."
"Ten? Why not 11?"
Come on ... what else could I say?
Ira Fritz is a producer at ESPN. He can be reached at ira.r.fritz@espn.com.