By DJ Gallo
Special to Page 2
What if testing positive for marijuana wasn't a violation of the NFL's substance abuse policy? In fact, what if possessing marijuana wasn't even against the law in the United States? I found myself pondering these issues last week, after both Ricky Williams and Bam Morris made cannabis-related news.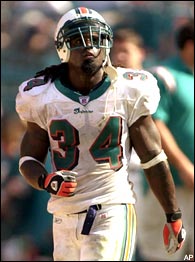 Ricky Williams has told the Miami Herald he has no plans to return to the Dolphins anytime soon.
Would Williams have retired if he could keep smoking marijuana? Would Morris, who just completed a five-year prison sentence, have played on if six pounds of marijuana hadn't been found in his trunk back in 1996?
And would a team of potheads -- led by the backfield of Williams and Morris -- be able to beat any team in football?
I found myself asking all of these questions.
And, no, I wasn't high at the time.
I see this All-Weed Team defeating all comers. Instead of boring old plays like the "Pro 34 Dive" or the "24 Slant Tight Left," they'd run things called the "Smoked Screen," the "Hail Mary-Jane," or maybe the "Bong Pass." They'd wear uniforms made from hemp and refuse to work out or watch film. They'd get endorsement contracts not with Nike and Gatorade, but with companies that produce liquid masking agents. The locker room would be filled with homemade arts and crafts like water-bottle bongs. And the trainer's room would be stocked with medical marijuana to be used for the treatment of all injuries.
With a little research, I put together a fantasy team so . . . umm, loaded -- 11 current or former All-Pros and Pro Bowl players -- that Bam Morris didn't even make the final cut. So without further ado, let's take a look -- even if it is with bloodshot eyes -- at the All-Weed Team. (No sense stalling any further; some pot smokers might be reading this, and their concentration can go pretty quickly.)
OFFENSE
Running back: Ricky Williams, formerly of the Miami Dolphins. Led NFL in rushing in 2002 with 1,853 yards.
The All-Weed Team starts with Williams. With three failures of league drug tests on his record, the former All-Pro even admitted to the Miami Herald last week that his desire to continue smoking pot contributed to his decision to retire. That's some serious dedication to weed. And considering that long-term marijuana might lead to motivational problems, impaired judgment and loss of ambition, it's no wonder Williams thought it wise to give up the millions of dollars remaining on his contract for a life of joblessness and bong hits. He'll get the bulk of the carries on the All-Weed Team.
Running back: Jamal Lewis, Baltimore Ravens. Led NFL in rushing in 2003 with 2,066 yards.
Lewis was suspended in 2001 for violation of the league's substance abuse policy. (The details of Lewis's two positive tests weren't released by the league, so we can't be absolutely certain about his substance of choice.) But that -- and his current federal indictment in relation to a drug ring -- are enough to put Lewis in our backfield with Williams. It's a backfield that any coach would want to have between the hashish ... er, hashes.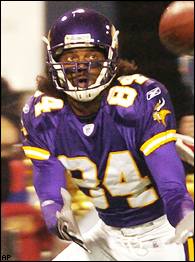 What's that saying about a rolling Moss and getting stoned again?
Wide receiver: Randy Moss, Minnesota Vikings. All-Pro with 8,375 receiving yards in just six seasons.
Moss tested positive for marijuana at Florida State and was kicked off the team before he enrolled at Marshall. He was also charged with possessing a small amount of marijuana in 2002 in relation to a traffic accident, but the charge was dropped after he pleaded guilty to a misdemeanor charge of careless driving and a petty misdemeanor charge of obstructing justice. Like the old saying goes: "A rolling Moss always gets stoned." Or something like that.
Wide receiver: Muhsin Muhammad, Carolina Panthers. Former Pro Bowler and eight-year veteran went for 140 yards and a touchdown in last year's Super Bowl.
Muhammad pleaded guilty in 2002 to misdemeanor charges of possession of marijuana and carrying a concealed weapon. He also served jail time in 1993 while at Michigan State for violating a probation he was given for possession of marijuana. Muhammad gets the starting nod over other candidates because of his multiple transgressions -- a dedication to ganja that is not taken lightly on this team.
Quarterback: Todd Marinovich, formerly of the Raiders. Played two seasons in the NFL after being a first round pick of the Raiders in 1991.
Marinovich, now 35, has a long track record with marijuana, including a conviction for cultivation of the plant in 1998. That history earned him a well-deserved nickname: Todd Marijuanavich. The All-Weed Team provides him with his last, best chance to achieve the football stardom he was seemingly destined for since early childhood. Even the world's biggest pothead wouldn't blow an opportunity like this. Probably. His backup? Virginia Tech sophomore Marcus Vick, who threw for 475 yards and two touchdowns as a freshman last season but is currently suspended indefinitely in the wake of charges of marijuana possession and reckless driving.
Tight end: O.J. Santiago, Denver Broncos.. Has started 60 games in his seven-year career with four separate organizations.
Santiago was charged with misdemeanor marijuana possession in 2001 as a member of the Cleveland Browns. His hold on the All-Weed Team's starting tight end spot will be tightened if he agrees to change his initials to M.J.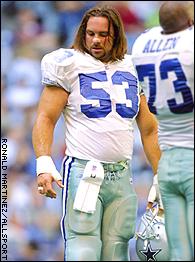 Mark Stepnoski is the most NORML member of our All-Weed Team.
Center: Mark Stepnoski, formerly of the Dallas Cowboys and Oilers organizations. Five-time Pro Bowl center retired after the 2001 season.
Stepnoski has served as president of the Texas chapter of the National Organization for the Reform of Marijuana Laws since his retirement from the game. His presence is needed both on the field and in the locker room so All-Weed Team members can learn how he managed to avoid a single positive drug test during his 13-year career.
Offensive line: Nate Newton, formerly of the Dallas Cowboys and Carolina Panthers. Six-time Pro Bowl guard retired after the 1999 season.
Despite being 42-years old and out of the game for four years, Newton receives an All-Weed Team spot. In fact, we'll name him a co-captain, along with Ricky Williams, since he was once busted driving around with 213 pounds of marijuana in his van. That's right -- pounds, not ounces. While his No. 1 job on the All-Weed Team will be clearing holes for Williams and Lewis, a close second will be supplying his teammates with some of his primo product.
Offensive line: Khiawatha Downey, San Francisco 49ers. Rookie tackle earned Division II All-American honors at Indiana University of PA after 2003 season.
Downey twice tested positive for marijuana while in college.
Offensive line: Marvel Smith, Pittsburgh Steelers. Fifth-year pro was a second-round draft pick in 2000.
Smith was arrested and charged with marijuana possession in 2002. He also tested positive for marijuana while at Arizona State. And you thought the Pittsburgh drug culture died with the Pirates of the late '70s and early '80s.
Offensive line: Tra Thomas, Philadelphia Eagles. Two-time Pro Bowler has started every game he has played since joining the Eagles in 1998.
Thomas tested positive for marijuana before the 1998 NFL Draft. He claimed it was from second-hand smoke, something he should be breathing a lot of in the All-Weed Team's locker room.
DEFENSE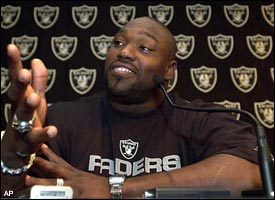 A dance with Mary Jane during college cost Warren Sapp on draft day.
Defensive line: Warren Sapp, Oakland Raiders. Perennial Pro Bowler has 77 sacks in his nine-year career.
Sapp admitted to a positive test for marijuana while at the University of Miami. He provides the All-Weed Team with bulk in the middle of the defensive line.
Defensive line: Keith Hamilton, formerly of the New York Giants. Former All-Pro had 63 sacks over 12-year career that ended after the 2003 season.
Hamilton was charged with possession of less than 50 grams of marijuana -- among other drug-related charges -- during a 2003 traffic stop. He'll easily be lured out of his short retirement once he is made aware that there plenty of food available at our postgame spread.
Defensive line: Anthony Maddox, Jacksonville Jaguars Rookie from Delta State was the Gulf South Conference's defensive player of the year in 2003, and a fourth-round pick.
Originally a Florida State recruit, Maddox was arrested in 1999 for possession of marijuana. He gets named to the All-Weed Team not only for his potential on the defensive line, but also for the valuable connections he has to Florida's fertile, hash-friendly college programs.
Defensive line: Cletidus Hunt, Green Bay Packers Has 15 sacks over his five-year career.
Hunt tested positive for marijuana at the 1999 NFL scouting combine and twice more after joining the Packers, resulting in a four-game suspension without pay in 2001. His current contract mandates that he must return a portion of his signing bonus if he is suspended again. His All-Weed Team contract mandates no such thing.
Linebacker: Ahmad Brooks, University of Virginia. Sophomore is expected to be a top-10 pick if he comes out of school early in 2005.
The selection of Brooks is based solely on potential -- both on the field and on the pipe. He pled no contest to marijuana possession in the summer of 2003.
Linebacker: Darren Hambrick, free agent. Has been out of the game since 2002 after playing with the Cowboys, Panthers and Browns.
Hambrick was charged with fleeing a law enforcement officer and resisting an officer in 2001, after the arresting deputy smelled marijuana wafting from his vehicle during a traffic stop. Hambrick is reunited on the All-Weed Team with former Dallas teammates Stepnoski and Newton, a different kind of "Big Three" to go with the Cowboys' Aikman-Emmitt-Irvin troika in the 1990s.
Linebacker: Cornell Brown, Baltimore Ravens. Originally a sixth-round pick, Brown has played in 96 games during his six-year career, recording seven sacks.
Brown was arrested for marijuana possession in 2001, but the charge was dropped before trial. Despite the dismissal, no crime-related squad such as the All-Weed Team can go wrong by adding an extra Baltimore Ravens player or two.
Defensive back: Chris McAlister, Baltimore Ravens. Pro Bowl cornerback has 14 interceptions and 224 tackles in five-year career.
McAlister was charged with possession of marijuana after police found the drug while investigating a burglary at his house. McAlister is currently a holdout with the Ravens, meaning he and Brown will have to smoke apart until an agreement is reached.
Defensive back: Rashard Anderson, Carolina Panthers. A first-round selection in the 2000 draft.
Anderson has been suspended the last two seasons for violating the league's substance abuse policy. He could be reinstated before the start of the season, but he'll always have an active roster spot on the All-Weed Team.
Defensive back: Rodney Artmore, formerly of the Packers. Made Green Bay's team as a rookie free agent in 1999.
Artmore was charged with possession of marijuana in 2000 and hasn't played in the NFL since. He makes a triumphant return to football now, though, on the All-Weed Team.
Defensive back: Juran Bolden, Jacksonville Jaguars. Recorded seven interceptions over the last two years as a member of the Atlanta Falcons.
Bolden was charged in 2003 with marijuana possession and driving a stolen car, which Jacksonville apparently thought was worth a five-year, $13.4 million contract this offseason. The All-Weed Team would definitely match or exceed that offer for his services. Plus, we'd throw in some rolling papers.
So there you have it: a team of cannabis aficionados that can hang with anybody in the NFL.
And just wait 'til we put together our All-Weed NBA Team.
Now pass the pretzels. I've got the munchies.
D.J. Gallo is a regular contributor to ESPN The Magazine, as well as the founder and sole writer of the award-winning sports satire site SportsPickle.com.