By DJ Gallo
Special to Page 2
There are some people who will call Peyton Manning the dreaded "C" word today. Yeah … "choker." But calling him a choker simply isn't fair, because Peyton Manning is far more than someone who fails when it counts year after year after year.
For instance, he's also someone who throws his teammates under the bus, which -- it goes without saying -- is something every quarterback and team leader should try to do whenever possible. (Are you listening, Tom Brady? This is why you don't set regular season passing records! You need to be less of a team player!) Or not.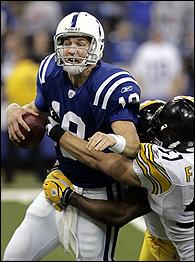 AP
Looks like there was a little trouble with the protection, huh Peyton?
By now I'm sure you've all heard or read about Manning's postgame comments Sunday, in which he said: "I'm trying to be a good teammate here … let's just say we had some problems with protection."
Sure, it may sound as though Manning stabbed his linemen in the back -- or in the knee, in the Colts' case -- but I say cut him some slack. The guy is frustrated about coming up short every season. All I want is for him to learn from his mistakes and take more responsibility for his own failings when the Colts are inevitably eliminated next season.
That's why I've put together a few team-friendly alternatives he can use the next time he hears the words, "I'm trying to be a good teammate here" come out of his mouth. I'm hopeful they'll be of use to him.
"I'm trying to be a good teammate here … so I'll try to imagine what it's like to be imperfect."
"I'm trying to be a good teammate here … so I'm going to buy my liquored-up, idiot kicker an entire case of vodka."
"I'm trying to be a good teammate here … so I'll consider retaining Tony Dungy as my associate head coach next season."
"I'm trying to be a good teammate here … so I'm taking the whole team on tour with Kenny Chesney."
"I'm trying to be a good teammate here … so I won't ask my daddy to get my offensive line traded."
"I'm trying to be a good teammate here … so next year I might even run a play or two that my offensive coordinator calls."
"I'm trying to be a good teammate here … so I'm going to let Tee Martin start for me in the playoffs from now on."
"I'm trying to be a good teammate here … but instead I'll just be myself."
Headlines That Are Probably in Newspapers This Morning …
Washington: "Redskins left to wonder if Week 2 watercooler dousing of Joe Gibbs was perhaps a bit premature"
Seattle: "Here's a [expletive deleted] surprise: Rain in forecast for NFC title game"
New England: "Quite frankly, Tom Brady is apparently not all the Patriots need"
Denver: "Shanahan still without two playoff game victories since Elway retired"
Charlotte: "Delhomme shot with high-powered tranquilizer dart to calm him down for flight home"
Chicago: "Lack of playoff neck beard dooms Grossman"
Pittsburgh: "Broncos ask to play AFC Championship game in Pittsburgh"
Indianapolis: "Vanderjagt, Colts outchoke refs, Bettis in historic choke-off"
Canada: "Ontario native Vanderjagt boots potential game-tying kick aboot 10 yards wide" (Subhead: "Eh")
United States: "Nation waits to learn fate of five offensive linemen thrown under Colts' team bus"
Ten Things I Thought I Thought While Staging a Sit-In at a Starbucks …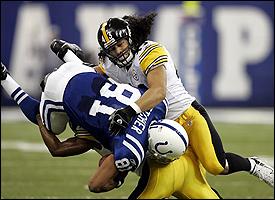 AP
Chuck expects the Steelers to win by much more than a hair.
1. I can't be positive, but when referee Pete Morelli went under the instant replay hood to look at Troy Polamalu's interception, I bet Paul Tagliabue came on the screen and said: "Yeah, I'm going to need you to overturn this and call it an incompletion, mmmkay? See, we really want the Colts to make the Super Bowl, mmmkay? So just say he never had possession. Try an explanation with the term 'football move' in it, mmmkay? Nobody knows what that means."
2. The NFL should be embarrassed about the quality of the officiating this weekend. How were those guys supposed to be the best crews in the league? And more importantly, where was my main man Eddie Hocks (that's the name we call him at the gym, but it's "Ed Hochuli" to those of you not so blessed in matters bicep)? Somewhere this weekend he was pumping iron, preparing to put the smackdown on every referee who blew a call and sullied the reputation of NFL referees. It will be ugly, and he will show no mercy.
3. Yes, we saw the Peyton Manning Face again, but we also spotted the rebirth of a much rarer face: the Bill Belichick Face. Although residents of Cleveland know that face quite well. (Hey, if it's OK to say Pete Carroll isn't a good coach because of his failings with the Jets and Patriots, it makes just as much sense to say Belichick isn't either due to his far worse results with the Browns.) In fairness though, the Belichick Face doesn't look that much different than the one he shows when the Patriots win the Super Bowl, mainly because he seems able to crush all joy associated with even the greatest accomplishments. It's a mark of the great ones. And the clinically depressed ones.
4. People are always complaining about large corporations. But when they do something positive they should be commended. Take MasterCard, for example. Sunday night, after the Colts' loss, it started running a new Peyton Manning "D-CAF" spot showing various bloopers he made during filming. And then the ad closes with the line: "Not being perfect … priceless." Absolutely. Awesome. The fact that they had that cued up waiting for the Colts to lose, well … feel free to raise my interest rate to 29.99 percent, MasterCard. I'll pay anything you ask.
5. Interesting piece of information from, of all people, Tony Siragusa during the Seahawks-Redskins game, when he said Washington had prepared all week to play in rain by repeatedly dunking footballs in a bucket of water. What he neglected to share was that Seattle had similarly prepared to face Sean Taylor by … well, you can take it from there.
6. Speaking of commercials, I also like that NFL apparel one with the line: "All you need is passion … and a torso." It always reminds me of the requirements the Bears' franchise has for its quarterbacks.
7. DeShaun Foster's broken ankle was first reported as a high ankle sprain during the game Sunday. And if you're keeping track like I am, that's now 3,684,214 athletes reported to have high ankle sprains, with the much rarer low ankle sprain still lagging behind at zero.
8. This Matt Hasselbeck-Jake Delhomme matchup in the NFC Championship Game could be awesome. Both are a wee bit excitable, to say the least. I can just imagine their teammates with them in the huddle near the end of a tight game with a trip to the Super Bowl on the line: "Come on … sound it out … tell us the play. Just one word at a time. You can do it. Just breathe deep. Come on. You need to stop shaking and tell us the play. Let's go now … relax. Baby steps. Just say a word. Say a word. Say a word. Say anything. Grunt even. Ah, great … the play clock ran out again."
9. Next week will be the first time in five years that the conference championship round will be Eagles- and Patriots-free. Which is a shame, really. I never felt that we got to hear enough about those two teams. They kind of flew under the radar a bit on us, didn't they? But as disastrous as Philadelphia's season was this year, it must be nice for the Eagles to experience the month of January without being weighed down with an overwhelming sense of impending doom.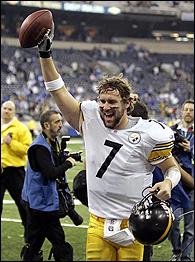 AP
The Steelers will be Ben Roethlisberger's team in 2007.
10. I pull absolutely zero weight in the sports media world, but is it too much for me to ask that this week's AFC Championship Game quarterback matchup between Jake Plummer and Ben Roethlisberger be officially dubbed the Beard Bowl? And, more importantly, that the winner be given Katie Holmes for a week? I feel I've earned that much.
Conference Championship Previews
I'm 7-1 against the spread so far this postseason, y'all. Quite frankly, I'm all you need. (If what you need for some unknown reason is to eventually go bankrupt.)
Carolina at Seattle
A heavy rain begins falling at kickoff, and a particularly large drop knocks Shaun Alexander out of action with another concussion. And Carolina's Steve Smith is left essentially useless as well, struggling to run in the waist-high water. With their only offensive weapon held in check, the Panthers lose, sending the Seahawks to the Super Bowl. (Which in turn, unfortunately, triggers the Apocalypse.) Seahawks 20, Panthers 17.
Pittsburgh at Denver
Convinced by Joey Porter's midweek comments that play-action is "cowardly," the Broncos' offense struggles throughout the game. Denver is able to stay within striking distance, however, due to three Troy Polamalu interceptions that are overturned thanks to an obscure NFL rule requiring an interceptor to possess the ball for at least 75 seconds if he has long hair. Steelers 27, Broncos 17.
R.I.P. Patriots Dynasty
And finally, it wouldn't be right to finish this column without congratulating the Patriots for their remarkable run, while at the same time bidding adieu to their dynasty.
Patriots Dynasty, 4, of New England, died January 14, 2006 at Invesco Field in Denver. Dynasty was born on January 19, 2002 to the Tuck Rule in Foxborough, Mass., and was confirmed weeks later at Super Bowl XXXVI. Surviving are a loving media and a large, but rapidly emptying, bandwagon. Services will be held in the form of commemorative books and DVDs. In lieu of flowers, please stop disrespecting them.
DJ Gallo is a regular contributor to ESPN The Magazine, as well as the founder and sole writer of the award-winning sports satire site SportsPickle.com. He also contributes headlines to "The Onion."