By DJ Gallo
Special to Page 2
With college football action set to begin on Saturday, it's time to preview the season.
Wait … what's that? The season already started? Last night? And you're telling me I missed a 9-3 overtime thriller between Temple and Buffalo? Oh, man. Not good. Not good at all.
But I suppose it's not too late to preview some of the teams who haven't opened their season yet. Here's a look at the top 12 teams in the nation according to the preseason AP rankings. I would have gone beyond No. 12, but it's rare that a team ranked lower than that to start a season ever competes for a national championship. Although I'm starting to think Buffalo might have a pretty good shot.
1. Ohio State
The Buckeyes are led by senior quarterback Troy Smith, who has been drawing comparisons all offseason to Vince Young -- which is either a compliment to Smith's playmaking abilities or a knock on his intelligence. Maybe both.
The defense is rebuilding, with All-American A.J. Hawk gone to the NFL and only two starters returning. But the coaching staff is confident the unit can continue playing at a high level with the motivation of getting some snazzy Buckeyes stickers because, as everyone knows, first-graders and Ohio State players will do almost anything for some stickers.
Jeff Gross/Getty Images
With A.J. Hawk in the NFL, our long national nightmare is over and Brady's sister can stick to just a Notre Dame jersey.
Fun Fact: Anyone who says "The Ohio State University" should be punched in the throat.
2. Notre Dame
Notre Dame and quarterback Brady Quinn have been heavily hyped all offseason, but don't expect the Irish to get caught up in their press clippings. Head coach Charlie Weis stresses discipline and constantly reminds his team that there are no shortcuts to meeting one's goals. Except when it comes to dieting, of course.
Some say the Irish defense is embarrassingly awful -- and, yes, it may look like that to the uninformed viewer -- but it's really just trying to get Notre Dame into shootouts each and every week so Quinn can pad his Heisman stats. So don't mock them; salute the defense's selflessness.
Fun Fact: If Quinn wins the Heisman, Weis has requested a replica trophy made entirely of milk chocolate.
3. Texas
Facing a season without Young, the greatest player in school history, the Longhorns decided the only way to improve at quarterback would be to create a fictional character without any weaknesses and then hand the position over to it. Kind of like how you can create a player with a generic name in a video game. Or at least that's what I assume Texas has done, because there's no possible way "Colt McCoy" is the name of a real person.
Fun Fact: Lance Armstrong and Matthew McConaughey are throwing a party at Lance's place tonight at 10 p.m. for the Texas cheerleading squad. But no male cheerleaders and no fatties allowed! No exceptions.
4. Auburn
Auburn is solid across the board, with A grades for the offense, defense and special teams. Although, according to the New York Times, A's aren't very hard to come by for football players at Auburn, so take that for what it's worth.
If all goes right this season, the Tigers could duplicate their 13-0 season of 2004. Except this time they'd really appreciate it if going undefeated in what is perhaps the toughest conference in the country would be enough to let them get a shot at playing for the national championship. (Crazy, I know.)
Fun Fact: Auburn football players will receive 12 credits for reading this sentence.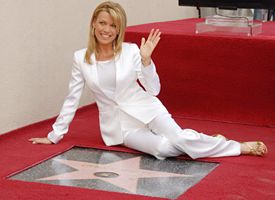 Mark Sullivan/WireImage
This picture was taken last April. Maybe we should all start watching "Wheel of Fortune" again? Because this is ridiculous.
5. West Virginia
West Virginia's stock has been rising ever since the Mountaineers were crushed 35-10 by Georgia over the final 40-plus minutes of last January's Sugar Bowl. Wait … that doesn't make sense. Hmmm. Let's try this instead: West Virginia's stock has been rising ever since it upset Georgia, 38-35, at the Georgia Dome in January's Sugar Bowl. There. That's better.
Anyway … the Mountaineers' offense will be fueled by the exciting sophomore combo of quarterback Pat White and running back Steve Slaton. The defense will continue to operate out of its unique 3-3-5 formation, which allows the three down linemen to rush the quarterback, the three linebackers to blitz or drop into coverage, and the five defensive backs to stand on the sidelines resting and cracking jokes. Or at least that's how it works against most of West Virginia's Big East opponents.
Fun Fact: Quarterback Pat White is the secret love child of Pat Sajak and Vanna White.
6. USC
The Trojans have uncertainty at the quarterback position for the first time in years, with first-year starter John David Booty taking over under center. But USC coaches are confident Booty, a junior, will perform admirably over the next two years, and then soon enough there will be plenty of Matt Leinart offspring ready to step in at quarterback. So there's really not much to worry about there.
Stephen Dunn/Getty Images
If the new USC QB gets a Booty call from the USC women's basketball team, he may wish to decline.
On defense, former line coach Nick Holt is the new defensive coordinator after head coach Pete Carroll decided last year's coordinator, Pete Carroll, was badly exposed against Texas.
Fun Fact: Wide receiver Dwayne Jarrett has his eye on a sweet apartment near campus that he'd love to get if you wouldn't mind pitching in a few bucks.
7. Florida
Now in Year 2 under head coach Urban Meyer, the Gators are completely formed in his image. Well, almost. They're completely formed in his image except for one misplaced, disgusting orange sleeve still stuck back in the Ron Zook era.
Although Meyer was brought to Florida for his high-powered spread offense, the strength of the 2006 team will be its defense -- a fact that probably has former Gators head coach Steve Spurrier spinning in his grave. (Assuming, of course, that Spurrier was euthanized after his stint with the Redskins. No? Well, he should have been.)
Fun Fact: Highly touted freshman quarterback Tim Tebow was home-schooled and set numerous national schoolboy records, including 683 career touchdowns, all of which he piled up against his little sister Shelley.
8. LSU
The Tigers have a bit of a quarterback controversy on their hands. Gifted junior JaMarcus Russell is the reigning starter and will open the season at quarterback, but there are two equally attractive options behind him in Matt Flynn and Ryan Perrilloux. The whole thing just goes to show that recruiting well does nothing but cause headaches and distractions. The Temples and Dukes of the world never have to deal with this stuff. Plus, their seasons are over well before December, meaning they don't have to worry about football practice and bowl games and stuff like that getting in the way of spending the holidays with family. It's the way to go, really. And what are the chances you're going to win the national championship anyway? Family is more important.
Fun Fact: Offensive coordinator Jimbo Fisher doesn't know why everyone just automatically assumes he's from the South.
9. California
Head coach Jeff Tedford has picked sophomore quarterback Nate Longshore as his starter over senior Joe Ayoob -- meaning Longshore can look forward to one day being a first-round NFL draft pick, only to fail miserably and become the object of scorn for an entire city a la past Tedford protégés Trent Dilfer, Akili Smith, Joey Harrington, David Carr and Kyle Boller. So congrats, Nate Longshore!
With the quarterback position set and Heisman candidate Marshawn Lynch ready to run wild out of the backfield, this is Cal's best chance in years to win its first league title since 1975 (when it tied with UCLA). But if the Bears do supplant USC atop the conference, many die-hard Pac-10 fans will put an asterisk beside their title due to Cal's stubborn insistence on playing defense. Sellouts.
Fun Fact: Marshawn Lynch wears a visor on his helmet to help shield his eyes from the embarrassment that is Cal's Oski mascot.
10. Oklahoma
With Rhett Bomar's dismissal from the team due to the car dealership "job" scandal, the Sooners are in a bit of a bind at quarterback. In fact, the team is petitioning the NCAA hoping to get Jason White a 19th year of eligibility.
Getting past the scandal and keeping the team's national championship hopes alive will require every last bit of Bob Stoops' coaching know-how. But even if the team goes down in flames and all of the players ruin their chances of one day playing in the NFL, Stoops would do well to remind his players that they all at least have fallback jobs available to them in the wonderful world of auto sales. And Norman is the third-largest city in Oklahoma. That's a pretty sweet market.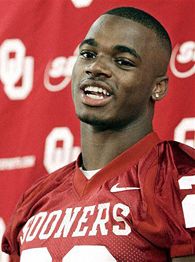 Sue Ogrocki/APPhoto
Looks like he'd be a pretty smooth salesman, right?
Fun Fact: Adrian Peterson would like Heisman voters to know he can hook them up with a great deal on a Buick LeSabre.
11. Florida State
After several subpar seasons, the Seminoles are ready to return to the national title hunt. The tone for Florida State's entire season will be set on Monday in its opener against Miami -- an always-intense rivalry game made even more so by the fact that each team has several players capable of recreating the opening scene from "The Last Boy Scout." One of these years it's going to happen, which always makes the game a must-see.
Bobby Bowden continues to be more and more of a figurehead at Florida State, as he has delegated almost all of his head coaching duties to assistants. In fact, most of Bowden's days are filled now by nothing more than keeping whippersnappers off his lawn.
Fun Fact: Junior receiver De'Cody Fagg has NFL ability, but good luck trying to buy his jersey when he goes pro.
12. Miami
Head coach Larry Coker is on the hot seat at Miami. But it's not as bad as it sounds. Based on his zombielike appearance, a hot seat may be the only thing keeping Coker's corpse above room temperature.
The biggest dates on Miami's calendar this season are Sept. 4, when the 'Canes host Florida State, Sept. 16 at Louisville, Nov. 4 versus Virginia Tech, and Nov. 14 when the new 7th Flo' Crew album drops.
Fun Fact: Miami has played in back-to-back Peach Bowls. Which reminds me -- did you know that the doody of Georgia mascot Uga smells like fresh-cut peaches? Yep. It's true. And it's delicious.
DJ Gallo is the founder and sole writer of the award-winning sports satire site SportsPickle.com. He is also a regular contributor to ESPN The Magazine and Fantasy Sports Monthly, and has written for The Onion and Cracked. His first book -- "SportsPickle Presents: The View from the Upper Deck" -- will be in stores soon.