By DJ Gallo
Special to Page 2
There is less than a month left in baseball's regular season, yet 20 of the 30 major league teams still have a shot at the playoffs.
Here are all the contenders ranked from most to least likely to make the postseason.
New York Mets (84-52, 15 games up in NL East)
The Mets punched their ticket to the postseason long ago, but they are not without concerns. Starters Pedro Martinez, Tom Glavine and Orlando Hernandez all have health issues. Then there's slumping third baseman David Wright, who has only two home runs in his past 33 games. Worst of all, Wright is being outplayed of late by that atrocious Yankees third baseman, the one with the two MVP awards. How embarrassing. (Postseason odds: 1:150)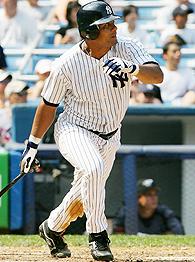 Jim McIsaac/Getty Images
It's not easy for Joe Torre when you have to play stiffs like Bobby Abreu in place of injured stars.
New York Yankees (82-54, 9 games up in AL East)
Joe Torre has pulled off what is widely regarded as the best managing job of his career, guiding the Yankees to a commanding lead in the American League East despite playing much of the season without injured stars Gary Sheffield and Hideki Matsui. So hats off to you, Joe Torre. It must be tough to manage only $170 million worth of players when you're supposed to have a healthy $200 million roster at your disposal. (Postseason odds: 1:100)
St. Louis Cardinals (73-63, 6 games up in NL Central)
Every true baseball fan wants to see the Cardinals in the playoffs for one reason: Albert Pujols. Not only is the St. Louis slugger a class act, but he's one of the finest talents the game has ever seen. Plus, since he's clearly in his late 30s, he may not have many more opportunities to win that elusive World Series title. (Postseason odds: 1:10)
Oakland A's (79-58, 6½ games up in AL West)
Outfielder Milton Bradley has been the key to the resurgence of Oakland's offense in the second half, totaling 31 RBI since mid-July. He'll have to continue to perform at a high level if the A's are to hold off the Angels in the West. Not that Oakland has cause for concern, though. If there's anyone a team can depend on during the pressure of a pennant chase, it's Milton Bradley. (Postseason odds: 1:10)
Detroit Tigers (85-53, 5 games up in AL Central)
Luckily for the Tigers they built a comfortable lead in the Central long ago, because their young starting rotation is starting to show signs of fatigue. But here's what manager Jim Leyland should do to combat that fatigue: give his starters four days off between each start. Wait -- they already get four days off between starts? Wow. Pitchers are such pansies sometimes. (Postseason odds: 1:2)
Los Angeles Dodgers (73-64, 2 games up in NL West)
The Dodgers are just 29-37 on the road and are dead last in the National League in home runs. This is not a team that will scare you on paper. But games aren't played on paper. They're played on the field. (But, for the record, the Dodgers won't really scare you on the field either.) (Postseason odds: 1:1)
San Diego Padres (71-66, 1½ games up in NL wild card)
Last season San Diego earned a spot in the postseason by winning the laughingstock that was the National League West. Most felt the Padres didn't deserve to be in the playoffs and would be swept in the first round. And that's exactly what happened. But this season the Padres are back and motivated not only to make the playoffs again, but maybe even win a game. (Postseason odds: 1:1)
Chicago White Sox (79-58, ½ game out of AL wild card)
If the playoffs started today, the defending World Series champions would be watching from home. But so would everyone else because if the playoffs started today it would be a complete surprise and none of the teams would be able to get travel plans organized in time. (Postseason odds: 2:1)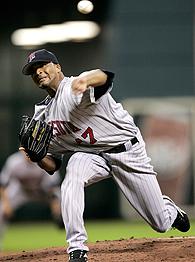 AP Photo/David J. Phillip
Let's just say Page 2 is really $!#*&@! bummed about Liriano's injury.
Minnesota Twins (79-57, ½ game up in AL wild card)
Despite dealing with injuries to Francisco Liriano, Brad Radke and Torii Hunter, the Twins have the best record in all of baseball since early June. So it would be a real #@&*ing shame if they missed the playoffs. A real #@&*ing shame. Don't you agree, Bert Blyleven? (Postseason odds: 3:1)
San Francisco Giants (69-69, 2½ games out of NL wild card)
Barry Bonds is on a tear and the Giants may be able to ride him to the playoffs, thereby providing the entire team with a fond memory to recall when the Giants are inevitably called to testify before a federal grand jury in the coming months. (Postseason odds: 3:1)
Houston Astros (67-71, 4½ games out of NL wild card)
Much of Houston's roster has performed below expectations, but it's hard not to think how much higher the Astros would be in the standings if Brad Lidge had simply pitched a bit better. Maybe what the team needs to do is treat him more like Roger Clemens and give him special privileges. Like, say, he doesn't have to travel with the team on the road. Or come to the home games either. (Postseason odds: 5:1)
Florida Marlins (69-68, 2 games out of NL wild card)
The young Marlins are playing inspired baseball, but the tension between first-year manager Joe Girardi and owner Jeffrey Loria could tear the team apart. While outside observers think Girardi has turned in a Manager of the Year performance, those close to the organization know he has gone against management's clear mandate to wait until 2009 to win, per Florida's 1997-2003-2009-2015-etc. championship road map. Now the Marlins risk having to dismantle the entire team this season, three years earlier than planned. (Postseason odds: 15:1)
Los Angeles Angels of Anaheim (73-65, 6½ games out in AL West)
The Angels are on the verge of falling completely out of the playoff hunt, and it's largely due to their 108 errors -- tops in the American League. You know, it's a real shame to see how far the Angels' defense has fallen off since Christopher Lloyd was roaming the outfield back in the mid-'90s. (Postseason odds: 15:1)
Boston Red Sox (74-64, 6 games out of AL wild card)
It's hard to find much of anything positive with the Red Sox right now. And it's even worse when you consider that Boston missing the playoffs presents the very real possibility of Curt Schilling's showing up on our television screens throughout the postseason as a guest analyst. (Postseason odds: 20:1)
Cincinnati Reds (68-70, 3½ games out of NL wild card)
The Reds surprised a lot of people by holding onto the wild-card lead for as long as they did, but they're fading, and fading fast. The bullpen was the team's biggest weakness at the beginning of the season, but now the starting pitching and offense have collapsed. Luckily though, general manager Wayne Krivsky can address those areas in the offseason by dealing some of the 30 middle relievers he acquired in the past three months. (Postseason odds: 25:1)
Atlanta Braves (66-71, 5 games out of NL wild card)
The Braves are fighting admirably to extend their string of 14 straight playoff appearances, but there is probably too much ground for them to make up in too little time. I, for one, will go on record saying that the postseason just won't seem the same without the Braves being in it for a week. (Postseason odds: 30:1)
Arizona Diamondbacks (64-73, 7 games out of NL wild card)
The Diamondbacks have a pitching staff short on power arms and a lineup devoid of power bats. There's barely more than 10 percent of the season left. What are the chances league drug testers will show up in Arizona between now and the end of the season? Slim and none, right? It's time to get Jason Grimsley on the phone. (Postseason odds: 40:1)
Toronto Blue Jays (72-66, 8 games out of AL wild card)
The Blue Jays made great strides this season in challenging their AL East rivals Boston and New York. They got the overpaying free agents part down. Now they just need to work on winning. And then after that they can focus on being loathsome. But you're close, Toronto. Well done. (Postseason odds: 50:1)
Milwaukee Brewers (63-75, 8½ games out of NL wild card)
The Brewers are an interesting case because they have a chance to extend their streak of non-winning seasons to an impressive 14, while at the same time making the playoffs for the first time in 24 years. If they can somehow pull of this rare success-failure combo, they deserve to be named The Official Team of the National League. (Postseason odds: 50:1)
Philadelphia Phillies (70-68, 1½ games out of NL wild card)
Sure, the Phillies have gone 21-13 since the trade deadline. And, yes, they have two of the best young players in baseball in Ryan Howard and Chase Utley. And OK, OK -- it's true they are right on the heels of the Padres in the wild-card race. But they have no chance of making the playoffs. Why? Because their general manager says so. Yep. After Pat Gillick dealt Bobby Abreu to the Yankees before the trade deadline, he informed Philadelphia fans that 2006 was a lost cause, and that they shouldn't bother hoping that 2007 would bring any success either. But then his players went out and started winning, and they seem to have no intention of stopping. Which is kind of rude and disrespectful to Gillick, if you ask me. It's not right for players to hang their GM out to dry like that. They need to realize that he knows better and recommence losing. Oh -- and good luck, Phillies players, when you try to negotiate a new contract with Gillick in the coming years after blatantly defying his master plan of continued mediocrity. Don't think he'll forget this. Your winning won't seem so smart when you have to move your whole family to another city because the Phillies won't give you the money you deserve. (Postseason odds: 100,000:1)
DJ Gallo is the founder and sole writer of the award-winning sports satire site SportsPickle.com. He is also a regular contributor to ESPN The Magazine and Fantasy Sports Monthly, and has written for The Onion and Cracked. His first book -- "SportsPickle Presents: The View from the Upper Deck" -- will be in stores soon.