By DJ Gallo
Special to Page 2
The Terrell Owens-Donovan McNabb feud hit a manly new high last week over a cell phone text message, the form of communication used mostly by 16-year-old girls.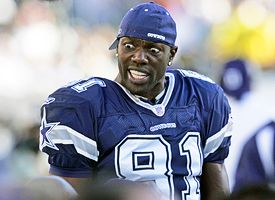 Hunter Martin/WireImage
Scary T.O.!
McNabb said he sent a text to his former receiver to wish him well after his overdose scare. Owens claimed he never got a message.
But yesterday these two great warriors of the gridiron finally hooked up via text message. And thanks to a friend of mine who works at a cell phone company, I was able to get my hands on the transcript of Owens' and McNabb's messages during yesterday's Eagles-Cowboys game.
4:10 p.m.
McNabb: Good luck 2day … not
T.O.: Can't txt. My cell battery is low
T.O.: Nevermind. A fan just hit me w a battery. I'll use that
5:56 p.m.
McNabb: Ha-ha. Zero catches at halftime. Now don't go OD on painkillers
T.O.: That's insensitive. Many Eagles fans are probably on painkillers
McNabb: Good point. Sorry
T.O.: Kidding. That's not what happened anyway. I had 2 go 2 the hospital cuz I ate a can of your nasty soup. Tell them every can should come w a free stomach pump
McNabb: Don't make me have my mom give u a beatdown. We both know she could
6:15 p.m.
McNabb: My coach says 2 ask your coach if they're still on for the cheesesteak buffet after the game
T.O.: Let me ask
T.O.: He says yes. Says that's the whole reason he made the trip
6:43 p.m.
McNabb: Nice drop on that last pass, moron
T.O.: Tnx. I got so used 2 playing w u that I'm still not used 2 having passes hit me in the hands
6:58 p.m.
T.O.: I thought u should know that your backup qb stares at your butt when you are behind center
McNabb: Enough with that. Grow up. Jeff Garcia is dating a Playboy model
T.O.: AJ Feeley is not dating a Playboy model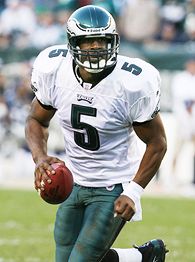 Tom Briglia/WireImage
McNabb must be feeling pretty good today.
7:12 p.m.
T.O.: Are u going 2 buy my children's book about sharing for your kids?
McNabb: No
T.O.: Y?
McNabb: Because I hate u
T.O.: Then u probably won't like my next children's book about sharing. It's about a chubby, out of shape qb named Little D who shares with his teammates that he's nervous about the big game by throwing up on them in the huddle
McNabb: I really, really despise u
7:44 p.m.
McNabb: Ha ha u lost. LOL
T.O.: Who knew there are qbs worse than u? I should have done some research. I need a new agent
---
Headlines …
Bears move to 5-0, inch perilously closer to recording an awful rap song
Eagles fans ruin their reputation by not doing anything utterly despicable
Terrell Owens "accidentally" shoves 30 painkiller pills down Drew Bledsoe's throat
Reggie Bush takes the house, er … takes it to the house in Saints win
Patriots get big win over probable AFC Super Bowl representative
Struggling Steelers so confused they're not even sure where Jerome Bettis is from anymore
Eight Things I Thought I Thought While Blaming A-Rod for the Jets' Blowout Loss …
1. The Steelers have to be very concerned about Ben Roethlisberger. In three games this season he has seven interceptions and zero touchdowns. Even worse, he has a very noticeable "deer in the headlights" look. And I think the "deer in the headlights" analogy works especially well for Roethlisberger because he looks confused and also because he's been hit by a car.
2. One week after silencing their critics by putting up 36 points on a stingy Jacksonville defense, the Redskins silenced their supporters by scoring just three points against a lousy New York Giants defense. I like Washington's strategy of silencing everyone. Now they can concentrate on learning their 700-page playbook and finding a few plays that work in relative peace and quiet.
3. I've often wondered what coaches say to each other when they meet at midfield after every game. I assume it's just insincere pleasantries peppered with profanity and maybe a stock tip or something. But I don't know for sure. So usually I'm just forced to make an informed guess. Like after yesterday's Patriots-Dolphins game, this conversation probably happened:
"Hey, Bill. Good win, buddy."
"Thanks, Nick. Hey, Nick, while I have you here … can I ask you for a favor?"
"Sure. What's up?"
"Stop telling people that you're part of the Bill Belichick coaching tree. It's hurting my reputation."
"Uh, OK. Sure. But you have to do me a favor in return."
"Anything."
"Stay away from my wife."
"I'll do my best."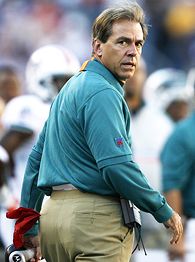 Jim Rogash/WireImage
One minute he's a genius, the next ... not so much.
4. As much as it looks like Saban could end up being the diseased limb of the Belichick coaching tree, you have to give him some credit for the gamesmanship he pulled in the days leading up to the Dolphins-Patriots game. Saban kept quiet on who his starting QB would be until Sunday morning, forcing the Patriots to prepare for both Daunte Culpepper and Joey Harrington. And anyone who has played football knows it's difficult to spend all week wondering if you should be visualizing intercepting a white quarterback or a black quarterback. Having that uncertainty can really mess with a player's mental preparation.
5. Some people are saying that Philadelphia's win yesterday erases any doubt about Donovan McNabb's ability to win a big game. And I'm one of those people, because it just doesn't get any more clutch than guiding a favored team to a home victory in Week 5. The "negative nellies" out there may want to talk about conference championship games and Super Bowls, but I say show me a quarterback who can beat a Drew Bledsoe-led team in early October, and I'll show you a champion.
6. There was a story of a former star playing against his old teammates yesterday that was a little bit lost in the shuffle nationally. I'm not talking about the much-hyped Terrell Owens vs. Philadelphia game. I mean LaVar Arrington playing as a New York Giant against the Washington Redskins for the first time. And what was refreshing about Arrington was that, unlike Owens, he didn't seem all caught up in the "revenge" thing. Nor did he necessarily seem all caught up in the "wanting to play well" thing. He was pretty much the same invisible player he's long been, just in a different uniform.
7. The Lions have now lost nine games in a row at the Metrodome after yesterday's come-from-ahead loss to the Vikings. But hey, some teams just don't play well in domes. That's nothing to be ashamed of. It's just too bad for the Lions that their home stadium is also a dome.
8. Chicago's schedule for the next four weeks looks like this: Cardinals, bye, 49ers, Dolphins. So listen up, Bears -- you pretty much have nothing going on for the next month. That's plenty of time to get hooked up with a good producer, book some studio time and record a listenable single. There's no excuse for the 2006 version of "Super Bowl Shuffle" to have lyrics like: "I'm the punky QB, known as McMahon / When I hit the turf, I've got no plan / I just throw my body all over the field / I can't dance, but I can throw the pill." See what I'm saying? For instance, see "field" and "pill" there? Yeah, they don't really rhyme. Actually, they don't rhyme at all. So you have a month, Bears. Football fans expect better. And maybe get Kyle Orton started on this right away. Kyle Orton and Jack Daniel's could be the greatest songwriting duo since Rodgers and Hammerstein.
DJ Gallo is the founder and sole writer of the award-winning sports satire site SportsPickle.com. He is also a regular contributor to ESPN The Magazine and Fantasy Sports Monthly, and has written for The Onion and Cracked. His first book -- "SportsPickle Presents: The View from the Upper Deck" -- will be in stores soon.