By DJ Gallo
Special to Page 2
It's time everyone lays off Randy Moss. We all go through mood swings.
For instance, just the other day I was completely happy and content, then I heard about this one wide receiver who makes $7.5 million saying that he drops passes because he is unhappy, and suddenly I became angry. Then on Sunday I saw this same receiver go without a single catch and I became happy again. Weird, huh?
So I'm not so unlike Randy Moss. I'm moody, and I'd probably wet my pants if I had to run a crossing pattern against NFL linebackers and safeties. In fact, I'm exactly like him.
That's why, in honor of my hero, I'm putting on my Randy Moss mood ring to determine the emotional states of all the big names from Week 11 in the NFL. Each color means something different, ranging from dark blue (happy) to black (upset) to green (emotionless). Although some mood rings vary. Like with Moss' ring, green means either "I got to get paid" or "I got to get some weed." But for the purposes of this article, we'll go with my first example.
DARK BLUE: Happy, romantic, passionate, victorious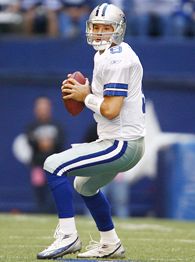 Kevin Terrell/WireImage.com
Next up for Tony Romo, a reality show!
• Tony Romo: What an amazing week for the Cowboys' quarterback. He went on a date with Jessica Simpson and beat the Colts all in a matter of a few days. The only way I can see things getting better for him would be if he finds out he got a concussion Sunday. That way he could have better conversations with his new girlfriend.
• Detroit Lions: Stupid Arizona Cardinals. They got so caught up in ending their string of eight consecutive losses that they lost sight of the big picture: draft position. Now Detroit holds the tiebreaker against them for the No. 1 pick and has only the foolishly improving Oakland Raiders standing between it and the first selection in April's draft.
• Us: Brett Favre is injured and might not play this week. You know what this means, don't you? Round-the-clock Favre coverage! Woo-hoo! And maybe even a few news conferences throughout the week by Favre himself to let us all know that he has yet to make a decision about playing. Sweet! It will be like a little weeklong dress rehearsal for the four-month performance that will come in the offseason. And just as irrelevant.
• Us again: Back to the Lions. Matt Millen with the No. 1 overall pick in his hands? Awesome. Just awesome. The stone on my mood ring will be locked on dark blue from now until Roger Goodell announces the pick. Then it probably will explode from the sheer force of Millen's stupidity.
BLUE: Relaxed, at ease, calm
• Ray Lewis: Baltimore's defense played well Sunday with Lewis on the sideline, proving once again how much God's Linebacker truly is like Jesus Christ. Because just as Jesus wants His followers to live like Him even when He is not on Earth, Ray Lewis wants His teammates to play like Him even when He is not on the field. And now that I think about it, Ray Lewis is actually better than Jesus because although almost all the Ravens play like their leader, most of Christ's followers don't live a true Christian, Ray Lewis-like life. Plus, I bet Jesus never fired up His disciples with a funky, gyrating, pre-supper dance. Had He done so, I'm sure a lot more than 12 people would have signed up to be disciples.
• The guy in charge of music at Cleveland Browns Stadium: This is a man who is at ease and relaxed with his job and has everything under control. Here's the scene: With 31 seconds left in regulation, the Browns are up 20-17 with the Steelers on Cleveland's 4-yard line. The Browns need a stop to knock off their hated rival. But first there's a stoppage in play. And what should come blasting over the stadium's sound system but the chorus to George Thorogood's "Bad to the Bone." Wow. What a perfect song title to capture everything about the Cleveland Browns organization. (Personally, I would have chosen Beck's "Loser," but I'm not one to quibble. I'm sure that song is on the stadium's playlist, too.) Anyway, with the Browns reminded of their true status, play resumes and the Steelers score on the next play. B-b-b-b-b-bad.
BLUE-GREEN: Somewhat content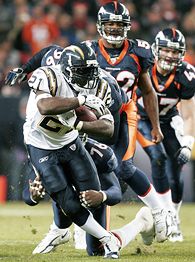 Dee Welsch/WireImage.com
How about LT on "The Amazing Race"?
• LaDainian Tomlinson: Tomlinson scored four times against the Broncos on Sunday night, and reached 100 career touchdowns in 89 games -- four fewer than it took Jim Brown and Emmitt Smith. Tomlinson has a long way to go before we can truly say he is better than those two. However, if 30 or 40 years from now he has not appeared in any embarrassingly awful movies or a TV dance competition, then we can most definitely say he is superior to Brown and Smith.
• Everyone who passed on Marques Colston: The NFL's leading receiver entering this week, who was the fourth-to-last pick in April's draft, was knocked out against the Bengals with a high ankle sprain. Figures. Everyone who knows football could see Colston's weak upper ankles coming from a mile away. It was clear in college that he inevitably would get injured during the playoff stretch run -- right when you would need him most -- and therefore wasn't worth wasting a pick on. Game, set and match, NFL scouts. They have this down to a science.
GREEN: Average, active, not under great stress, emotionless
• Tony Dungy: No one better describes "average, active, not under great stress, emotionless" than Tony Dungy. In fact, I bet he had a mood ring as a child and took it back to the store thinking it was broken because it never changed from green. Well, he probably never actually took it back to the store because he didn't want to cause a problem or have to raise his voice. But he thought about doing it, and did so for hours at a time with a wide-eyed, blank expression on his face.
• Andrew Walter: Walter has lost his starting job to Aaron Brooks. But on the bright side, he no longer has to be embarrassed about going home for Thanksgiving this week and telling relatives he is the starting quarterback for the Raiders.
"Hi Uncle Morty. How have you been?"
"Good, Andrew. How about you? Where are you working now?"
"Oh, well … actually, I'm the starting quarterback for the Oakland Raiders. And I have been for a while."
"Oh. I see. You're playing for that team, huh? Have you told your parents? They must be heartbroken."
AMBER: Unsettled, mixed emotions
• Albert Haynesworth: Yes, Haynesworth returned to action Sunday after a five-game suspension and the Titans got an unexpected win. But it just doesn't feel quite right to walk off the football field after a game knowing there's no scalp or brain matter to clean out of your cleats.
• Green Bay Packers: The Packers got crushed by the Patriots and Favre was injured, but things could have been worse. At least the legendary "frozen tundra" of Lambeau Field wasn't destroyed. Had the Patriots entered halftime behind, they probably would have been granted permission by the NFL to rip up the field in Green Bay in favor of a surface more to their liking for the second half.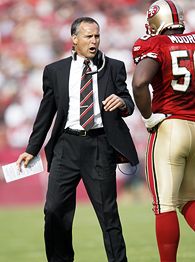 Greg Trott/WireImage.com
You want to rock a Reebok suit too, don't ya?
• Mike Nolan: Nice suit, Mike Nolan. And good win, too. But you don't think the 49ers are actually going to reimburse you for the cost of that suit or pick up your dry cleaning costs, do you? And stop with all of this winning while you're at it, too. Winning only leads to increased expectations and fan pressure to raise payroll. Such an atmosphere is unacceptable under John York's ownership. So get in line, Nolan.
GRAY: Anxious, nervous
• Troy Brown: With three Patriots defensive backs out with injuries this week, New England receiver Troy Brown stepped in at nickelback, proving yet again that he is one of the most unselfish players in all of football. Too bad for him that Bill Belichick likely will reward his willingness to help the team by cutting him again this offseason, just as he did the last time Brown played both ways two years ago. (Hey, if you're so unselfish that you'll play both offense and defense, Troy, you shouldn't mind playing for an even lower salary. Don't be greedy.)
• NFL schedule makers and NBC: The featured "flex" game Sunday is Eagles at Colts. The decision to move the game from a 1 p.m. start to prime time was made last week, before Donovan McNabb got hurt. Now NBC is stuck trying to pull in ratings for a game that should be a blowout, with Peyton Manning facing off against Jeff Garcia. The only way to save the ratings might be to make it a true "flex" game and have Ed Hochuli officiate the thing shirtless.
BLACK: Beaten, defeated
• Joe Gibbs: The NASCAR season is over. Total bummer for Gibbs. Plus, he spent Sunday in Tampa -- only a few hours drive from Homestead-Miami Speedway -- but was contractually obligated to stand on the sideline during the Buccaneers-Redskins game, where there wasn't a TV in sight showing the race. And he couldn't even get audio from the race in his headset. Ridiculous. Oh, and also there's this: His football team stinks.
• J.P. Losman: After Losman led the Bills on a last-minute drive to defeat the Texans, Houston cornerback Dunta Robinson had this to say: "If that had been Peyton Manning, you'd expect it. But it was J.P. Losman. That's embarrassing. I hope he doesn't feel too good, because we just shot ourselves in the foot." Yeah, Losman, you shouldn't feel too good. You had to resort to a last-minute drive to beat Dunta Robinson and the Texans. Most teams usually put them away long before the fourth quarter. You should be embarrassed. You're so pathetic I'm surprised you're not a Houston Texan.
• Donovan McNabb: McNabb's season came to an end Sunday with a torn ACL. But what really has him down is that he didn't get a single text message or IM from Terrell Owens wishing him a quick recovery. That is, like, so totally mean and spiteful and everything.
DJ Gallo is the founder and sole writer of the award-winning sports satire site SportsPickle.com. He is also a regular contributor to ESPN The Magazine and has written for The Onion and Cracked. His first book -- "SportsPickle Presents: The View from the Upper Deck" -- will be in stores soon.