By DJ Gallo
Special to Page 2
Pittsburgh's reign as NFL champion all but ended Sunday thanks to a 27-0 stomping by the Ravens. At 4-7, all that's left is another week or two and some fancy mathematics to make it official.
But what has caused such a quick and dramatic decline? The last two seasons the Steelers were a combined 31-7 (including the playoffs). Now, with virtually the same personnel, they are just two games behind in the race for the No. 1 overall pick in April's draft.
Not surprisingly, there are many reasons.
Coaching. So Bill Cowher decided to retire after the Super Bowl. That's fine. I understand. But the Steelers should have hired a replacement. It's nice they're trying to honor their legendary coach this season by placing a cardboard cutout of Cowher on the sidelines in memoriam, but the team has obviously suffered because of it. And, really, the cardboard-cutout Cowher is not a very good representation of the man who stalked the Steelers' sideline for 14 years. It is expressionless. It has no passion. It is unaffected by what happens on the field. And heck -- the Steelers could have at least hooked up a $10 garden hose to the cardboard Cowher's mouth with some duct tape so they could make it spit sometimes, you know? A little effort would be nice.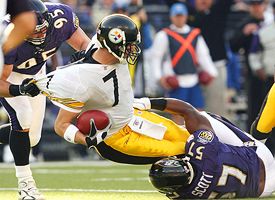 Nick Laham/Getty Images
Obviously, the cardboard coach hasn't been teaching proper blocking schemes to Pittsburgh's line.
Ben Roethlisberger. Roethlisberger made playing quarterback in the NFL look easy during his first two seasons. This year? Not so much. What's worse is that it is unclear why he's struggling. And while I hate to resort to clichés and conventional wisdom, you almost wonder if an old, well-known football saying applies here: "It's tough to play well when you've been hit by a car, had abdominal surgery and been the recipient of a concussion all within a few months." Of course, another well-known saying could be at play here, too: "Act like a tool in a Fathead commercial and karma will get you."
Leadership. Jerome Bettis' on-field performance last season was overrated. But the Steelers miss Bettis' presence in the locker room. He led them with his physical style of play. He led them emotionally. And he led them to the postgame spread, often leaving no food for anyone else. That kept his teammates slim, fit and hungry -- all elements Pittsburgh is lacking this season.
Defense. Pittsburgh befuddled opponents last season with its trademark zone blitz defense, regularly overwhelming and confusing opposing quarterbacks with pressure coming from all directions. But apparently the Steelers decided to change things up this season -- the idea being that other teams would prepare all offseason for that sort of pressure and be ready for it. So now when the Steelers blitz they simply run right at the opponent's line and dance around for five seconds or so, never bothering to reach the quarterback. And while this is no doubt confusing to watch, it has been much less effective than last year's scheme.
Offensive line. As much as the Steelers have struggled this year, they have had success throwing screen passes to running back Willie Parker. This is because Pittsburgh's offensive linemen practice blocking for a screen pass on almost every play by regularly allowing opposing defenders to run right past them.
Special teams. Kick returners Ricardo Colclough and Santonio Holmes almost single-handedly lost the Steelers several games this season with their inability to catch or secure the football. The position has been solidified ever since Najeh Davenport was given the kick returning duties, however. But anyone familiar with Davenport's background won't be surprised if he suddenly is exposed and drops one on the carpet.
Motivation. The Steelers organization spent 26 years going after "One for the thumb." So there was bound to be a bit of a letdown after that goal was finally achieved. Plus, where is the next one supposed to go? On the other thumb? Or do you start on the pinkie and finish with the thumb? And if it's the pinkie, how do you get 53 football players motivated by a pinkie ring? And if you are able to get them motivated by a pinkie ring, haven't they all lost already? Until the Steelers can answer these important questions they will continue to flounder.
Headlines …
Donovan McNabb's absence too much for Eagles' defense to overcome
Jim Mora Sr.: "Inability to get players to reach their potential also a coach killer"
Eli Manning bounces back by playing major role in dramatic fourth-quarter comeback
Giants motivated to let Tiki Barber begin his exciting new career as soon as possible
Marcus Vick says he will counsel his brother on how to behave
Things I Thought I Thought While Wondering What Michael Vick Was Pointing At …
1. Just as many predicted, the Chicago Bears gave us a good reading on what kind of team they are against the Patriots. They played New England tough but lost, meaning they are more or less the Jets, Bills or Dolphins -- a competitive but deeply flawed AFC team. And that has to be pretty exciting for the Bears, because being as good as a deeply flawed AFC team should make them almost unstoppable come playoff time in the NFC.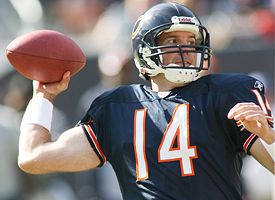 Don Lansu/WireImage.com
Seriously, Bears fans, it's BRIAN GRIESE!
2. The Bears have the most loyal fans in all of football. I know this because many of them want Brian Griese to replace Rex Grossman at quarterback. How does that make them loyal? Well, had they ever watched anyone other than the Bears play, they would have seen that Brian Griese at quarterback is not something a fan should wish for.
3. New England's brand-new synthetic field looked great. Only one problem, though: Where is Tom Brady's goat supposed to graze now? If he is forced to send it away to some farm during the season, I doubt he'll be able to move past that emotionally. As much as he loves football and winning championships, those GQ photos showed he loves that precious little goat even more.
4. How dominant was Baltimore's defense? It made so many plays behind the line of scrimmage that by the second half, Ray Lewis lost interest in jumping on top of the pile and then leaping off and celebrating as though he made the play. I think that makes it the most amazing defensive performance ever.
5. I didn't find Michael Vick's apology to Falcons fans all that sincere. He seemed much more sincere while doing the bird flipping than in apologizing for the bird flipping. And Vick should realize this isn't going to go away immediately. That's why I think he needs to apologize again. And I'd suggest something along these lines:
"To all Falcons fans: I wish I didn't have anything to apologize for. But my actions were caught on film, so I must. Please know that I appreciate your support. I am fully aware that if I played for the Braves or Hawks there probably wouldn't even be anyone in the stands for me to give the finger to. I see the fans as part of the team. Honestly, I do. In fact, I regularly give the finger to my receivers. But at least they deserve it. I hope you will understand that my actions came out of frustration. I have a deep burning inside me that sometimes causes me to explode in anger. This deep burning is often accompanied by itching. Please stick by me and this team as we try to get through this. I realize this is my sixth year in the league, but I remain one of the most dynamic players in the game -- one always on the verge of breaking out -- and I can promise you that I will stay as such for many years into the future until I am in my mid-30s and have finally been converted into a third-down back and emergency quarterback. Then, when I am a role player, getting flipped off by me won't seem like such a big deal. Sincerely, Michael Vick."
DJ Gallo is the founder and sole writer of the award-winning sports satire site SportsPickle.com. He is also a regular contributor to ESPN The Magazine and has written for The Onion and Cracked. His first book -- "SportsPickle Presents: The View from the Upper Deck" -- will be in stores soon.