By DJ Gallo
Page 2
I assume if you are reading this column, you are a football fan. Or, perhaps more likely, a masochist.
But regardless, by now you already know what happened in every playoff game this weekend, and probably watched all the games yourself. So you don't want a recap of what you saw with your own eyes. What you want is behind-the-scenes information gathered by a true pro from inside the locker rooms.
Unfortunately, I can't do that for you. I'm not a true pro, and I wasn't inside the locker rooms. But I am sensitive to your wishes. So here are postgame quotes from this weekend that are completely made up, but probably pretty close to what was actually said.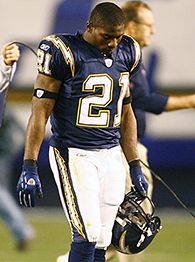 Kevin Terrell/Wireimage.com
Can't blame L.T. for being a little down.
LaDainian Tomlinson, on his postgame actions: "It is disrespectful to do another man's dance. Oh God. Did I just say that out loud? Trust me, that didn't sound nearly as girly and pathetic in my head."
Shawne Merriman, on briefly leaving the game with an injury: "Our trainer said I was suffering from an acute case of karma, whatever that is. Although, hmm … now that I think about it, I recall once injecting an entire case of karma. Or was that clenbuterol? I forget. It was something with a 'k' sound."
Reggie Bush, on what winning means to New Orleans: "Winning means that there is going to be an even greater amount of boobage flashed on Bourbon Street tonight than normal. So if you'll excuse me, I'd like to get going."
Jeff Garcia, on the Saints being "America's Team": "We didn't view them as America's Team. We wanted to beat them just as much as any other opponent. Plus, I don't see how they can be America's Team when they couldn't even cover a measly five-point spread. America loves gambling and money, not failure. The Saints best remember that."
Andy Reid, on the decision to punt with less than two minutes remaining: "Look, anyone who has ever seen an Eagles game knows we don't have a two-minute offense. I'm only in my eighth year here, and I haven't had a chance to install it yet. So our only option with two minutes left is to punt the ball and hope the returner fumbles it and that we then scoop it up and run it in for a touchdown. That's our two-minute offense. But, unfortunately, it didn't pan out today."
Adam Vinatieri, on kicking for the Colts in the playoffs: "It's just so tempting to miss them in the hope of seeing Peyton Manning make that face of his. Honestly, if we make it to the Super Bowl and I have the opportunity to kick a last-second field goal to win the game, I might shank it on purpose just to see Peyton's face implode on itself. I have three rings, but I don't have that."
Tony Dungy, on playing the AFC Championship Game at home: "I just hope the grounds crew didn't put away all those huge speakers we use to pump in crowd noise because we're going to need them."
Peyton Manning, on winning another playoff game: "That's one small step for a man, one giant leap for a Manning."
Brian Billick, on Baltimore's poor offensive showing: "It's tough because I want to be condescending right now, but I don't feel like I can be. That's what hurts the most."
Ray Lewis, on losing: "Sorry, Ravens fans, but apparently God wants God's Linebacker to be at the Super Bowl, but just not playing in the Super Bowl. Perhaps God is working in mysterious ways again and there needs to be some smiting done. Who knows?"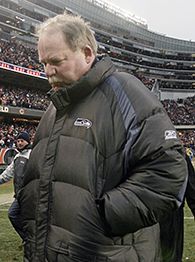 AP Photo/Jeff Roberson
Plump, mustachioed ... yeah, that about sums it up.
Mike Holmgren, on losing: "I guess you could say that between Andy Reid and me, it was a bad weekend for plump mustachioed men. Although, now that I think about it, most weekends are bad for plump mustachioed men."
Rex Grossman, on his confidence: "My confidence is sky high right now. I just had to pare things back and let my instincts take over. It's amazing what can happen when you just drop back, close your eyes and hurl the ball as hard as you can. And, you know, if opposing defensive backs keep dropping passes I throw right into their hands, I can't be stopped."
Rex Grossman, on dealing with distractions: "I'll admit, it's hard to stay focused. Two weeks ago it was New Year's Eve, and then today it was Martin Luther King Jr. Day's Eve. And while that's not traditionally a night to go out drinking, Kyle Orton and I have decided it should be."
Troy Brown, on forcing a fumble on Tom Brady's third interception: "It will be interesting to see how Belichick uses that as a reason to cut me again this offseason so they can sign me back for less money. I'm guessing he'll say a younger, faster player would have picked up the fumble and run it in for a touchdown. And then I'll say that a younger player probably wouldn't have the guts to punch him in the neck."
Reche Caldwell, on being from another planet: "Mmzorp. Zeep. Zorp. Gazunk."
Stephen Gostkowski, on kicking a game-winning field goal in the playoffs: "Coach Belichick pulled me aside before I went out there and told me that if I missed and made him look stupid for getting rid of Adam Vinatieri, he would destroy everything I love and break up my parents' marriage. That was all the motivation I needed."
Marty Schottenheimer, on his future: "I don't see what firing me would accomplish. The smart thing to do would be to allow me to coach next season, then fire me right before the playoffs."
DJ Gallo is the founder and sole writer of the award-winning sports satire site SportsPickle.com. He is also a regular contributor to ESPN the Magazine and has written for The Onion and Cracked. His first book -- "SportsPickle Presents: The View from the Upper Deck" -- will be in stores soon.