"The reality is there's been a change in the relationship of 14 years and, hopefully, we can just put it behind us. You go from sleeping over at somebody's house five days a week, and now you don't sleep over. It's just not that big of a deal."
-- Alex Rodriguez, commenting on how his friendship with Derek Jeter has cooled over the years
Ah … sleepovers. Those were the days. Watching scary movies, roasting marshmallows, playing video games all night long.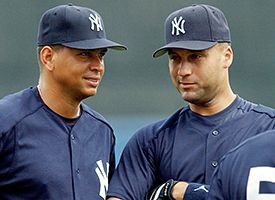 AP Photo/Tony Gutierrez
A-Rod's relationship with Jeter is now fragile at best.
Oh, to be 12 years old again. Or -- oh, to be a famous professional athlete, because apparently Alex Rodriguez and Derek Jeter had sleepovers together well into adulthood.
But what were those sleepovers like? What do the two biggest stars in baseball do together during a slumber party? Here's a brief look at the sleepover history between Alex Rodriguez and Derek Jeter:
1994: Alex Rodriguez and Derek Jeter have their first sleepover together while still in their late teens. The duo stays up all night telling each other scary stories about spending their careers on small-market teams with low payrolls.
1995: During yet another sleepover, A-Rod and Jeter get bored and play dress-up in Jeter's mother's clothing, jewelry and makeup. It is then that Jeter falls in love with fragrances and decides he will one day release a scent of his own, while Rodriguez secretly steals all of Mrs. Jeter's purple lipstick.
1996: A-Rod and Jeter get in a good-natured pillow fight during a sleepover at Rodriguez's Seattle apartment. They stop midway through and decide to never pillow-fight again because it really messes up their hair.
1997: Jeter invites A-Rod over to his apartment for an offseason sleepover. After a few hours they decide to show each other tricks that they can do. Rodriguez impresses Jeter with a card trick and a short juggling routine, while Jeter blows his friend's mine by displaying all of his intangibles.
1998: During a cold, winter night in New York, Jeter and A-Rod rent scary movies to watch at Jeter's apartment and then pop some popcorn and stretch out in their sleeping bags on the living room floor. Midway through the first movie they decide it would be OK to watch from the same sleeping bag for extra warmth and security.
1999: Rodriguez invites Jeter over for a New Year's Eve sleepover. Worried the world could end due to Y2K, the duo decides to get their tips frosted so if they die, they die looking as handsome as possible.
2000: Rodriguez has Jeter over for a sleepover to celebrate his 10-year, $252 million contract. The two roast marshmallows over burning $1, $5, $10, $20 and $50 bills A-Rod says he no longer has any use for.
2001: Up to no good during a sleepover at A-Rod's place in Texas, the pair prank-calls fellow superstar shortstop Nomar Garciaparra and asks him if his refrigerator is running. Garciaparra says it is, and then a giggling Jeter and A-Rod tell him he should go catch it -- upon which Garciaparra tears his hamstring.
2002: Angered that Rodriguez spoke somewhat poorly of him in an Esquire article, Jeter invites Rodriguez over to his apartment for a sleepover, but purposely doesn't stock his fridge with A-Rod's beloved Zima.
2003: A further rift develops in the relationship when Jeter has a sleepover and doesn't include Rodriguez, but instead plays host at his Manhattan apartment all night long to a dozen Sports Illustrated swimsuit models.
2004: In A-Rod's first season in New York, he invites Jeter over to a sleepover with several of his high-stakes, underground poker buddies. Rodriguez then loses Jeter in a game of Texas hold 'em. He is able to win him back, however, by promising to throw every playoff series he ever plays in for the rest of his career.
2005: The relationship between the two becomes even more fractured during a sleepover game of Truth Or Dare. Jeter dares Rodriguez to drive in a meaningful run once in his Yankees career, prompting Rodriguez to ask Jeter to admit the truth that no one would have ever heard of him had he played his career in a city like Kansas City or Milwaukee instead of New York.
2006: Following the Yankees' shocking playoff elimination at the hands of the Detroit Tigers, A-Rod sleeps over at Derek Jeter's apartment for the last time. (Technically, this sleepover was not at Jeter's apartment but outside of it, as Rodriguez fell asleep on Jeter's doorstep after crying and wailing for several hours about how he was "so sorry" about hitting 1-for-14 and asking Jeter to "please let me in and tell me you'll still be my friend.")
DJ Gallo is the founder and sole writer of the award-winning sports satire site SportsPickle.com. He is also a regular contributor to ESPN the Magazine and the new Cracked magazine, and has written for The Onion. His first book -- "SportsPickle Presents: The View from the Upper Deck" -- will be in stores in May.