Page 2's 2007 MLB calendar

The Major League Baseball season is only three days old. It's hard to draw many conclusions from what we've seen so far.
PAGE 2'S MLB CALENDAR
Want to know what's going to happen every day of this baseball season? We have all the answers.
The Pittsburgh Pirates and Seattle Mariners are in first place?
Ian Kinsler leads the American League in home runs?
Such a small sample of games can be misleading.
But only if you're not as smart as I am. Although I've seen only three days of baseball, I can predict all the biggest stories for the rest of the season -- and for every day, from today all the way through the end of the regular season on Sept. 30.
Enjoy my unmatched skills of prognostication.
April 4: Three days after the Cardinals are introduced as the reigning world champions at their home opener, the ever-supportive Busch Stadium crowd finally ends its standing ovation during today's fifth inning against the Mets.
April 5: Star Phillies second baseman/environmentalist Chase Utley breaks his bat on an inside fastball from John Smoltz. To save trees, Utley refuses to replace his splintered bat for the remainder of the season and goes on to hit a disappointing .074 with no home runs.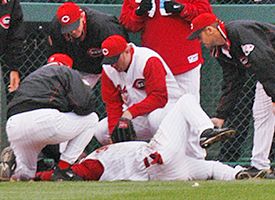 AP Photo/Tom Uhlman
Hope nobody trips over Junior in right field.
April 6:
The Reds announce that career-long center fielder Ken Griffey Jr. will remain in right field for the remainder of the season because he tore his hamstring and cannot get up.
April 7: Red Sox starter/blogger Curt Schilling live-blogs his start against the Rangers, causing the game to last more than eight hours as he types an entry after each one of his pitches.
April 8: Bud Selig voids baseball's $700 million deal with DirecTV as the exclusive provider of the Extra Innings package and sells it to the Broadcasting Corporation of China for $700.0005 million, reasoning the extra 500 bucks is worth out-of-market games being completely unavailable to American fans.
April 9: Realizing he has much more free time during a game now that he is a full-time DH, Mike Piazza has a small salon installed into Oakland's dugout so he can get his tips frosted during games.
April 10: Bernie Williams gets back at the Yankees for not offering him a major-league contract by releasing a jazz guitar album full of angry riffs clearly directed at Brian Cashman.
April 11: Injured Tigers starter Kenny Rogers says he plans to spend his three months on the disabled list working with scientists to create a clear pine tar that cannot be spotted on a pitcher's hand.
April 12: Tired of having to scale the center-field wall all the time to make spectacular catches whenever any Minnesota starter but Johan Santana pitches, Twins center fielder Torii Hunter decides to begin each inning in the field sitting atop the outfield wall.
April 13: Cardinals manager Tony La Russa is spotted sleeping in the Cardinals dugout during a game against the Brewers. He later explains that he fell asleep not because he was drinking, but because he was watching several hours of baseball.
April 14: Yankees third baseman Alex Rodriguez changes his at-bat music to Cheap Trick's "I Want You To Want Me."
April 15: On the 60th anniversary of Jackie Robinson's debut in Major League Baseball, New York Mets bench player Julio Franco wows his teammates with stories about what it was like playing alongside the legend.
April 16: Former Cubs ace Mark Prior earns his way out of Triple-A Iowa by blowing out his shoulder.
April 17: Looking to keep attendance up during their second homestand of the season, the Detroit Tigers draw a sellout thanks to their new promotion: "Our Pitchers Throw Balls Into The Stands While Trying To Throw Out Runners Night."
April 18: After calling a game-ending third strike on Delmon Young of the Devil Rays, umpire Joe West tasers Young in the chest in a pre-emptive strike.
April 19: After Jeff Weaver gets lit up in his third start of the season, the Seattle Mariners issue an official apology to their fans, saying they thought they had signed Jered Weaver to a one-year, $8.3 million contract, not his older brother Jeff.
April 20: The Mariners announce that they have also stopped pursuing the services of Mike Maddux.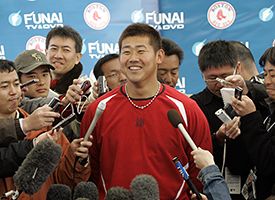 AP Photo/Chitose Suzuki
Talk about a fire hazard.
April 21:
The huge number of camera flashes from the Japanese media photographing Daisuke Matsuzaka's first major-league pitch to Hideki Matsui unfortunately sets both players aflame.
April 22: The Washington Nationals' bullpen finally gets a rest thanks to the team's starting rotation finding a way to last four innings for the first team all season.
April 23: Cubs backup catcher Henry Blanco tells the team he will extend his deadline to be signed to a long-term contract one more week, after which the team will likely lose him in the offseason.
April 24: With J.D. Drew down in the outfield with a strained hamstring after trying to run down a deep fly ball hit by Toronto's Vernon Wells, fellow Red Sox outfielder Manny Ramirez runs over to his fallen teammate, takes a picture with him and then attempts to sell Drew on eBay.
April 25: Dontrelle Willis' start against the Braves is postponed when the rising Atlantic Ocean floods Dolphin Stadium, as prophesied by Sports Illustrated.
April 26: George Steinbrenner refuses to comment on reports that his newly divorced daughter was seen leaving Derek Jeter's apartment building early this morning.
April 27: Modeling their group after Grady Sizemore's "Grady's Ladies" fan club, several plus-size Cleveland Indians fans start up an organization called "Hafner's Heifers."
April 28: While trying to stifle a sneeze, Braves outfielder Jeff Francoeur accidentally takes his first pitch of the season.
April 29: With the bases loaded for the Red Sox and only one out in the seventh inning of the Yankees' home game against Boston, Alex Rodriguez calls for an infield meeting at the mound so he can pass Derek Jeter a note that reads: "Will u b my bff? YES/no/maybe."
April 30: MLB steroids investigator George Mitchell begins taking massive doses of anabolic steroids, figuring physical intimidation is the only way to get baseball players to answer his questions.
DJ Gallo is the founder and sole writer of the sports satire site SportsPickle.com. He is also a regular contributor to ESPN The Magazine and has written for The Onion and Cracked. His first book -- "SportsPickle Presents: The View from the Upper Deck" -- will be in stores in May. Preorder is available here.