Page 2's 2007 MLB calendar

September 1: Rosters expand to 40 players, giving some of the top farmhands in the Royals' and Nationals' systems a chance to experience the taste of losing on the major-league level.
PAGE 2'S MLB CALENDAR
Want to know what's going to happen every day of this baseball season? We have all the answers.
September 2: Red Sox slugger David Ortiz tells reporters he deserves the MVP over Derek Jeter because he hasn't made any fielding errors this season while Jeter has made 11.
September 3: Officials at the Baseball Hall of Fame tell Cal Ripken Jr. he doesn't have to keep showing up every day.
September 4: Bud Selig asks the owners for an increase in his $14.5 million income so he doesn't have to pay out-of-pocket to install a satellite dish on his house for out-of-market baseball games.
September 5: With the Twins out of the playoff race and attendance lagging, Minnesota management tells Joe Mauer to catch games without his mask on so fans can gaze upon his dreamy visage.
September 6: Despite receiving great support from Yankees fans all season long, Alex Rodriguez announces he will leave the team after the season because he heard one fan -- Mildred Weisenbaum of White Plains, N.Y. -- expressed disappointment on April 14 that he failed to move a runner over in a game against the A's.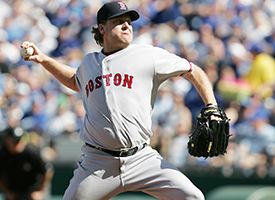 AP Photo/Dick Whipple
Do you want to see this man without a shirt on? Didn't think so.
September 7:
The Giants and Dodgers begin their final series of the season and decide to wear Yankees and Red Sox uniforms hoping the East Coast media will give some attention to their rivalry.
September 8: Curt Schilling's blog traffic plummets after he posts a picture of himself without a shirt on.
September 9: With the Chicago Cubs sold, the Chicago Tribune is finally free to bash the team's incompetent management.
September 10: Craig Biggio is hit by a pitch from Milwaukee's Ben Sheets, becoming the all-time leader in getting hit by pitches. The Astros honor the accomplishment by having every pitcher who ever plunked Biggio come onto the field and throw bronze baseballs at him.
September 11: The struggling Red Sox look to revive their waning playoff hopes by putting Jonathan Papelbon back into the rotation, as well as at second base and closer.
September 12: White Sox manager Ozzie Guillen says that while he knows every derogatory term in both Spanish and English, he has yet to come up with one that is fitting for A.J. Pierzynski.
September 13: Yankees starter and crossword puzzle fan Mike Mussina is disappointed to see that the seven-letter answer for the clue "Washed-up NY starter" in the New York Times crossword puzzle is "MUSSINA."
September 14: Sammy Sosa begins pretending that he doesn't speak English again, raising suspicions that it will soon be made public that he failed a steroids test.
September 15: Red Sox outfielder Manny Ramirez decides he wants to start his own blog like Curt Schilling, but gives up after yelling into his computer's disk drive fails to put any of his words onto the Internet.
September 16: Royals pitcher Zach Greinke says playing for the Royals has helped him work through his social anxiety disorder, because the team's record means there are rarely any people in the Kaufmann Stadium seats for him to get anxious about.
September 17: Scott Boras tells the Red Sox they must pay out an additional $50 million if they want to find out if Daisuke Matsuzaka can really throw a gyroball.
September 18: Yankees owner George Steinbrenner angers stars Derek Jeter and Alex Rodriguez by banning cologne and lipstick to go along with the team's ban on facial hair.
September 19: Barry Bonds, Dave Roberts, Omar Vizquel and several other Giants veterans get in a fight in the locker room over Bonds' refusal to share the latest issue of AARP Magazine.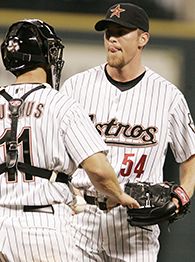 AP Photo/Pat Sullivan
Brad Lidge looks about ready to give it up.
September 20:
Instead of facing Albert Pujols with the bases loaded in the bottom of the ninth inning, Astros closer Brad Lidge just turns around and throws the ball over the left field fence.
September 21: Pedro Martinez falls to 1-5 with a 6.39 ERA on his injury-riddled season, drawing renewed comparisons that Mets teammate Oliver Perez really is the next Pedro Martinez.
September 22: With the Astros eliminated from playoff contention, Roger Clemens retires, and then comes out of retirement to sign with the Yankees.
September 23: The Nationals play their last game at RFK Stadium. Midway through the game fans kidnap Ryan Zimmerman, lock the gates from the outside and demolish the stadium so the current team can't taint the new venue.
September 24: With the Marlins just a game out of the wild-card lead, team owner Jeffrey Loria announces the team is forfeiting its remaining games rather than risk having to pay the players playoff bonuses.
September 25: Seattle Mariners phenom Felix Hernandez ups his record to 23-6 with a shutout against the Indians. After the game, the Mariners begin trade negotiations with the Yankees to send Hernandez to New York the season before he becomes a free agent.
September 26: Hoping to raise his profile among casual baseball fans, Twins slugger and reigning AL MVP Justin Morneau decides to purposely fail a steroids test.
September 27 : St. Louis utilityman Scott Spiezio dyes all of his body hair black to mark the Cardinals getting eliminated from playoff contention.
September 28: Barry Bonds tells reporters he wants to play at least two more years, or until he can tarnish every major record in baseball.
September 29: Realizing that the playoffs are just days away and his stock on the open market is about to plummet, Alex Rodriguez and his agent, Scott Boras, decide to void the opt-out clause in his contract and remain with the Yankees.
September 30: Manny Ramirez pulls teammate David Ortiz aside in the locker room, points at Daisuke Matsuzaka and asks: "Who is the funny-talking new guy?"
DJ Gallo is the founder and sole writer of the sports satire site SportsPickle.com. He is also a regular contributor to ESPN The Magazine and has written for The Onion and Cracked. His first book -- "SportsPickle Presents: The View from the Upper Deck" -- will be in stores in May. Preorder is available here.