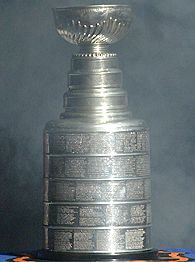 Chris Trotman/Getty Images
While the entire nation of Canada supports the Senators, we're pretty sure at least part of Orange County will be rooting on the Ducks.
Hockey is still digging itself out of its lockout-induced hole. And in the United States it may continue to suffer the embarrassment of being pre-empted for stuff like horse-racing pregame shows.
But it's on its way back -- and in a big way. On Monday, the Stanley Cup finals between Anaheim and Ottawa begin, and Monday was declared a national holiday. Pretty impressive, eh? No other sport can claim that. Hockey doesn't even get its own holiday in Canada.
So please pay proper respect to our new national pastime by reading this Stanley Cup preview. Below are some of the biggest questions that will be answered during the series. (Not included: "Why would I want to read a hockey article?")
Will the Senators be hurt by having an eight-day layoff

No. But I'm in the minority with that opinion. The general consensus is that a hot team can only be hurt by sitting around for so long, unless they have significant injuries to heal from. And since Ottawa has no significant injuries, they won't benefit by a long layoff. There's only one problem with that logic. Does anyone actually believe the Senators don't have any significant injuries? I mean, they're hockey players, for goodness sake. I'd be willing to bet at least a dozen of them are currently skating on broken femurs, unwilling to sit until the playoffs are over. And I think I even saw someone's intestines spill out onto the ice in Anaheim's Western Conference finals series against Detroit. Although that could have been an octopus someone threw. Not sure.
STANLEY CUP FINALS COVERAGE
Which goaltender is playing the best entering the series?

You've probably heard the baseball phrase "You're only as hot as your next pitcher." Well, that translates roughly into Canadian as: "You're only as hot as your goaltender's next game." (Actually, it's: "You're only as hot as your goaltender' s next game, eh," but I digress.) Anyway, my point is that while both Anaheim's Jean-Sebastien Giguere and Ottawa's Ray Emery have played well (obviously) to get this far -- especially Giguere -- Monday begins an entirely new series and whoever wins Game 1 will take the mantle of "hot goaltender." Then, at the end of the series, one of them will keep the mantle, upon which he can proudly display the Stanley Cup in his home.
If during this series anyone says "Getting Jiggy with it" in relation to Jean-Sebastien Giguere, am I allowed to punch that person in the throat?

Most definitely. In fact, I encourage it. And then once this person falls to the ground, follow up with a kick to the throat, too.
Who could be the breakout star of the series?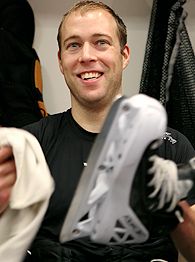 Jeff Golden/Getty Images
The phrase "Gettin' Jiggy with it" will still be uncalled for even if Jean-Sebastien Giguere literally stands on his head.
Emery. Ottawa's netminder has quirks that make him a fun story for the media. For instance, he's heavily covered in tattoos. And he died his hair platinum blonde for a time. And he used to wear a mask covered with pictures of Mike Tyson. What else? Oh, right … he ate a cockroach last year on a $500 bet with teammate Daniel Alfredsson, plucking it off the locker room floor as it scurried past. Plus, if the Senators win, he'll be the first black goaltender to win the Stanley Cup since Grant Fuhr in 1990 with the Oilers. (No, seriously. Grant Fuhr is black. Honest. I'm not kidding.)
Both teams have outstanding defensemen. But which team has the best?

Tough call. Ottawa can put Wade Redden, Andrej Meszaros, Chris Phillips and Anton Volchenkov out there, while Anaheim has the outstanding Chris Pronger, Scott Niedermayer and Francois Beauchemin. But I'm going to give the Ducks the edge, simply because of Niedermayer's impressive playoff beard. I mean, look at the thing. So thick. So wise. You could shave it off, put it in a pair of skates, and it would kill a penalty all by itself.
With all this talk of goaltenders and defensemen, is this going to be a low-scoring series?

Well, there is plenty of offensive talent, too. Ottawa's first line of Dany Heatley, Jason Spezza and Alfredsson is outstanding. And Anaheim has Teemu Selanne and high-scoring defensemen in Pronger and Niedermayer. But, yeah, based on how physical Anaheim is and how technically sound the Senators are, it's probably going to be low-scoring. But that's a good thing. Nine times out of 10, lower scoring hockey is better hockey. Some people may like 7-5 games, but then they probably also liked that glowing puck Fox used to use. "Look! Look! Look at the glowing puck! You like that don't you? Look at it go -- wheeee! Shiny things are neat, huh? Hey, hey, hey. Knock it off. No licking yourself when company is here. Don't make me rap your nose with a rolled up newspaper."
Can the Senators become the first Canadian team to win the Cup since the Montreal Canadiens in 1993?

Sure, why not? Realize, though, that a big part of the reason no Canadian team has won the Cup in so long is because there are far less Canadian teams in the NHL than there used to be. For example, the Quebec Nordiques and Winnipeg Jets moved to the United States, and the Canadiens and Toronto Maple Leafs folded. (Whaaaa? Seriously? They're still around? Who knew.)
Be honest: Is there any real rivalry between Anaheim and Ottawa?

Of course there is. They're two of the Original 26, after all. Plus, I'm sure their economies compete in the global market in some way or another. No? Maybe? Let's see, the Anaheim area's primary export is annoying, self-entitled teenagers. Oh, and oranges. Oranges, too. Perhaps Ottawa is angry at Anaheim for exporting too many of their annoying teenagers to Ottawa, while at the same time not providing enough oranges to pelt them with. Yeah, that's probably it. So there's your rivalry.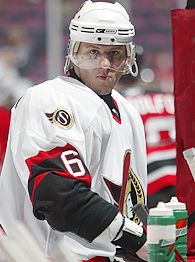 Andy Marlin/Getty Images
Oleg Saprykin beat out Francois Beauchemin and Anton Volchenkov as our favorite name of the Stanley Cup finals.
What if I don't like hockey. Why should I watch this series?
There is really only ever one reason to watch hockey if you don't like it: hearing the magical, wondrous hockey names. If having words like Nikolai Khabibulin, Bates Battaglia, and Radek Bonk tickle your cochleas doesn't put a smile on your face, well … I'm afraid there's no hope for you. But who has the best "hockey name" in this series? Ottawa left wing Oleg Saprykin. And NHL? NBC? Listen up. If you don't market next weekend's games as "A Saprykin Weekend," well … I'm afraid there's no hope for you either.
Are the TV ratings going to be terrible again?

Good question. But for me to answer that for you, I need to first ask you a few questions. Look around your for a few seconds. All done? OK. Now, is everyone around you very apologetic and polite? Is there a faint scent of bacon in the air at all times? Does your kitchen sink at home have one tap for hot, one for cold and one for maple syrup? Do you skate to work or school? Are you currently having any of your extremities treated for frostbite? If you answered yes to three or more of these questions, you are in Canada. The TV ratings where you live will be very high. But the TV ratings in the United States? Yeah, not so much.
So who is going to win?

OK, OK -- I'll get to my prediction. This column has gone on longer than expected (my apologies), but now it's time to wrap it up. So here is my pick: after seven hard-fought games, I think the Stanley Cup will go to ... hey, hey, where are you going? No! No, don't do it. I didn't mean for the column to go on this long. NOOOOOOOOOO!.
DJ Gallo is the founder and sole writer of the sports satire site SportsPickle.com. He is also a regular contributor to ESPN The Magazine and has written for The Onion and Cracked. His first book -- "SportsPickle Presents: The View from the Upper Deck" is on sale now.