What an outstanding opening week of NFL football. There is so much to cover, I'm just going to get right into it.
27 Things I May Remember Considering Thinking I Thought

1. It's hard to look at this Romeo Crennel of the Browns and not think he's going to be a great head coach. Have to love the Bill Belichick pedigree. Can't go wrong with that. Crennel seems like a real high-energy motivator, too. He'll be in charge in Cleveland for years to come.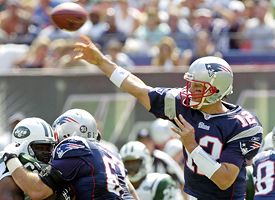 AP Photo/Bill Kostroun
Tom Brady is a phenomenon so large that fans in other cities chant his name.
2. How big a star is New England's Tom Brady? Throughout Cleveland's loss to Pittsburgh Sunday, Browns fans were chanting: "Brady! Brady! Brady!" That's superstardom right there. And I have to say that I agree with their taste in quarterbacks. Tom Brady is a handsome man. Knows his way around a pocket square, too.
3. This new fresh-faced coach the San Diego Chargers have, Norv Turner, might have what it takes to win a championship. A 14-3 victory against the Bears. He seems like a defensive mastermind, and defense wins championships. Everyone knows that. He might be lacking in the offense department, though. You know who seemed good with offense and is unemployed? Marty Schottenheimer. Maybe San Diego should bring him in to give this Turner guy some help on the offensive side of the ball.
4. Adrian Peterson is going to be some kind of player. He racked up 103 yards on 19 carries, as well as a 60-yard touchdown reception in Minnesota's victory over the Falcons. Then, a few time zones away, he rushed for 38 more yards for the Bears against the Chargers. Sure, he fumbled in San Diego, but that sort of travel schedule is going to catch up with you somehow.
5. Speaking of travel, I have a gripe. I got on a plane this week to go to California, and it turns out that planes go up into the air. Seems like an unnecessary risk to me. All that weight and metal somehow suspended up in the sky? No thank you. Is it some kind of magic? Wires, maybe? I don't know, but I don't like it. Way too dangerous.
6. Colts 41, Saints 10 and Chargers 14, Bears 3. Championships are not won in September. My guess is the NFC knows this and is laughing at the AFC for peaking in Week 1. Mark it down: NFC 75, AFC 3 in this year's Pro Bowl. It might even be worse than that in the Super Bowl. I feel very confident about this.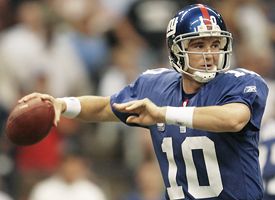 AP Photo/Matt Slocum
Eli Manning eclipsed his big brother to the tune of 312 yards and four touchdowns yesterday.
7. Was Sunday the day Eli Manning finally passed his brother Peyton? Eli threw for 312 yards and four touchdowns, while a quick scan of the box scores reveals that Peyton didn't record a single completion that day. Great job by Archie mentoring Eli into an elite quarterback. But now it seems Peyton could use his attention.
8. Coffee of choice to watch this week's games? Venti latte with whipped cream and a shot of Brett Favre's stubble. Protein rich and really tickles the throat on the way down.
9. Mason Crosby. Not only did the rookie kicker win Favre a game with his last-second kick against the Eagles, but I love his name, too. Jackie Mason. David Crosby. For my money, they're the two greatest entertainers of the 21st century.
10. My Player of the Week: Scott Player, P, Arizona Cardinals. Doesn't play until tonight, but I think he'll have a big game. Plus, he's the only guy in the NFL named Player. Kind of a limited field.
11. MVP Race: (1) Tom Brady; (2) Brady, Tom; (3) T. Brady; (4) New England Patriots QB1; (5) Brett Favre.
12. Someone who did learn from the Michael Vick fiasco: Nike execs. Burned by making Vick the face of its NFL marketing push, the company needed to distance itself from shady dealings and align with a more positive role model. Enter Shawne Merriman. Steroid use is definitely not as bad as dogfighting. Great move.
13. Fantasy football tip: This might seem unorthodox, but pick up Chargers running back LaDainian Tomlinson off the waiver wire and start him at quarterback next week. He had a 100 percent completion percentage and a touchdown pass this week. If your league tracks quarterback rushing yards, he might even help you out there, too.
13b. Fantasy football tip 2: If your league gives points for grit, start Favre.
13c. Sweet! That was a legitimate use of a subset.
14. Days until I can talk about getting a colonoscopy in my football column: 8,030. (Maybe I'll even put up the video on that YouTube site.)
14b. Days until I would talk about getting a colonoscopy in my football column, if you had your druthers: 0. You probably want to hear about it today, I'd bet.
14c. Yes! Another proper use of a subset.
15. Giants guard David Diehl, while introducing himself during Sunday night's game against the Cowboys on NBC: "David Diehl, University of Chief Illiniwek." I've never heard of UCI, but this is further proof that small schools like Appalachian State are becoming bigger players in the football world.
16. Quote of the Week: "Umm." That's from Bill Belichick in the postgame news conference after the Patriots beat the Jets. What a perfect means of buying time to collect his thoughts and think about what he wanted to say. Brilliant.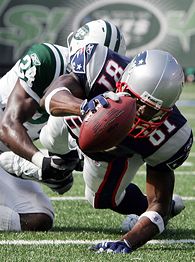 AP Photo/Bill Kostroun
Memo to Randy Moss detractors: Who's laughing now?
17. Randy Moss, class act. He has always had his detractors, people who said he is a "me first" locker room cancer, but after Sunday's game, he refused all questions about his individual performance and said he only wanted to talk about his team. See? He is a team player. All he needs is to be on a three-time Super Bowl champion with a roster full of Pro Bowlers and get nine catches and 180-plus yards of receiving per game. Nothing more.
18. Another thing Randy Moss proved Sunday: Training camp is not necessary for veteran players.
19. Larry Johnson's rushing line in Kansas City's 20-3 loss to Houston: 10 carries, 43 yards, no touchdowns. And his longest carry was only 8 yards. I think his performance proved one thing: Training camp is necessary, even for veteran players.
20. Outstanding game for Tennessee's Chris Brown: He had 175 yards on 19 carries in a win over Jacksonville. And I love him on the track "Shortie Like Mine" with Bow Wow. Music City definitely is the perfect place for him!
21. So that's why Michael Strahan was out of training camp: He was visiting a school. Yet the Giants kept fining him. Unacceptable. Maybe Tom Coughlin is as bad a person as they say.
22. Jamal Lewis seems to be a real uphill runner now. That's a problem. Downhill runners are preferred. Maybe he is running in the wrong direction.
23. Roger Federer. Amazing. He has agility, power and vision. I bet he could join at least 10 NFL teams and immediately start at quarterback. He would just have to be taught how to throw a football first. But he's such a great athlete, I'm sure he'd pick it up by game time.
24. Quick movie recommendation: I just rented "The Net" with beautiful Sandra Bullock. Quite a flick. Makes you think that if this Internet thing ever takes off, there could be some downside, too. Best scene was when she was hurriedly copying files onto a floppy disk. I've been there. Those things never seem to copy fast enough. And pizza delivery over the Internet? Please say this is coming in the future! My only problem with the movie is that I wish her computer had to keep moving at no less than 50 mph. "Speed" and "Speed 2: Cruise Control" didn't explore this conceit enough for my liking.
25. Great new batch of "This Is Our Country" Chevy Silverado commercials. "Most dependable, longest-lasting ____." Great idea. That's why I nominate them for "Most outstanding, longest-lasting commercials." I hope they never go off the air. They're right, after all: This is our country. If I weren't driven everywhere I go, I most definitely would buy a Silverado. Or at least test drive one. Our troops deserve nothing less.
26. Prediction for tonight's games: Baltimore 17, Cincinnati 1. The Ravens have an outstanding defense, but the Bengals are too explosive on offense not to get at least one score. As for the other game: 49ers 27, Cardinals 24. Remember when Matt Leinart didn't leave USC after his junior year, then San Francisco drafted Alex Smith? Turns out that was the best move for everyone. The 49ers are happy with Smith, and Leinart is on a young, talented team in Arizona. Plus, by staying another year in school, Leinart was able to impregnate his girlfriend. And that has gone really well, too.
27. If Roger Goodell wants parity, he's got it. Through 14 games, not one division is separated by more than a game between first and last place. Buckle up, everyone. This is going to be quite a season!
DJ Gallo is the founder and sole writer of the sports satire site SportsPickle.com. He is also a regular contributor to ESPN The Magazine and has written for The Onion and Cracked. His first book – "SportsPickle Presents: The View from the Upper Deck" – is on sale now.
2007 NFL PREVIEW

In our 2007 preview, 'Secrets of The Game," we take you inside the NFL, with stories on the playbook, video preparation and a peek at Peyton Manning's passing camp.
THE BASICS
•
Team-by-team previews, more
•
Power rankings: Pats clear No.1
•
For your ears only: SB predictions, more

•
Our experts' picks...
|
...and yours
SPORTSNATION
•
Vote:
And the Super Bowl teams will be...
•
Vote:
NFL 101
|
Week 1 Pick 'em
•
Rank 'em:
Teams
|
MVP favorites
|
QBs
DAY 1: Mystery of the playbook
•
The NFL's sacred diary of trust
•
Scouts Inc on go-to plays:
AFC
|
NFC
•
Inside an '04 playbook
|
10 pages from it (PDF)
•
Playbook stories: Lost, found, confused
•
Pasquarelli: How different are they?
•
For your ears only: Talking X's, O's

•
Scout-speak: A glossary
DAY 2: Tales of the tape
•
Breaking down the game with Matt Hasselbeck
•
How teams collect, dissect video
•
Merril Hoge's all-game tape team
•
Film room: 'Holy land' of the NFL
•
Video:
Hoge, EA Sports on tape study
•
Future film study could be like video game
•
Clayton: Five sleeper teams
•
Scouts Inc.: 10 unnoticed contributors
•
Jeremy Green: What I learn from tape

DAY 3: Inside Manning's passing camp
•
Behind the scenes with Manning & Co.
•
Football joy at Manning Passing Academy
•
Milestones: Favre, others approach marks in '07
•
Brett Favre Zoom gallery
•
Scouts Inc: 5 passers of near future
•
Scouts Inc: 5 passers of distant future
...and in ESPN The Magazine

Season preview: NFL players spend the entire offseason looking forward to September. Then poof! A star QB (hi, Mike) is indicted and a marquee DT blows out his knee (that's gotta hurt, Booger). Winning the Super Bowl isn't easy. Ask LT, who's trusting his my-way-is-the-only-way GM to take him all the way.
On newsstands Wed., Aug. 29
...and on ESPN
Watch the season debut of the award-winning "Sunday NFL Countdown" on Sept. 9 at 11 a.m. (ET).
Also See
ESPN Top Headlines