The Internet.
Like in the men's bathroom in Concourse G of Minneapolis-St. Paul International Airport, anything goes. Message board posters and blog commenters can take part in deviant overreaction action, shielded from consequence by their anonymity.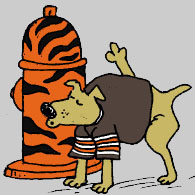 Kurt Snibbe/Page 2 artist
Want to weigh in with a take that's too ridiculous for even sports talk radio? Couldn't get your death wish for the head coach past the call screener? Never fear. Overreaction Nation's Internet message boards are not so judgmental. They may even let you drop in a few f-bombs.
If Overreaction Nation has a space program, the Internet is its NASA -- exploring the limits of overreaction, discovering new galaxies of hyperbole.
But sometimes, even the most extreme fan expressions of sorrow and despair -- or hope and excitement -- can seem muted and subtle. Subdued even.
And that is when the fan is a supporter of the Cleveland Browns. Think about it. No NFL team created more cause for overreaction -- legitimate overreaction, both negative and positive -- than the Browns.
Cleveland opened the 2007-08 campaign at home, with the hope of a new season and confidence that a head coach on the hot seat would at least get maximum effort from his players against the hated Pittsburgh Steelers. Three hours later, the Browns had been bludgeoned 34-7, the quarterback who had won the starting job over six weeks of training camp was out of a job (and soon to be traded), Romeo Crennel was all but fired and the fans -- those masochistic enough to stick around -- were chanting the name of an untested rookie quarterback.
Less than an hour into that debacle, the comments section at Browns' blog DawgsByNature.com was filling up with messages like these:
"Oh my." -- APV
"Hate to say it: we still SUCK!" -- MahoningValley
"This is really an outrage. It is unforgivable in my eyes. holding penalties on a punt … terrible, terrible interception … not ready for the steeler's blitzes that they have run for 20 years … cover two looking like [expletive] … Let's start putting that package together to get Cowher." -- DaytonDogg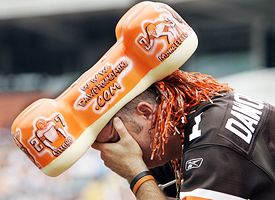 AP Photo/Mark Duncan
Desperation was in the air in Cleveland after a Week 1 debacle against the Steelers.
Again, that was just in the first hour of the game. As the game neared its conclusion, the gloves came off. (Well, they were already off. But now fans had their gloves off and were wielding sledgehammers.)
"The offense is an absolute nightmare. God, I actually feel sick to my stomach watching this." -- mrich
"Romeo=Lloyd Carr of the NFL?" -- BringBackKosar
"Out of market and at home today, so not seeing the game. Is it really THAT bad?" -- mjmarble
"enjoy what you cannot see." -- Casey Jones
"F--- continuity, if I'm Randy Lerner I call up Phil Savage after the game and tell him, I want Crennel's resignation letter on my desk tomorrow morning. And if he doesn't resign, Phil, you're both fired." -- mrich
"I don't know why I put myself through this. I didn't not have high expectations for this season, but this is ridiculous." -- Tony
Outrage, calls for a firing after Week 1, nausea -- all overreactions? Most definitely. Unless you actually watched that game.
Week 1 was so bad in Cleveland that those bastions of reasoned NFL thought and context, sports Web site power rankings -- tongue planted firmly in cheek, in fact so far I'm piercing my cheek -- all placed the Browns dead last in the NFL. ESPN.com's blurb on the team could have fit nicely on a Browns message board: "For all you sports fans in Cleveland who'll have to suffer by watching this lousy team, we have a key date for you: Oct. 31. That's when the Cavs open their regular season. Until then, you're on your own."
It was ugly for Browns fans. And that's saying something for a fan base that has experienced some pretty low lows over the years.
Into the fray stepped Browns bloggers, who are a brave and hearty lot to write about Cleveland Browns football week after week. This dedicated faction also has to be somewhat hopeful, too, because … well, something has to keep them posting. While acknowledging the disaster of Week 1, they also urged patience.
DawgsByNature.com: "If seeing the Browns playing in Week 1 wasn't hell, then I don't know what is. After another offseason of build-up, including several key additions through free agency and the draft, we were presented a 34-7 embarrassment for four quarters." But the final paragraph of the site's Game 1 wrap-up begins: "Once again, it's important to reiterate that this was only one game, as painful as it was."
The Mistake By The Lake Sporting Times blog brought levity to the mistake by the lake that was Week 1: "Woo, who's got Browns fever?! No, seriously, who's got Browns fever, because if you have it, you need to see a doctor right away." Continuing: "This week, the Browns were extremely, extremely successful in not giving away the goods too early in the season. You don't want to show everyone your A-game right off the bat -- you gotta keep those future opponents guessing!"
With the Charlie Frye trade -- he was sent to Seattle for a sixth-round pick two days after Cleveland's opening-week loss -- and the cries for Brady Quinn dominating the conversations leading up to the Bengals game in Week 2, Browns fans had little time to prepare for the almost guaranteed bludgeoning that was to come Sunday against Cincinnati.
"I know what you're thinking: is it still football season?!" began Mistake by the Lake's Bengals preview.
But then the game began. The Bengals took an early 7-0 lead.
"[Derek] Anderson 0-4 so far. brilliant," wrote BringBackKosar on DawgsByNature's game board.
But, suddenly, Derek Anderson touchdown passes began raining down like … like … praise from Browns fans.
"Holy [expletive] we look like a fully competent football team out there! this is great!" -- BringBackKosar, 46 minutes after the "0-4" post.
"YEEEEEEEEEEEEEEEEEEEEEEEEEEEEEEEEEE!!!! This is flipping amazing!!!!" -- Zorgon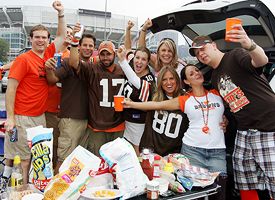 Jim McIsaac/Getty Images
Fifty-one points against your intrastate rival will go a long way toward rejuvenation.
"I'd like to apologize to Derek Anderson for thinking he was incapable of starting." -- BringBackKosar again
"Incredible" -- DaytonDogg
"This game is wild. It's exactly what we needed after last week's disaster." -- Rayman
"I LOVE YOU GUYS!" -- Drewski
Expressions of love, apologies, joyous screams. Trademark Overreaction Nation behavior. Perhaps justified in this case, though. A 34-7 loss to a hated rival in Week 1, followed by a 51-45 win over another hated rival in Week 2.
YEEEEEEEEEEEEEEEEEEEEEEEEEEEEEEEEEE, indeed.
Mistake By The Lake summed up the change in mood this way in its Game 2 wrap: "To say the tides have turned would not do the Browns justice. That they managed to rejuvenate the spirits of some of the most discouraged fans I've ever seen in one week without even bringing in Brady Quinn is amazing."
Corey Rubin co-writes Mistake By The Lake with his brother, Alex. "Week 1 was really, really bad. In the back of my mind, I kept repeating 'don't draw conclusions from only one game,'" he said, thereby ruining his chances of ever becoming President of Overreaction Nation.
In fact, like the Rubin brothers, Cleveland might want to consider seceding from Overreaction Nation completely. While fans elsewhere should stop and think before posting something online: "Is this rational? Would I say the same thing if my name was affixed to it?" Browns fans should by all means go crazy. After all, there's another game in four days and who knows what's coming next.
DJ Gallo is the founder and sole writer of the sports satire site SportsPickle.com. He is also a regular contributor to ESPN The Magazine and has written for The Onion and Cracked. His first book – "SportsPickle Presents: The View from the Upper Deck" – is on sale now.
NFL OVERREACTION NATION

We've seen two weeks of football, and for most NFL fans, that's more than enough to either jump on the bandwagon ... or jump ship.
Overview
•
Jackson: Welcome to Overreaction Nation
•
ESPN experts: Should you be overreacting?
•
Vote: What do we know after two weeks?
In Chicago ...
•
Wojciechowski: Even a win is too much to Bear
In New York ...
•
Darcy: Apple of their eye is the backup QB
In Dallas ...
•
Pearlman: Cowboys fans letting it all hang out
In Cleveland ...
•
Gallo: Net gain or loss for roller-coaster Browns?
In San Diego ...
•
Buckheit: Pats pull the plug on Bolts fans
In Los Angeles ...
•
Neel: Who says no one in L.A. loves the NFL?
Also See
ESPN Top Headlines