If you are interested in reading this, an NFL column, I assume you follow football enough to know who won all of the matchups Sunday. So I'm not going to bore you with scores and game recaps.
Instead, let's look at the winners and losers in matchups that aren't displayed on the scoreboard, but are no less important.
Brian Griese versus Rex Grossman
Trick question. The winner is neither. But if Lovie Smith has an ounce of football knowledge, he knows the Bears have found themselves their quarterback. It's Brad Maynard. Bears punter Brad Maynard, that is. Since a traditional quarterback isn't working, why not have Maynard take every snap on offense? Once he receives the ball from center, he can turn around and kick it backwards to Devin Hester. That approach would no doubt result in far more positive results than putting the ball into the hands of Griese, Grossman or Cedric Benson.
Tony Romo versus The Media
The dimpled playmaker let this one slip away a bit last year when he botched a hold in the playoffs, but he is firmly back in command. "Tony …what's it like to be so great?" "Tony, Tony, pick me! Tony, any chance you would be attracted to a 54-year-old man with a football column in central Texas' third-largest daily?" "Tony! I'm lost in your eyes. Can you tell me the way out?"
Bengals versus Pigeons
This round most definitely goes to the pigeons. But enjoy the game tonight anyway, Bengals fans. Just avoid the nachos with white cheese.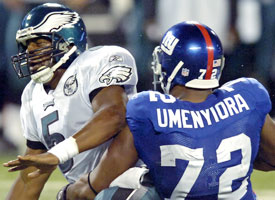 AP Photo
Unfortunately for Donovan, Umenyiora treats all QBs the same.
Guarantees versus Awful Football Teams
Forget Cowboys over Rams, yesterday's biggest blowout was Awful Football Teams over Guarantees. St. Louis wide receiver Isaac Bruce guaranteed a win, but the Rams lost 35-17. Dolphins linebacker Joey Porter also guaranteed a victory over the Raiders, only to see Oakland win 35-17. Note to players on awful football teams: We admire your spunk, but maybe hold off on the guarantees. They're dangerous. For example, Porter's guarantee prompted Oakland's Warren Sapp to say after the game: "What's he going to guarantee next week? It's tough when you run your mouth." See what I mean? Dangerous. The weight of the irony of that statement coming from Sapp is so great, we're lucky the world didn't implode and get sucked forever into a black hole inside Sapp's belly-button.
Osi Umenyiora versus Winston Justice
I was wrong. This is the biggest blowout from yesterday. The Eagles ran 62 plays from scrimmage yesterday, but Justice only let Umenyiora sack Donovan McNabb on six of them. Well done, Winston Justice. Well done.
Gloves versus Skin
David Carr lost yesterday wearing gloves. But a gloved Kurt Warner led Arizona to a comeback victory over the Steelers. So this one is a tie. However, I'm sure gloves would have gone 2-0 yesterday had Carr donned his white gloves instead of a black pair. White gloves allow a quarterback to put more touch on the ball. A daintier touch. A touch that says: "I'm going to loft this ball delicately into the air, as if on a cloud, and then after I beat you I'm going to the opera. Tootles!"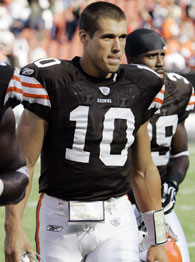 AP Photo
Look! Brady dressed up as a QB for Halloween! That's so cute.
Derek Anderson versus Brady Quinn
Anderson is now 2-1 as a Browns starter, Cleveland's attack has scored at least 24 points in each of his starts and thanks to a win over the Ravens yesterday, the Browns now sit just a game back of Pittsburgh in the AFC North. Things are looking good in Cleveland. So good, in fact, that the calls to start Brady Quinn at quarterback have all but ended. Not that Quinn isn't needed, though. Far from it. Cleveland fans are so excited that they need Quinn's experience in crotch-covering to hide exactly how excited they truly are.
Brakes versus Cargo Planes
Finally a pickup truck with brakes strong enough to stop a cargo plane. I can't tell you how many times I've been carried up into the air because my truck was unable to hold a plane on the runway. If only I could remember to put my return address on packages I send, I wouldn't have a need for this at all! Oh, and if you think being pulled into the air is bad, landing is even worse. And insurance rarely covers the damages. So, please, heed my advice and get a cargo plane-stopping truck right away. You won't be sorry. And you won't find yourself dangling 40,000-feet above the earth ever again.
Joey Harrington versus Reason
Joey Harrington has played two very good games in a row. Reason loses here. Badly.
Travis Henry versus The World's Overpopulation Problem
This one has yet to be decided, but if Henry is for some reason given bed rest for the ankle injury he suffered yesterday, we're all pretty much screwed.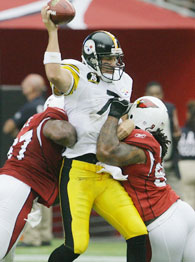 AP Photo
The Steelers and Ben Roethlisberger could feast on AFC East weaklings New York and Miami down the stretch.
Ben Roethlisberger versus Ken Whisenhunt
The Steelers quarterback and his former offensive coordinator, Ken Whisenhunt -- now the head coach in Arizona -- have a frosty relationship. Why exactly is unclear. Perhaps Roethlisberger feels Whisenhunt rode him too hard. Or, perhaps he suspects Whisenhunt was a Norman Bates type who liked to dress up as an old lady and ride around Pittsburgh trying to kill motorcyclists.
Throwback Vikings Uniforms versus Current Vikings Uniforms
You be the judge. But for my money, it's a tie. They look pretty much the same to me. Seems like a waste of a throwback uniform. They should have worn their really old helmets. Think Brett Favre would have been running around, smiling and setting records yesterday after getting a few horns through the chest? No way.
Brett Favre versus The Evildoers
This one is obvious, but the winner -- of course -- is the great, indomitable Brett Favre. Chris Berman's comments on ESPN's Sunday morning pregame show summed it up best: "Rooting for Brett Favre is like rooting for America. It just is." Well said. Oh, and fans out there of the Vikings, Bears and Lions? Stop rooting against Brett Favre. Stop hating America.
DJ Gallo is the founder and sole writer of the sports satire site SportsPickle.com. He is also a regular contributor to ESPN The Magazine and has written for The Onion and Cracked. His first book – "SportsPickle Presents: The View from the Upper Deck" – is on sale now.