Like it or not, the NHL doesn't have stars on the same level as other major professional leagues. There's no LeBron James, Tom Brady or Alex Rodriguez. There isn't even a David Beckham.
As big as Sidney Crosby might be in hockey circles, the average American probably has no idea who he is.
For those of you in that camp, what follows is a cheat sheet to help you understand the "major sport" equivalents to some of the biggest names in the NHL. It may not make you completely NHL-savvy by the time tonight's games face off, but then outside of becoming a Canadian citizen, nothing will.
Anaheim Ducks = San Antonio Spurs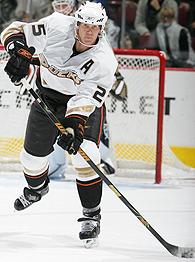 AP/John Ulan
Chris Pronger might have a few things in common with Bruce Bowen … but flopping is definitely not one of them.
Both teams are their defending league champions. Both teams play a rough and tough style. Both teams have underestimated skill and playmaking abilities. And in Chris Pronger and Bruce Bowen, both teams have players who can deliver a vicious crosscheck.
Sidney Crosby = LeBron James
The 20-year-old Penguins star is just as much the phenom in the NHL as James is in the NBA. And with the likes Evgeni Malkin, Jordan Staal, Ryan Whitney and Marc-Andre Fleury on the roster, Crosby's Penguins are a legitimate championship contender. That's really the biggest difference between the two phenoms: Crosby has more talent around him than James does. And I'm talking about basketball talent.
Mike Keenan = Bill Parcells
Parcells made several stops in his NFL coaching career and created some enemies along the way with his hard-nosed approach, but he also was a winner. The same is true of Keenan, who takes over the Calgary Flames this season -- the eighth team he has coached in the NHL. Once he gets 10 NHL teams on his punch card, he gets to coach the next one for free! Yeah!
Jeremy Roenick = Brett Favre
For some reason, the San Jose Sharks signed Jeremy Roenick's corpse to play for them this season, even though he is well past his prime. However, many people said the same kind of things about Brett Favre before this season, and look how that turned out. So I take it back. San Jose may very well get off to a 4-0 start before Roenick keels over.
Mike Comrie = Tom Brady
Big NFL names like Brady and Matt Leinart don't have the market cornered on famous girlfriends. The Islanders' Mike Comrie is dating Hilary Duff. And the Rangers' Sean Avery was, until recently, with Elisha Cuthbert. This should give you hope, dear reader. If obscure, third-line NHL forwards can score Hollywood beauties, what's stopping you? So when you come across a starlet, tell her your name is something like "Johnny McPuck" and that you play professional hockey for the "Canada Hockeyers."
Mike Modano = Barry Bonds
The Dallas Stars center needs just six points to become the all-time leading American-born scorer in NHL history, passing Phil Housley's total of 1,232. But the mark will be tainted, and hopefully Marc Ecko will buy the record-setting puck and then brand it with an asterisk because Modano has disgraced the dignity of hockey. (Don't try to argue that a hockey player with frosted tips isn't disgraceful to the sport, dear reader. You'll just be revealing yourself as a hockey-ignorant nancy boy.)
Patrick Kane = Greg Oden Kevin Durant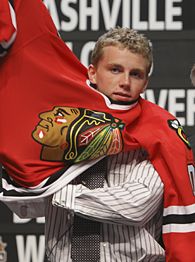 Kiichiro Sato/AP Photo
Blackhawks fans are hoping No. 1 overall draft pick Patrick Kane help the Stanley Cup-starved franchise turn things around.
The No. 1 overall selection in June's draft will be asked to come in and immediately contribute to the Chicago Blackhawks. My prediction is that he will do that with flying colors because if you have ever seen the Blackhawks play, he can improve the team simply by knowing how to skate and not regularly scoring own-goals.
Staal Brothers = Vick Brothers
OK, not really. But they're the closest thing the NHL has to offer right now. Carolina's Eric Staal and his younger brother Jordan of the Penguins might not grab headlines for the publicity-hungry NHL by killing dogs, stomping on opponents' legs, brandishing firearms in McDonald's parking lots, smoking marijuana, plying underage girls with alcohol or holding underage drinking parties, but … wait … the Staals were involved in an underage drinking party! Yay, NHL! You have a long way to go to match the NFL, NBA and MLB when it comes to ugly scandals, but you'll make the news yet! (Someone in the NHL marketing office needs to plant a gun, some weed and a dead dog in Jordan Staal's locker ASAP.)
Scott Niedermayer = Roger Clemens
The former Ducks captain is leaning toward retirement, but like Clemens, many believe he will return before the season is over. Also like Clemens, it's easy to suspect Niedermayer used steroids. For how would one achieve growth this majestic without using synthetic enhancement?
Phoenix Coyotes = Tampa Bay Devil Rays
The Wayne Gretzky-coached Coyotes are a good bet to be the worst team in the NHL this season. Do you hear that Mrs. Jones Gretzky? A good bet.
John Tortorella = Tom Coughlin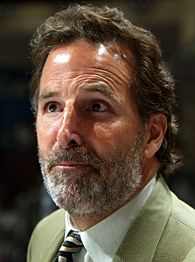 Jim McIsaac/Getty Images
Lightning coach John Tortorella's disposition reminds us of Douglas Neidermeyer from "Animal House."
The Tampa Bay Lightning coach is disliked by many of his players. In fact, in March when Tom Coughlin joked he was the second-most hated person in world history behind Hitler, the actual full quote was this: "Hitler and then me, in that order … and third is John Tortorella, followed closely by whoever it was that signed Dane Cook to a movie deal, followed by Pol Pot."
Cam Neely = Danny Ainge
Like former Boston hero Danny Ainge taking over the Celtics, Cam Neely has been hired by the Bruins as vice president. He will advise general manager Peter Chiarelli and also consult with Bruins executive vice president Charlie Jacobs. And every time they make a stupid, Bruin-esque decision, Neely has been given carte blanche to take on the persona of Sea Bass and hawk on their burgers.
Chris Chelios = Julio Franco
Detroit defenseman Chris Chelios will turn 46 later this season. But who knows if that's Chelios' real age? You know how people from Illinois are, always messing with numbers. Take Abraham Lincoln, for example. "Four score and seven years ago"? What does that even mean?
U.S. Dollar ≠ Canadian Dollar
It used to be that the U.S. dollar would give you major buying power in Canada. Now $1 Canadian buys $1.01 worth of goods here in the United States. What's going on? And what does this have to do with hockey? I'm not sure. But I want to be paid for this column in Canadian dollars. And then I want to use that extra money to take the newly single Elisha Cuthbert out to dinner, during which I will woo her with my knowledge of hockey and international currency exchange rates. "Ooh! You had me at Slovenian Tolar."
DJ Gallo is the founder and sole writer of the sports satire site SportsPickle.com. He is also a regular contributor to ESPN The Magazine and has written for The Onion and Cracked. His first book – "SportsPickle Presents: The View from the Upper Deck" – is on sale now.
2007-08 NHL SEASON PREVIEW
The NHL is back and we've got all you need to get you ready for the new season. The 2007-08 campaign starts Sept. 29 in London, followed by the North American opening Oct. 3.
TEAM PREVIEWS
ATLANTIC DIVISION
•
New Jersey Devils
•
New York Islanders
•
New York Rangers
•
Philadelphia Flyers
•
Pittsburgh Penguins
NORTHEAST DIVISION
•
Boston Bruins
•
Buffalo Sabres
•
Montreal Canadiens
•
Ottawa Senators
•
Toronto Maple Leafs
SOUTHEAST DIVISION
•
Atlanta Thrashers
•
Carolina Hurricanes
•
Florida Panthers
•
Tampa Bay Lightning
•
Washington Capitals
CENTRAL DIVISION
•
Chicago Blackhawks
•
Columbus Blue Jackets
•
Detroit Red Wings
•
Nashville Predators
•
St. Louis Blues
NORTHWEST DIVISION
•
Calgary Flames
•
Colorado Avalanche
•
Edmonton Oilers
•
Minnesota Wild
•
Vancouver Canucks
PACIFIC DIVISION
•
Anaheim Ducks
•
Dallas Stars
•
Los Angeles Kings
•
Phoenix Coyotes
•
San Jose Sharks
VOTE
•
Who will win the Stanley Cup?
•
Can you pass our preseason quiz?
MORE
•
2007-08 NHL season preview index
ESPN Top Headlines