Do you like the alphabet? Of course you do! And Page 2 has its finger on the pulse. That's why one day after Scoop Jackson gave you an alphabetized "NBAipedia" season preview, I'm here with an A-Z rundown of the 2007-08 season.
The differences are that his column has actual basketball knowledge and insight, whereas mine has … umm … well I have something for the letter Q. So there.
Please enjoy this column during your lunch break with a delicious bowl of alphabet soup -- the official soup of Page 2!
A: Andrea Bargnani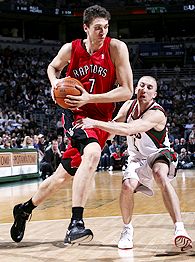 Gary Dineen/NBAE/Getty Images
Andrea Bargnani is poised to become a giant of the game -- especially when guarded
by Steve Blake.
Last year's No. 1 overall pick is ready to break out this season in Toronto and move toward fulfilling his potential as the next Dirk Nowitzki. So those of you reading this who are fathers, if at some point this season your son leaves you a note that says: "Dad, I have decided I want to be Andrea," do not instantly panic. Unless it's written in lipstick.
B: Boobie

The defending Eastern Conference champion Cavaliers did nothing to improve their roster since last season. Perhaps the thinking is that second-year point guard Daniel "Boobie" Gibson will continue to improve on his outstanding play from the postseason. We'll see. But it wouldn't be the first time someone has overvalued Boobie in relation to other assets.
C: Ceatles

That's the nickname Kevin Garnett has given to the Celtics' new triple threat of Garnett, Ray Allen and Paul Pierce. It is the worst nickname ever. A team good enough to have Garnett, Allen and Pierce in the starting lineup deserves a better name than that. The "Ceatles" is just awful. A nickname of that quality should be reserved for a team bad enough to have, for example, Rajon Rondo and Kendrick Perkins in the starting lineup.
D: Dancing

Mark Cuban comes out of his experience on "Dancing With The Stars" healthier, mellower and more centered. Don't expect to see him screaming wildly at officials from the sidelines anymore. He will now show his displeasure via interpretive dance.
E: Elephant in the room

Shawn Marion says he has put his offseason trade demand behind him and is ready to give his all this season with the Phoenix Suns. But it's hard not to see Marion's request as the elephant in the room. Not that it's necessarily a bad thing. The Suns should go with it. In fact, they should sign the elephant to a contract and park it in the lane as a means to stop opponents from driving past them for easy layups all the time.
F: Family

Stan Van Gundy is the new coach of the Orlando Magic. For the record, Stan Van Gundy's family gets unbearably annoying in exactly 18 months.
G: "Gazo the Pranksta"

That is the name of Gilbert Arenas' cartoon currently in development. Soon Arenas will invite his blog readers to audition to voice the characters. But bring your best, America. Once "Frank TV" is canceled in a week or two, I imagine you'll be competing against Frank Caliendo.
H: "Hang Time"

Reggie Theus, former star of the Saturday morning teenage sitcom "Hang Time," is the new coach of the Sacramento Kings. Never viewed as a disciplinarian, Theus has taken a tough approach with his players since taking over the job, with lots of running, a team curfew and a ban on cell phones on the team bus. Clearly, he wants to put in his players' minds that he's tough before they find this picture on the Internet.
I: Indiana Pacers

After a rash of player incidents in recent seasons, the Pacers have cleaned house and are instituting a new fan-friendly approach. More focus on the organization than individual players and more community events and promotions highlight the effort. Also, many fans are now good enough to win spots on the Pacers' roster. That's as fan-friendly as you can get.
J: Jefferson, Al

The former Celtic is being asked to step into Garnett's shoes in Minnesota. So far, things are looking good. Jefferson is surrounded by minimal talent just like Garnett was. Now he just needs to clap baby powder into the air before tip-off. (And preferably lots and lots of baby powder to make a cloud so large that Timberwolves fans can't see the carnage taking place before them.)
K: Knicks

Making fun of the Knicks was all the rage in recent years, but no more. Isiah Thomas has himself a team that should make the playoffs. The Knicks will make anyone who underestimates them their [term Thomas uses to describe female executives].
L: LeBron James

Cleveland management gave LeBron James everything he needs this offseason to prove he is the league MVP. Namely: nothing.
M: Microfracture

You have probably heard this term a lot in recent years -- most recently due to Greg Oden's microfracture surgery. Microfracture is a procedure done to restore knee cartilage and not -- I repeat, not -- a break in the bones of Earl Boykins.
N: Nash, Steve

He's simply the greatest African-Canadian basketball player of all time.
O: Officials

Whew! Thank God that the Tim Donaghy gambling scandal is over. Now the only thing besmirching the good name of NBA officials is general incompetence.
P: Praying hands holding a gun in front of a church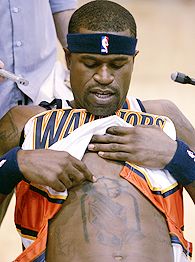 AP Photo/Ben Margot
Page 2 also prays that Stephen Jackson never uses a gun again.
Warriors forward and team captain Stephen Jackson got a tattoo across his chest during the offseason. The tattoo depicts two praying hands holding a handgun in front of a church. Now, Jackson says he got the tattoo because he prays he never has to use a gun again. But just to be safe, I'd say that if you live in the Bay Area and are a churchgoer, maybe stay home from now on and watch a service on that Catholic channel. I'm sure it could use the ratings.
Q: Quicken Loans Arena

Quick, just not quick enough to get the Cavaliers some money to sign a few complementary pieces for LeBron James. (Have I mentioned Cleveland didn't improve its roster in the offseason?)
R: Redick, J.J.

Forget for a moment how ridiculous it is for a grown man to still be using initials for his first name. Let's instead focus on how Redick likes to write. That's even wimpier. (And a writer with initials? Uber lame.) The former Duke star was expected to start at shooting guard this season for the Magic, but he was beaten out in camp by Keith Bogans. No doubt this disappointment will inspire some haiku:
Quieting haters
By being parked on the bench
Away from their sight

S: Strangling

P.J. Carlesimo is the new coach of the Seattle SuperSonics. Last time he had a head coaching job, he was strangled by his best player. Don't expect Kevin Durant to do that to him in Seattle. For one, Durant doesn't have Latrell Sprewell's personality. But also, based on the reports from predraft workouts, Durant doesn't have the strength to strangle anyone. It would be more of a gentle massage.
T: Trades

There are several big names on the trade market (other than Kobe Bryant): Jermaine O'Neal, Ron Artest, Jason Kidd, Shawn Marion and Andrei Kirilenko, to name a few. Phil Jackson is trying to align his Chi and emit good karma in hopes the Lakers can get all five of those players in exchange for Bryant.
U: UFC

Shaquille O'Neal spent part of his offseason practicing mixed martial arts to improve his flexibility, balance and strength. That's good news for the Heat and their fans. The bad news? Free throws are not considered a martial art.
V: Violet Palmer

I look forward to the first heated discussion over a foul this season between Isiah Thomas and Violet Palmer. "What's that, Isiah? You seem like you have something you wanted to add. Some word that started with a B. No? Lawsuit got your tongue? How about I just give you a technical for past behavior then?"
W: Weight

The Heat dealt Antoine Walker to Minnesota last week partly because he angered Pat Riley by coming to camp overweight. But it's not as though this is the first time Walker has showed up with a few extra pounds on his frame from the previous season, so Riley shouldn't have been taken aback. In fact, for those of you scoring at home, Walker is now a combined 1,384 pounds overweight over his career. Totally true.
X: Xavier McDaniel

McDaniel retired after the 1998 season. But if some NBA team could sign him to a 10-day contract for the purposes of this column, I would really appreciate it. Thanks.
Y: Yi Jianlian

The Bucks finally got their first-round draft pick to agree to play in Milwaukee. But then the preseason games began, and Yi didn't look so hot. Even worse, he's been banned from community events with children's groups because it turns out he is covered in lead paint.
Z: Zero

Z is for Agent Zero, Gilbert Arenas. And for all the Zs in the Web address of the site that adores him: www.WizzNutzz.com. And what else? Oh, I know: Z is also for 0, as in the number of players the Cavaliers brought in to help LeBron James. (I didn't want that to go unmentioned in this column.)
DJ Gallo is the founder and sole writer of the sports satire site SportsPickle.com. He is also a regular contributor to ESPN The Magazine and has written for The Onion and Cracked. His first book – "SportsPickle Presents: The View from the Upper Deck" – is on sale now.
DAILY DIME 2007-08 PREVIEW EDITION

Welcome back, NBA fans! Check out our 30 team previews, 300 forecasts and new Daily Dime.
Atlantic Division
•
Boston Celtics
•
New Jersey Nets
•
New York Knicks
•
Philadelphia 76ers
•
Toronto Raptors
Central Division
•
Chicago Bulls
•
Cleveland Cavaliers
•
Detroit Pistons
•
Indiana Pacers
•
Milwaukee Bucks
Southeast Division
•
Atlanta Hawks
•
Charlotte Bobcats
•
Miami Heat
•
Orlando Magic
•
Washington Wizards
Southwest Division
•
Dallas Mavericks
•
Houston Rockets
•
Memphis Grizzlies
•
New Orleans Hornets
•
San Antonio Spurs
Northwest Division
•
Denver Nuggets
•
Minnesota Timberwolves
•
Portland Trail Blazers
•
Seattle SuperSonics
•
Utah Jazz
Pacific Division
•
Golden State Warriors
•
Los Angeles Clippers
•
Los Angeles Lakers
•
Phoenix Suns
•
Sacramento Kings
ESPN Top Headlines