You have probably seen a bit of coverage, here and there, on the upcoming Patriots-Colts game. I was going to preview the matchup for you, but what can I really add at this point? Instead, I decided to tell you some interesting facts that you may not know about the TWO GREATEST TEAMS IN FOOTBALL HISTORY!!!
(And, please, if you know any facts about the Patriots and Colts that I failed to include, add them in the comments section below.)
• A Toyota Tundra traveling 400 mph while towing 12 cargo planes once tried to penetrate the Patriots' offensive line. The convoy exploded on impact.
• When Stephen Gostkowski kicks the ball, he kicks it so hard that every pig in the world suffers a broken rib. And footballs aren't even made of pigskin anymore.
• Peyton Manning has a lifetime $100 trillion contract to be the official endorser of canned Whoop-Ass.
• Human growth hormone didn't work for Rodney Harrison. He is a god, not a human.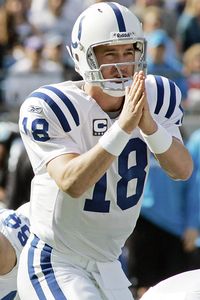 AP Photo/Rick Havner
There is no doubt, Peyton Manning is indeed a deity.
• When Peyton Manning mooned that girl in college, he did not show her his butt. He showed her the actual moon. He holds it, and the rest of the universe, in his right hand. Every pass he throws is a shooting star.
• At God's right hand sits Tom Brady. At His left sits Peyton Manning. At His feet sits the entire world, worshipping him. And above Him is Bill Belichick, moving God around with marionette strings.
• There are four primary sacred texts in the world: the Bible, the Koran, the Torah and the Patriots' playbook.
• How do you know the Patriots aren't running up the score? Their opponents are still alive.
• The U.S. Navy has a top-secret destroyer-class ship that is invisible and annihilates anything in is path. Its name? The U.S.S. Tedy Bruschi.
• Bill Belichick is such a genius, he nearly compiled a .500 record with the Cleveland Browns.
• A perfect quarterback rating is 158.3. Tom Brady's is infinity.
• A Marvin Harrison football card is worth more than the U.S. dollar. Soon the Euro will be replaced by the Harrison.
• Colts center Jeff Saturday is so good, they named a day after him.
• A rolling stone gathers no moss. That's just further proof that nothing can keep up with Randy Moss.
• Tom Brady's offensive line provides five layers of protection. No one has ever even glimpsed layers two through five.
• Adam Vinatieri is actually left-footed. He kicks with his weak foot so he can keep the ball in the stadium.
• SPOILER ALERT: The final episode of the NBC series "Heroes" shows all the Heroes coming together to form the 2007 New England Patriots.
• Junior Seau doesn't believe in Santa Claus. He killed him for entering his house unannounced when he was 6.
• Bill Belichick is dating your mom.
• Hunter Smith hunts humans. The wall of his den is covered with the heads of punt returners who dared to try to cross the 50.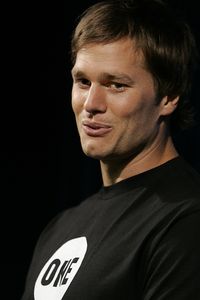 AP Photo/Stephan Savoia
There was never a time when Tom Brady wasn't sexy.
• Tom Brady was named People magazine's "sexiest baby" in 1977.
• Bill Belichick is so far inside your head, he knows what you are going to do next.
• Bill Belichick said you would read this line next.
• "Bob Sanders" is not his real name. That's an obvious alias. His real name? Assassin Jones.
• Bill Belichick cuts the sleeves off his sweatshirts because he doesn't want to get blood on his sleeves when he rips out an opponent's heart.
• Bob Kraft has so many Super Bowl rings, he gives them away for free to Russian heads of state.
• The Colts don't run up the score. They dial up the pain.
• Dallas Clark's real name is Andy McGee. He just gave himself a porn-star name so his opponents would be even more humiliated when he scores on them.
• Satellites are not put into space by rockets. Unless you consider Peyton Manning's rocket arm a real rocket.
• Bill Belichick is so good at cheating, we will never know even half the stuff he has done.
DJ Gallo is the founder and sole writer of the sports satire site SportsPickle.com. He is also a regular contributor to ESPN The Magazine and has written for The Onion and Cracked. His first book – "SportsPickle Presents: The View from the Upper Deck" – is on sale now.
PATRIOTS BEAT COLTS, 24-20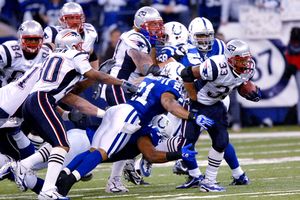 It's a battle of unbeatens ... and a possible AFC title game preview. It's Brady vs. Manning. Belichick vs. Dungy. It's 8-0 New England vs. 7-0 Indianapolis in Week 9 at the RCA Dome.
Sunday Countdown, (ESPN, 11 a.m. ET)
• In a report by Greg Garber, Hall of Fame QBs weigh in on the matchup of future Hall of Fame QBs Peyton Manning and Tom Brady. Also, special guest analyst Bill Parcells joins the crew to help cover every crucial angle of the epic matchup.
Commentary/features
•
Predictions: ESPN experts make their picks
•
Pasquarelli: Colts, Patriots take different paths
•
Clayton: Colts face Pats' big weapons
•
Sando: Manning or Brady? Experts make the call
•
Garber: Hall of Famers assess Manning, Brady
•
Drehs: Colts' Sanders a small wonder
•
EA Sports video: How they use Sanders
•
Chadiha: NFL's Top 5 rivalries
•
Power rankings: Pats No. 1, Colts No. 2
•
AccuScore: Pats have the edge
•
Clayton: Belichick seeks to run it up
•
Pasquarelli: Colts can finally focus on Pats
•
TMQ: It's an NFL battle of good vs. evil
Page 2
•
Got a problem? Ask coach Belichick
•
Inside the brain of ... Adam Vinatieri
•
Hill: Just call him Suge Belichick
•
Gallo: Secrets facts about Colts and Pats
•
Animation: Belichick's Cleveland years
Video
•
Colts, Patriots gamebreakers
•
EA Sports: How Colts use Sanders
•
Colts relishing underdog role
•
Cowboys' Crayton wants Colts to beat Pats
•
Keyshawn on Pats-Colts
•
Schlereth: Belichick breaking unwritten rules
•
Ismail: Colts, Pats right there together
•
Fassel: Teams must block out hype
•
Colts' Jackson ready for the Pats
Audio
•
Mike & Mike: Jimmy Johnson's preview
•
Jaws: Previewing Super Bowl XLI½

•
Freeney: Colts won't change approach

•
Patriots-Colts debate
•
Crayton: Colts have a great shot

•
Phil Simms on Brady-Manning

•
Jaws: QBs are pleasure to watch

Scouts Inc.
•
Horton: Both offensive lines are underrated
•
Green: Addai is offensive X-factor
•
Kidd: Maroney gives Pats another weapon
•
Maalouf: Pats have edge in punt game
•
Six keys to beating the Pats and Colts
•
Pats vs. Colts: Tale of the tape
•
Take 2: Pats-Cowboys scouting report
•
Colts' secondary will get physical
•
Cowboys' safeties are vulnerable
•
Follow this red-zone checklist
•
Wayne emerging as Colts' No. 1 receiver
•
Patriots-Colts scouting report
•
Seymour's return big for Pats
•
Clark, Welker play big roles
SportsNation
•
Who will win? Who's the better QB?
•
Where does the Colts-Pats rivalry rank?
Community
•
Got an opinion on the game? Let's hear it
•
Colts good, Patriots evil?
•
Sound off on Belichick's no-mercy approach
Manning vs. Brady: Previous results
•
Sept. 30, 2001 (at NE):
Patriots 44, Colts 13
•
Oct. 21, 2001 (at Indy):
Patriots 38, Colts 17
•
Nov. 30, 2003 (at Indy):
Patriots 38, Colts 34
•
Jan. 18, 2004 (at NE):
Patriots 24, Colts 14 *
•
Sept. 9, 2004 (at NE):
Patriots 27, Colts 24
•
Jan. 16, 2005 (at NE):
Patriots 20, Colts 3 **
•
Nov. 7, 2005 (at NE):
Colts 40, Patriots 21
•
Nov. 5, 2006 (at NE):
Colts 27, Patriots 20
•
Jan. 21, 2007 (at Indy):
Colts 38, Patriots 34 *
* = AFC championship game
** = AFC divisional playoffs
2007 Results
NEW ENGLAND (8-0)
•
Game 1:
Patriots 38, Jets 14
•
Game 2:
Patriots 38, Chargers 14
•
Game 3:
Patriots 38, Bills 7
•
Game 4:
Patriots 34, Bengals 14
•
Game 5:
Patriots 34, Browns 17
•
Game 6:
Patriots 48, Cowboys 27
•
Game 7:
Patriots 49, Dolphins 28
•
Game 8:
Patriots 52, Redskins 7
•
Patriots clubhouse page
INDIANAPOLIS (7-0)
•
Game 1:
Colts 41, Saints 0
•
Game 2:
Colts 22, Titans 20
•
Game 3:
Colts 30, Texans 24
•
Game 4:
Colts 38, Broncos 20
•
Game 5:
Colts 33, Bucs 14
•
Game 6:
Colts 29, Jaguars 7
•
Game 7:
Colts 31, Panthers 7
•
Colts clubhouse page
ESPN Top Headlines