Another Super Bowl is in the books. Patriots 24, Colts 20. Bill Belichick, Tom Brady, Tedy Bruschi and friends win their fourth Super Bowl ring.
The titanic matchup between undefeated rivals lived up to its billing on the field, but Super Bowl XLI½ was lacking in other areas. Here is how we will remember the final game of the 2007 season.
Counter-Programming

Whatever happened to the Lingerie Bowl? During the past few Super Bowls we've been able to flip the channel to see scantily-clad models running around and tackling each other. But this year we were given Seahawks versus Browns and Texans versus Raiders. Unacceptable. Not that Mike Holmgren and Romeo Crennel don't have that whole coach-next-door vibe going for them -- they most definitely do -- but come on. Give us more sex appeal. Sure, ABC offered up something versus Colts-Patriots called the Dickies 500, but studies say only 10 percent of male viewers would be interested in that sort of programming.
Halftime Show

Worst ever. At halftime I got local news and then a few brief highlights from the first half. Where was the typical over-the-top Super Bowl halftime extravaganza? I suppose the NFL is still reeling from the Janet Jackson fiasco and the ever-cautious Roger Goodell doesn't want to risk harming the image of the league? You know, that's probably exactly what happened -- there was a halftime show, but Goodell refused to air it because it was too hardcore, too crude. No doubt that with Super Bowl XLI½'s being played in Indianapolis, Nap Town's own Lil Ronnie took the microphone. Y'all know he ain't gonna cater to no FCC regulations. Not comin' out of the South Side of Nap-Town. That #$*@ is only semisuburban. Word.
Commercials

Also the worst ever. Where's the creativity, Madison Avenue? You have a chance to reach a huge worldwide Super Bowl audience and you don't give us a single new commercial? You at least could have given us some new Peyton Manning fare. For example, what happens next in the Sprint "Peyton Manning's Mind" spots? Does Marvin Harrison eventually drown while surrounded by all those dolphins? Does one of them bang into his knee and twist it awkwardly? Is that how he hurt it? Tell me that and I'll consider buying your phone. Or at least tell me how much of Peyton's mind is continuously wondering if Eli was adopted.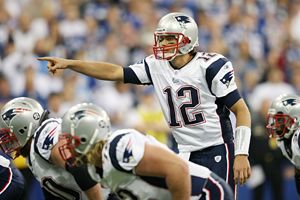 Andy Lyons/Getty Images
"Hey, shouldn't the they be setting up the platform over there so Jim Nantz can give us the Lombardi trophy?"
Randy Moss

I somehow missed the presentation of the Super Bowl XLI½ MVP trophy, but I assume it went to Randy Moss for his 145 receiving yards and a touchdown on his sport's biggest stage. At least I hope it did. Moss' winning the Super Bowl MVP would send a great message to American kids: If you only give your best when you feel like it, you will conserve enough energy to be truly great when you do feel like it. At least I think that's the message it would send. I don't feel like thinking about it right now.
Tom Brady

While Randy Moss was teaching us about utilitarian motivation, his quarterback was teaching us other valuable lessons. Yes, about staying positive and overcoming adversity. But also how to woo the ladies. A few seconds into CBS' broadcast, Brady was shown on the sidelines forcefully expelling snot out of his nostrils and onto the RCA Dome carpet. Clearly this is his secret with women. Sure, the styled hair and high-end clothing helps (and now we know what the fancy pocket handkerchief is for: Mr. Brady has some post-nasal drip issues), but what women really want is a man who can clean out his sinuses anytime, anywhere. They like the spontaneity. The derring-do. The rebel without a tissue attitude. So next time you spot a beautiful woman, clear out your nose. When the snot hits her feet, she'll know that you've marked your territory.
Cheating?

A conspiracy theory has quickly circulated since Super Bowl XLI½ ended that the Colts' rumored practice of piping in crowd noise was exposed in the fourth quarter when it sounded like a CD was skipping. (See the "evidence" here on YouTube.) Is that what happened? I have no idea. I hope so, though. The NFL would benefit from two teams' taking on a "Screw you" approach to the game in an attempt to quiet critics. Although Tony Dungy's approach would be more: "Gosh golly darn you. And may God have mercy on you. (And I'm sure He will, because He is a good and compassionate God.)"
Coming Home Story
Patriots linebacker Rosevelt Colvin is an Indianapolis native, meaning he won the Super Bowl in his hometown yesterday. It reminded me of Super Bowl XL a year and a half ago when Steelers linebacker Larry Foote won the Super Bowl in his hometown of Detroit.
Running Up The Score

Oh, really Patriots? You don't run up the score? Give me a break. What do you call your 24th point then? You scored a touchdown to take a three-point lead -- which proved to be more than enough to win the game -- and then what do you do? That's right: kick an EXTRA point. It's such a gratuitous score that it's even called "extra." What a bunch of jerks.
Bill Belichick

You saw Bill Belichick give Tony Dungy a frosty handshake after the game, but what you didn't see is his players dousing him with water after winning the Super Bowl. That's because they didn't. They know that if you get Belichick wet, he multiplies like a gremlin. You also didn't see Belichick deliver the "I'm going to Disneyland" line. And that's because Bill Belichick hates children. Joy, too.
Images of Super Bowl XLI½

Now let's take a look at some of the pictures from Super Bowl XLI½ that we'll surely be seeing for years and years.
• "Coach, I know you're happy, but please don't make me feel how happy you are."
• "May I kiss your hand, Tom? My, you are a beautiful man."
• "Stick me with your syringe again and you're dead."
• "Once we master our spins we will totally rule on 'Dancing with the Stars.'"
• "Maury says I'm not the father!"
• "Don't listen to the commercials, America. You don't want to get inside my mind. 'Tis a dark and lonely place."
• "So this is the finger that I put my fourth Super Bowl ring on. Where do you put yours … oh, right. You guys only have three rings."
• "The text says: '&*$# you, losers.' How did Belichick get my cell phone number?"
• "Evil will always triumph because good is dumb."
And that's it from Super Bowl XLI½. I'll be back with more next week from the Pro Bowl.
DJ Gallo is the founder and sole writer of the sports satire site SportsPickle.com. He is also a regular contributor to ESPN The Magazine and has written for The Onion and Cracked. His first book – "SportsPickle Presents: The View from the Upper Deck" – is on sale now.
PATRIOTS BEAT COLTS, 24-20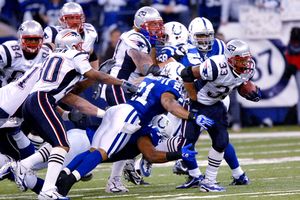 It's a battle of unbeatens ... and a possible AFC title game preview. It's Brady vs. Manning. Belichick vs. Dungy. It's 8-0 New England vs. 7-0 Indianapolis in Week 9 at the RCA Dome.
Sunday Countdown, (ESPN, 11 a.m. ET)
• In a report by Greg Garber, Hall of Fame QBs weigh in on the matchup of future Hall of Fame QBs Peyton Manning and Tom Brady. Also, special guest analyst Bill Parcells joins the crew to help cover every crucial angle of the epic matchup.
Commentary/features
•
Predictions: ESPN experts make their picks
•
Pasquarelli: Colts, Patriots take different paths
•
Clayton: Colts face Pats' big weapons
•
Sando: Manning or Brady? Experts make the call
•
Garber: Hall of Famers assess Manning, Brady
•
Drehs: Colts' Sanders a small wonder
•
EA Sports video: How they use Sanders
•
Chadiha: NFL's Top 5 rivalries
•
Power rankings: Pats No. 1, Colts No. 2
•
AccuScore: Pats have the edge
•
Clayton: Belichick seeks to run it up
•
Pasquarelli: Colts can finally focus on Pats
•
TMQ: It's an NFL battle of good vs. evil
Page 2
•
Got a problem? Ask coach Belichick
•
Inside the brain of ... Adam Vinatieri
•
Hill: Just call him Suge Belichick
•
Gallo: Secrets facts about Colts and Pats
•
Animation: Belichick's Cleveland years
Video
•
Colts, Patriots gamebreakers
•
EA Sports: How Colts use Sanders
•
Colts relishing underdog role
•
Cowboys' Crayton wants Colts to beat Pats
•
Keyshawn on Pats-Colts
•
Schlereth: Belichick breaking unwritten rules
•
Ismail: Colts, Pats right there together
•
Fassel: Teams must block out hype
•
Colts' Jackson ready for the Pats
Audio
•
Mike & Mike: Jimmy Johnson's preview
•
Jaws: Previewing Super Bowl XLI½

•
Freeney: Colts won't change approach

•
Patriots-Colts debate
•
Crayton: Colts have a great shot

•
Phil Simms on Brady-Manning

•
Jaws: QBs are pleasure to watch

Scouts Inc.
•
Horton: Both offensive lines are underrated
•
Green: Addai is offensive X-factor
•
Kidd: Maroney gives Pats another weapon
•
Maalouf: Pats have edge in punt game
•
Six keys to beating the Pats and Colts
•
Pats vs. Colts: Tale of the tape
•
Take 2: Pats-Cowboys scouting report
•
Colts' secondary will get physical
•
Cowboys' safeties are vulnerable
•
Follow this red-zone checklist
•
Wayne emerging as Colts' No. 1 receiver
•
Patriots-Colts scouting report
•
Seymour's return big for Pats
•
Clark, Welker play big roles
SportsNation
•
Who will win? Who's the better QB?
•
Where does the Colts-Pats rivalry rank?
Community
•
Got an opinion on the game? Let's hear it
•
Colts good, Patriots evil?
•
Sound off on Belichick's no-mercy approach
Manning vs. Brady: Previous results
•
Sept. 30, 2001 (at NE):
Patriots 44, Colts 13
•
Oct. 21, 2001 (at Indy):
Patriots 38, Colts 17
•
Nov. 30, 2003 (at Indy):
Patriots 38, Colts 34
•
Jan. 18, 2004 (at NE):
Patriots 24, Colts 14 *
•
Sept. 9, 2004 (at NE):
Patriots 27, Colts 24
•
Jan. 16, 2005 (at NE):
Patriots 20, Colts 3 **
•
Nov. 7, 2005 (at NE):
Colts 40, Patriots 21
•
Nov. 5, 2006 (at NE):
Colts 27, Patriots 20
•
Jan. 21, 2007 (at Indy):
Colts 38, Patriots 34 *
* = AFC championship game
** = AFC divisional playoffs
2007 Results
NEW ENGLAND (8-0)
•
Game 1:
Patriots 38, Jets 14
•
Game 2:
Patriots 38, Chargers 14
•
Game 3:
Patriots 38, Bills 7
•
Game 4:
Patriots 34, Bengals 14
•
Game 5:
Patriots 34, Browns 17
•
Game 6:
Patriots 48, Cowboys 27
•
Game 7:
Patriots 49, Dolphins 28
•
Game 8:
Patriots 52, Redskins 7
•
Patriots clubhouse page
INDIANAPOLIS (7-0)
•
Game 1:
Colts 41, Saints 0
•
Game 2:
Colts 22, Titans 20
•
Game 3:
Colts 30, Texans 24
•
Game 4:
Colts 38, Broncos 20
•
Game 5:
Colts 33, Bucs 14
•
Game 6:
Colts 29, Jaguars 7
•
Game 7:
Colts 31, Panthers 7
•
Colts clubhouse page
ESPN Top Headlines