Don Shula thinks the New England Patriots' record this season should have an asterisk beside it. Barry Bonds' record-setting 756th home run ball has already been asterisked.
It seems the sports world has gone asterisk-crazy. But it's actually behind the curve. Many major historical events beyond sports have been officially asterisked for being tainted or simply untrue.
Read on to see a few.
?? BC: God creates the heavens and Earth in six days*
*An all-powerful supreme being should've been able to whip that up in a day. Probably before lunch break.
59-44 BC: Gaius Julius Caesar rules Rome*
*Caesar maliciously made his enemies slow and lazy with his delicious, high-fat salad dressing.
650: Paper money is introduced in China to ease transactions*
*While the emperor claimed paper currency was introduced to streamline monetary exchange, the real reason was so he could make it rain without injuring his strippers.
1275: Marco Polo travels the Silk Road to China and meets Kublai Khan*
*Marco Polo never made it to mainland China, having gotten hung up in the Aral Sea in an intense game of Marco Polo.
1337-1453: France defeats England in the Hundred Years War*
*The war actually lasted 116 years, meaning France fought well beyond the agreed-upon time limit. They should have been disqualified.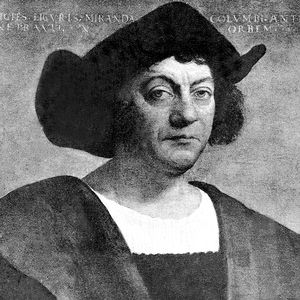 AP Photo
Sorry, Christopher -- you can't discover a land that's already inhabited.
1492: Columbus discovers America*
*It turns out the people who'd lived there for thousands of years had already discovered it.
1500: Spaniard Vicente Yanez Pinzon maps the lower portion of the Amazon*
*Pinzon deserves no credit for contributions to cartography; he returned to Spain with nothing but large sketches of a pantsless Amazon woman.
1517: Martin Luther founds Protestantism by nailing a treatise to the door of his local church*
*Despite espousing Christian virtues, the hypocrite Luther clearly had no problem with destruction of property.
1536: John Calvin develops Calvinism, which espoused predestination*
*Calvin does not really deserve credit for introducing Calvinism, since he was predestined to develop it.
1559-1603: Elizabeth I, "The Virgin Queen," rules England and is reviled for her virtue*
*Elizabeth I was not a virgin by choice. She remained chaste only because no suitor was ever able to successfully find her body.
1642-1646 and 1648-1649: English civil wars*
*These were not real wars. The first was a slap fight, and the second was simply a heated debate about the merits of biscuits versus scones.
1687: Sir Isaac Newton develops his law of gravitation*
*Newton's supposed "law" was easily disproved by his own hair.
1773: Sixty American colonists board British cargo vessels in Boston Harbor and throw tea overboard to protest the Tea Act and Parliamentary rule*
*The Tea Party participants didn't care about British rule. They were merely protective, aggressive Boston-area coffee shop owners.
1776: Thomas Paine publishes the philosophical political pamphlet "Common Sense," and sells 150,000 copies*
*Paine's promotion of common sense backfired when his philosophical political pamphlet somehow sold 150,000 copies.
1788: Britain begins using Australia as a penal colony*
*The decision was a scam propagated by British criminals to gain themselves free passage from dank, rainy England to the sun and fun of Australia.
1789: George Washington is elected as the first president of the United States*
*Washington had an unfair campaign advantage, thanks to having his face plastered all over U.S. currency.
1821: Napoleon Bonaparte dies of mysterious conditions, but his physician rules stomach cancer is the cause of death*
*Bonaparte's physician failed to look into a heart attack as the cause, despite the fact that his patient clutched at his chest for years.
1859: Charles Darwin publishes "On the Origin of Species"*
*Darwin's theory cannot be taken seriously, because he thought it up using his monkey brain.
1862: German chancellor Otto von Bismarck (pictured here) declares war on Denmark to expand the Prussian imprint in Europe*
*While Prussian expansion was von Bismarck's stated goal, his true aim was to impose his staunch pro-oatmeal, pro-cockfighting, anti-diabetes views on the whole of Europe.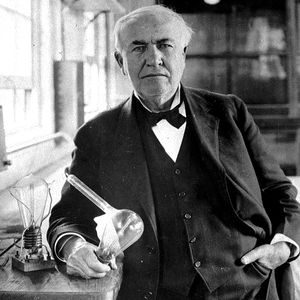 AP Photo/J. Walter Thompson
Thomas Edison, not quite as smart as some people thought he was.
1879: Thomas Edison invents the light bulb*
*Edison didn't really invent the light bulb. He stole it from an obscure cartoonist who had long used the light bulb to show his characters coming upon an idea.
1909: American Robert Peary claims to reach the North Pole*
*Peary received a single piece of coal for Christmas later that year, suggesting he did not reach the North Pole and Santa Claus did not take kindly to him lying about it.
1920: General Motors chairman Alfred P. Sloan Jr. formulates a significant concept of production and marketing called "planned obsolescence"*
*Sloan's supposedly revolutionary concept is easily discounted for its narrowness, since he failed to account for the future unplanned obsolescence of the entire American auto industry.
1952: In a step toward European union, Italy, France, the Netherlands, West Germany, Belgium and Luxembourg set up the European Defence Community*
*The six nations only reached agreement after smoking a gift brought by the delegation from the Netherlands.
1969: Neil Armstrong walks on the moon*
*The stunt was filmed in a TV studio.**
**The TV studio was on the moon.
DJ Gallo is the founder and sole writer of the sports satire site SportsPickle.com. He is also a regular contributor to ESPN The Magazine and has written for The Onion and Cracked. His first book – "SportsPickle Presents: The View from the Upper Deck" – is on sale now.