If we learned anything about Tom Brady the past three postseasons, it's that he is not infallible. It may sound blasphemous to imply that The Dreamboat is not without flaw. But it's true.
The Giants showed in the Super Bowl that Brady struggles against pressure. A year ago, he threw a game-ending interception against the Colts in the AFC Championship Game. And a year before that, he threw a back-breaking pick to Champ Bailey in the divisional round.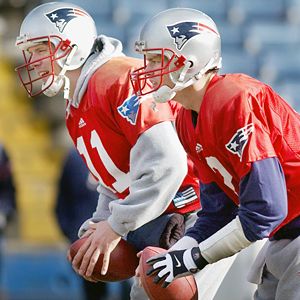 AP Photo/Michael Dwyer
What if it were Tom Brady standing in Drew Bledsoe's shadow -- and not vice versa?
He is not perfect. Very good, yes. But far from perfect. And Brady has had plenty of good luck along the way in forging his career and reputation.
But what if he hadn't been so fortunate? What would Tom Brady's career and life be like right now?
He was a sixth-round draft pick, after all. Sixth-round draft picks aren't just handed starting quarterback jobs in the NFL. Brady only got his because Drew Bledsoe was injured in the second game of the 2001 season by a vicious hit from Mo Lewis of the Jets.
So let's take a look at how Tom Brady's career would have progressed if Bledsoe had never been hurt.
2000

It's Brady's rookie year. He throws three passes and completes one for six yards. There's nothing to make anyone think he is a future Hall of Famer.
2001

Our little experiment begins. The Patriots lose their season opener to the Bengals with Bledsoe at quarterback. As they did in reality. Then the second game of the season comes along. Imagine that Lewis just lightly pushes Bledsoe out of bounds instead of dropping him with a violent shot to the chest. Bledsoe is not injured. Therefore, Brady is not forced to come into the game for Bledsoe and stink it up by going 5-of-10 for 46 yards, as he did. And instead of losing to the Jets, 10-3, Bledsoe leads New England to victory.
The season now progresses as it did. The Patriots close the regular season on an 11-3 run, finish 11-5 overall and upset the Rams in the Super Bowl. But Drew Bledsoe, not Tom Brady, is named Super Bowl MVP.
2002

Here is where reality and possibility diverge a bit. The Patriots go into the 2002 season with Bledsoe as their clear starting quarterback. He is the reigning Super Bowl MVP, after all. He's only 30. He is a three-time Pro Bowler. And he has the pedigree of being a former No. 1 overall pick.
New England enters training camp with three quarterbacks: Bledsoe, Brady and fourth-round pick Rohan Davey, who's coming off of a record-setting career at SEC power LSU.
Patriots head coach Bill Belichick quickly decides it is too much of a risk to have his star quarterback backed-up by a pair of unproven youngsters in Brady and Davey. This is the Super Bowl champion. There is too much at stake if Bledsoe goes down. So for his second-stringer, Belichick signs the always-intriguing Jeff George -- late of the Redskins and a player with a similar style to Bledsoe.
That leaves the final spot to either Brady or Davey. Brady was a sixth-round draft pick two years ago. He only has three career attempts. Meanwhile, the Patriots spent a fourth-rounder on Davey. In the final cut of camp, Belichick releases Tom Brady.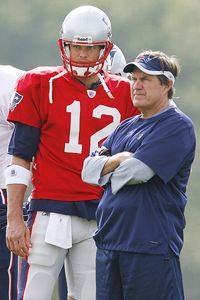 Jim Rogash/Getty Images
"Tom, I've got some bad news … whoa, just look at the arm on this Davey kid!"
With most NFL rosters solidified, Brady can't find a job. Who wants a universally panned sixth-round draft pick
with this body
? No one, Brady quickly discovers.
Without a paycheck and almost flat broke due to blowing most of his two years of sixth-round pick money on pocket squares, ascots and haberdashery, Brady is forced into the workforce while he hopes for a call from an NFL team.
His first job is at the Gap at a suburban Boston shopping mall. But he is quickly fired for violating part of the employee dress code, called "the tuck rule."
The year ends with Brady down to his last few dollars and further than ever from NFL stardom.
2003

Tom Brady is nothing if not competitive and resilient. So still without serious NFL interest, he decides to follow another dream and try modeling. He sells his Super Bowl XXXVI ring for $15,000 and invests all of the money in a series of beefcake photo shoots.
He tries sophisticated.
And boy band.
The photos turn out fairly well, but Brady is told by modeling agent after modeling agent that although he may have good, marketable looks for an athlete, he isn't attractive enough to have success without a football career. Plus, his premature balding has started to ravage his hairline. And with no income, he can't afford expensive hair-restoration procedures.
Balding, depressed and now completely broke, he moves back in with his parents in San Mateo, Calif.
Meanwhile, Bledsoe and the Patriots win their second Super Bowl title.
2004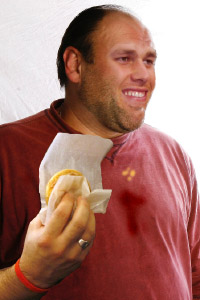 Kurt Snibbe for ESPN.com
Oh, how things might have been different for Tom Brady.
Spurred on by his parents, Brady tries to put his college degree to use -- he graduated with honors from Michigan -- and get a job in the real world. But Brady's degree was in organizational studies, one of those majors that may sound interesting to a freshman football player hoping to go to the NFL, but has no real practical application. Door after door slams in his face, as prospective employers are turned off by his quasi-major and the almost four-year gap in his employment record since college.
With no job, Brady spends his days in his parents' basement, watching hours upon hours of movies. One day, he sees the Al Pacino, Colin Farrell and Bridget Moynahan in "The Recruit" on HBO. He develops an insane crush on Moynahan, telling friends: "I feel like we were meant for each other." He starts writing Moynahan letters each day and eventually drives to Los Angeles to profess his love outside of her house. He is arrested and has a restraining order placed on him.
Meanwhile, Bledsoe and the Patriots win their third Super Bowl title. The Boston Globe runs a depressing "where are they know?" feature story on Brady. But Brady receives no sympathy or charity from Patriots fans because he is pictured wearing a Yankees cap.
2005

Brady's behavior gets more erratic.
He begins cruising past his former high school in a Trans Am while wearing his old letter jacket. He takes up with several girls who had crushes on him back in high school, calls each of them "Bridget" and impregnates nine of them.
He also develops a weird relationship with a small goat. The pair goes everywhere together.
With his parents at their wits end and unwilling to bear the burden of raising their son's nine illegitimate children, Brady is thrown out of his boyhood home. Before he leaves, he nabs his mother's Victoria's Secret catalog out of the mail. On the cover is a model named of Gisele Bundchen. Brady instantly forgets his all-consuming crush on Moynahan and gives his heart over to the Brazilian beauty.
He moves in with fellow down-on-his-luck, ex-Michigan quarterback Drew Henson and begins plotting how he will woo Bundchen.
2006

Brady figures the only way to win Bundchen's heart is to become the famous athlete he always wanted to be. His football career long over, he decides to give baseball another go. He attended the same Bay Area high school as Barry Bonds and was a 1995 draft pick of the Montreal Expos. So Brady calls his old high school coach and asks him to put him in contact with Bonds. The two speak, and Bonds puts Brady in touch with BALCO. Brady quickly puts on 70 pounds of muscle. But the added bulk and more than 10 years away from the game leave him hopelessly behind professional-quality fastballs. The Nationals end his tryout less than 15 minutes after it begins.
Now more dejected than ever, he resorts to the same tactics to woo Bundchen that he tried with Moynahan. They are met with the same result: an arrest and a restraining order.
Brady does find himself in the 2006 edition of People magazine's "50 Most Beautiful People" issue. He's not among the 50 people, though. He is the subject of an article about a former football player who has been arrested for stalking two different female celebrities.
2007

The year begins worse than ever for Brady. Both broke, Henson and Brady are evicted from their apartment. The child support payments are stacking up. Hungry and desperate, Brady kills and eats his beloved goat companion. Worst of all, his once handsome looks are long gone. Balding, BALCO and building stress have left him a horrid, muscled monster.
But then he gets a break. Federal investigators, desperate to bring down Bonds, contact Brady to testify against his fellow high school alum. Then the Spygate story breaks during a 19-0 season by New England, a team that goes undefeated and wins the Super Bowl for Bledsoe in his final season. Sen. Arlen Specter contacts Brady about his knowledge of possible cheating by Belichick. Feeling no loyalty to the team that cut him when he felt he had so much promise, Brady blows the whistle on New England's cheating against the Rams in Super Bowl XXXVI .
Brady single-handedly topples two of America's biggest sports villains -- Bonds and Belichick -- and becomes the national hero he was always destined to be.
He accepts the feds' offer to join the witness-protection program and their offer of plastic surgery to change his appearance. His horrid visage is changed to mirror that of the epitome of male handsomeness at the time. He immediately woos Bundchen and Moynahan and lives happily ever after.
DJ Gallo is the founder and sole writer of the sports satire site SportsPickle.com. He is also a regular contributor to ESPN The Magazine and has written for The Onion and Cracked. His first book – "SportsPickle Presents: The View from the Upper Deck" – is on sale now.
Also See
ESPN Top Headlines