The 2008 Scripps National Spelling Bee begins Thursday in Washington, D.C. More than 285 spellers are competing in this year's event. If any of you spellers are reading this, here are 10 tips to help you win the title.
(And take it from me, I know spelling. I recall making the Elite Eight in my 25-child-strong third-grade bee. Woot! Woot!)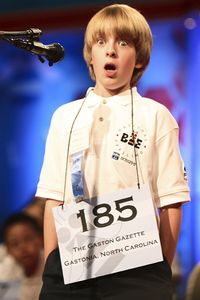 AP Photo/Lawrence Jackson
Don't be shocked at the mic -- follow DJ's tricks of the trade.
1. Request a sample sentence
Asking for the word to be used in a sentence gives you a few extra moments to gather your thoughts and think of the proper spelling. Plus, if you are completely stumped, you can ask for a sample sentence in the hope you'll get lucky and it will be something like: "'Sarcophagus.' The competitive speller correctly spelled the word 'sarcophagus' as s-a-r-c-o-p-h-a-g-u-s. Sarcophagus."
2. Ask for the language of origin
Is it French? That may tip you off to an "et," "es," or "eille." Spanish? Consider a "j" or "illa/illo." Greek? Perhaps the word contains a "ph" or "rrh." Cro-Magnon? Maybe you're just supposed to grunt and draw a crude sketch of a buffalo.
3. Don't waste time memorizing
There are some 450,000 words in play at the National Spelling Bee. It's a better use of your time to focus on root words and languages of origin. Even the smartest speller can't memorize 450,000 words. And anyone who thinks he can is a … is a … is a … shoot, I bet there's a good word here to use that I don't know. I guess I'll just go with "dumb-dumb."
4. Play to the crowd
Everyone can use the support and positive energy provided by a home-bee advantage. So ham it up a bit in front of the mic in the early rounds and win the crowd over. And if that sort of outgoing behavior is not in line with your personality? No matter. Remember, this is a crowd gathered to watch people spell words. Their threshold for excitement already is clearly limited. Merely expressing an appreciation for distilled tap water could be enough to whip them into a frenzy.
5. Buy time
Can't think of the proper spelling right away? Then buy yourself some time. But be creative. Fainting won't work anymore. The judges will be suspicious from now on of anyone who passes out. The bar has been raised. Consider spontaneously combusting. Or at least fainting, shattering into a million pieces and then reforming, like that cyborg in "Terminator 2."
SportsNation Spelling Bee
Think your spelling ability is up to snuff? See how well you fare in ESPN.com's sixth annual
SportsNation Spelling Bee
.
6. Write the word out
If you are a visual learner, it may help to spell the word out on your hand or on the back of your name card using your finger. And, if you feel the pronouncer has given you an especially hard word to spell, feel free to spell it out with your middle finger.
7. Do not give aid and comfort to the enemy
Watch that fainting clip a second time. (Or, if you are like me, for the 50th time of the day.) See how no one -- absolutely no one -- came to the child's aid? That's because competitive spelling is a cutthroat enterprise. As for the lack of adults who helped him, I know a word for them that is fun to spell. It starts with "a-."
8. Steer clear of the comfort room
Do not walk by it. Do not even look at it. The comfort room is stocked with candy, soda and hugs. The comfort room is nothing but a temptation luring you to the ranks of the non-elite spellers. The ignoramuses. Before long you will be spending 14 hours a day playing "Grand Theft Auto" and struggling to read a Berenstain Bears book. Sure, the wedgies may be limited, but so will your future earnings potential.
9. Intimidate your opponents
The spelling bee is populated by spellers between the ages of 8 and 15. These are prime bullying years. Capitalize on this by messing with your opponents' fragile psyches. Are you taller than 4-foot-6? That's a good start. Do you have any peach fuzz you can grow out? Even better. Are you in tears less than half the average day? Great. You are an acceptable bully. Now start by messing with a homeschooled kid. Regale him or her with fictional stories of public school debauchery. "Yeah, then after the 'Pledge of Allegiance' we do the Pledge to Satan. Then, if anyone is smart enough to say their ABCs correctly or count to 10, they get a free beer. That's first period. Second period is 'Fight Club.'"
10. Avoid the groupies
The life of a successful competitive speller is one that millions of people desire. The attention of the local news media. The secrets of the comfort room. The free polo shirts. And, most of all, the groupies. All of that, and more, is available in Washington this week. But respect yourself and what you have to offer, dear spellers. Avoid the groupies. They want you simply so you can spell sweet nothings in their ear. Show them there is more to you than that. For instance, that you have a tough, rugged, athletic side. Or, that you are also an accomplished mathlete.
DJ Gallo is the founder and sole writer of the sports satire site SportsPickle.com. He is also a regular contributor to ESPN The Magazine and has written for The Onion and Cracked. His first book: "SportsPickle Presents: The View from the Upper Deck": is on sale now.