Planning a trip to the beach this summer? You'll want to take a good book along with you.
Here are some short reviews of all the newly released sports books. Granted, I haven't read many of these books. Well, any of these books. But I think it's pretty easy to figure out what each book is about just by knowing the title and author.
Summer sports reading 2008:
"Brett Favre: The Tribute" by Sports Illustrated. This will probably lead to a series like the Hardy Boys books. One for after each time Favre retires.
"Pro Football Prospectus 2008: The Essential Guide to the 2008 Pro Football Season" by Aaron Schatz. Just so you know, this book doesn't come out until July 21. Which is pathetic. Any self-respecting NFL preview publication hits shelves within a week after the Super Bowl.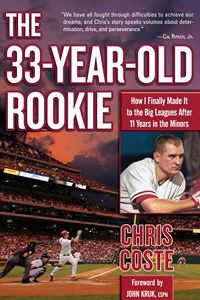 Random House Publishing Group
Chris Coste's name didn't appear in the Mitchell report, so feel free to be inspired.
"The 33-Year-Old Rookie: How I Finally Made it to the Big Leagues After Eleven Years in the Minors" by Chris Coste.
Coste's name wasn't in the Mitchell report, so this book might actually have a surprising and inspirational story to tell.
"We Might As Well Win: On the Road to Success with the Mastermind Behind a Record-Setting Eight Tour de France Victories" by Johan Bruyneel. In France, this book by Lance Armstrong's team leader is stocked in the fiction section.
"A Champion's Mind: Lessons from a Life in Tennis" by Pete Sampras. One of the most boring superstar athletes of the past 20 years writes 320 pages. Beware the stampedes at your local bookstore.
"The Best Game Ever: Giants vs. Colts, 1958, and the Birth of the Modern NFL" by Mark Bowden. Best game ever? In 1958? Pfffft. This author guy needs to listen to more sports talk radio. The best game ever was whatever last night's best game was.
"The Greatest Game: The Yankees, the Red Sox, and the Playoff of '78" by Richard Bradley. Wait a minute … I thought the Giants-Colts game in 1958 was the best game ever? Author fight! Author fight! They'll draw their laptops at dawn at Starbucks.
"The Mysterious Montague: A True Tale of Hollywood, Golf, and Armed Robbery" by Leigh Montville. Finally! A book about golf!
"Hockeytown in High Def: Detroit Red Wings 2008 Championship Season" by The Detroit News. At 144 pages, you can cut out the guts of this book and store a small octopus inside.
"Crazy Good: The True Story of Dan Patch, the Most Famous Horse in America" by Charles Leerhsen. No thank you. I would have preferred: "Crazy Awesome: The True Story of Barbaro, the Most Famous Horse in Heaven."
"All for a Few Perfect Waves: The Audacious Life and Legend of Rebel Surfer Miki Dora" by David Rensin. Wanna know how rebellious Miki Dora was? He surfed on the sand.
"Yankee Stadium: The Official Retrospective" by Al Santasiere. Thankfully this is not a scratch-and-sniff book.
"The Last Real Season: A Hilarious Look Back at 1975 -- When Major Leaguers Made Peanuts, the Umpires Wore Red, and Billy Martin Terrorized Everyone" by Mike Shropshire. I wasn't alive in 1975, but my dad says that back then in the good old days, book titles stayed under 130 words.
"Maximum Strength: Get Your Strongest Body in 16 Weeks with the Ultimate Weight-Training Program" by Eric Cressey. Just think, you can be the weak, pathetic pip-squeak that you are at the beginning of the season, then start this program … and by the playoffs be the starting middle linebacker for your favorite NFL team!
HarperCollins Publishers
We wonder why Avery Johnson didn't ask Mark Cuban to write
the foreword to his new book.
"Aspire Higher: Winning On and Off the Court with Determination, Discipline, and Decisions" by Avery Johnson.
Please let this come out on audio book. Please.
"Athlete" by Walter Iooss. They say a picture tells 1,000 words. And this book by acclaimed sports photographer Walter Iooss contains 150 pictures. No way I'm reading 150,000 words! My time is too precious. Who does this guy think he is?
"Living on the Black: Two Pitchers, Two Teams, One Season to Remember" by John Feinstein. This book follows the 2007 seasons of New York pitchers Mike Mussina and Tom Glavine. I can't wait for the 2008 follow-up about Phil Hughes and Oliver Perez called "Dying on the White: Two Pitchers, Countless Meatballs, One Season to Forget."
"Arnie & Jack: Palmer, Nicklaus, and Golf's Greatest Rivalry" by Ian O'Connor. Finally! A book about golf!
"Facing Clemens: Hitters on Confronting Baseball's Most Intimidating Pitcher" by Jonathan Mayo with a foreword by Roger Clemens. Soon to be followed by the book: "Facing Clemens: Congressmen on Confronting Baseball's Most Awesome Hero" by Rep. Virginia Foxx, R-N.C.
"The Winners Manual: For the Game of Life" by Jim Tressel. This book doesn't come out until July 15, but here's a sneak preview: "Chapter 1 -- I have always found that the best way to be successful is to avoid anyone or anything from the Southeastern Conference …"
"Favre: The Man, the Legend" with CD by the Milwaukee Journal Sentinel. There isn't really any new ground to cover on the legend of Brett Favre. Until this book, that is. Because apparently Brett Favre is also awesome at burning mix CDs.
"We Would Have Played for Nothing: Baseball Stars of the 1950s and 1960s Talk About the Game They Loved" by Fay Vincent. No doubt all the ex-players included in this book talk about how they donated all of their baseball income to charity.
"Red Sox Rule: Terry Francona and Boston's Rise to Dominance" by Michael Holley. Finally! A book about the Boston Red Sox. You know what I would like to read? A book about Red Sox players who golf.
"Golf Dads: Fathers, Sons, and the Greatest Game" by Curt Sampson. Finally! A sappy book about golf!
"Get in the Game: 8 Elements of Perseverance That Make the Difference" by Cal Ripken Jr. It's a good thing Ripken wasn't No. 54 or 99 or something. This would have been a ridiculously long book.
"Dugout Wisdom: Life Lesson from Baseball" by Dan Migala. If how to spit tobacco or spot hot chicks in the stands are the life lessons you seek, this is the book for you.
"Yankee for Life: My 40-Year Journey in Pinstripes" by Bobby Murcer. Gross. This guy could probably use a shower and some clean laundry.
"Banner 17: Boston Celtics Return to Glory in a Magical Championship Season" by The Boston Globe. I'm still waiting for that Boston Globe book on the Patriots' perfect season -- wasn't that supposed to be released months ago? -- but I guess this book will do for now.
"Your 15th Club: The Inner Secret to Great Golf" by Dr. Bob Rotella. I guess what this book is saying is that there is an extra golf club inside of us all. So that's why you always have trouble going through airport security.
"How to Really Stink at Golf" by Jeff Foxworthy. Finally! A book about golf! And one that takes a humorous approach, to boot! Golf: what a hilariously crazy sport!
"The Downhill Lie: A Hacker's Return to a Ruinous Sport" by Carl Hiaasen. Finally! A book about golf! And one that takes a humorous approach, to boot! Golf: what a hilariously crazy sport!
"Baseball Places to See Before You Strike Out" by Josh Pahigian. Hey, who says I'm going to strike out, jerk? I was a two-time Little League All-Star. Two times! Be a bit more complimentary with your title and perhaps I will consider getting your book. Not buying it, mind you, but borrowing a copy at my local library for free.
"Don't Let The Lipstick Fool You: The Making of a Champion" by Lisa Leslie. What is the implication here? That you can't be a champion if you wear lipstick? You know, I'm getting tired of all the personal attacks in these book titles.
"The View from the Upper Deck" by DJ Gallo. This book isn't brand-new like the rest of these. But any book that has stayed entrenched in the top 350,000 of the bestsellers list for an entire year must be really, really good.
DJ Gallo is the founder and sole writer of the sports satire site SportsPickle.com. He also is a regular contributor to ESPN The Magazine and has written for The Onion and Cracked. His first book, "SportsPickle Presents: The View from the Upper Deck," is on sale now.