The trade deadline is only 48 hours away. Time is running out! There is no time to waste! Teams must act now! (Or they can just wait until after the trade deadline and deal for players who have passed through waivers. But it's more fun the other way.)
Here are all the latest trade rumors I am hearing as baseball approaches the 2008 trade "deadline."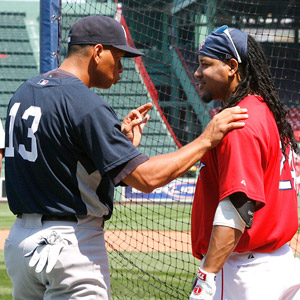 Jim Rogash/Getty Images
"Whatever you do dude, don't let Scott announce your free agency during the World Series."
Manny Ramirez on the block?
The Red Sox are listening to offers for Manny Ramirez. However, a deal is unlikely, as Ramirez might be asked to pass both a physical and a mental exam.
Possible A-Rod move?
Reports suggest Alex Rodriguez is interested in acquiring Debbie Gibson. But he may decide to go with a bit more age and experience and instead pursue '70s pop star Marie Osmond or maybe even Linda Ronstadt.
Player to be named later available?
Several teams are reportedly interested in dealing a player to be named later. It is unclear what this player could be named -- it could be anything from Kevin to Pedro to Martin -- but it is unlikely the player would be named something like Mindy or Cheryl.
Update: Someone named Sherrill available?
Different spelling, but I am now hearing the Orioles are offering up an attractive catch named Sherrill. Still no Mindy, though. Stay tuned.
Rays pursuing right-handed bat?
Tampa is said to be in the market for a right-handed bat, apparently unaware that bats are not manufactured for right- or left-handers; it simply depends on how you hold them.
Bronson Arroyo to Rockies?
The Reds and Rockies have discussed a deal that would send the starter to Colorado. Arroyo reportedly would welcome the move in the hopes he could get a gig at Red Rocks.
Molina to Yankees?
Brian Cashman has looked into acquiring Giants catcher Bengie Molina, brother of current Yankees catcher Jose Molina. But Hank Steinbrenner is pushing for character actor Alfred Molina, confident he can pull off Jorge Posada as well as he did Doc Ock.
Cubs looking to deal?
Now that Jeff Samardzija has arrived, the Cubs are looking to unload pitching. The Rays, Red Sox and Tigers have inquired about reliever Scott Eyre. Meanwhile, the Jaguars, Ravens and Bears have inquired about Samardzija.
Jarrod Washburn to the Yankees?
Negotiations are still ongoing between the Mariners and Yankees about veteran starter Jarrod Washburn. The Yankees are offering only a midlevel prospect in return, while the New York Post has offered to pick up the remainder of Washburn's contract in hopes of being able to run future headlines like "Wash(burn)ed Out" and "Jar-Rod Fails Like A-Rod."
Astros to be buyers at the deadline?
Despite sitting 10.5 games out of the wild-card spot in the National League, the Astros reportedly are looking to add talent to make a late-season push. Their wish list includes: a couple of good infielders, an outfielder, an established power bat, someone with speed, a quality right-handed starter, a quality left-handed starter, a long reliever, a set-up man, some bench depth, a catcher and maybe somebody who knows voodoo or black magic or something like that to help with all of the teams ahead of them in the standings.
Bidding wars developing?
According to the agents of several low-level talents, their clients are receiving heavy interest, and many teams are offering big-dollar, multiyear contract extensions as well. These agents say that any teams even remotely interested in their players should immediately make a trade offer that includes a huge contract offer. "Ask them to do it now! Please!" they tell me.
Rockies to be buyers at the deadline?
Though the Rockies sit nine games under .500, they may be looking to acquire talent to make a run in the moribund NL West. However, those plans could be foiled by Bud Selig, who is looking to trade the NL West for a quality minor league division.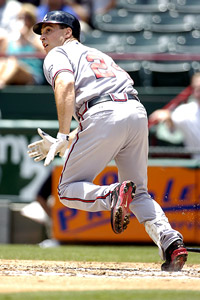 John Williamson/MLB Photos/Getty Images
When it comes to being on the block, M-Tex knows his stuff.
Mark Teixeira on the block?
After being dealt before the deadline last year, Braves slugger Mark Teixeira says he is used to being on the block. "Don't be fooled by the rocks that I got. I'm still, I'm still Teixeira from the block," he said, aggressively shaking his ample butt. "Used to have a little, now I have a lot. No matter where I go, I know where I came from."
Yankees-Pirates trade in the works?
The Yankees and Pirates reportedly are close to a deal that would send Xavier Nady and Damaso Marte to Pittsburgh in exchange for prospects. The trade would allow the Yankees to replenish their farm system and let Pittsburgh plug its recent holes in right field and in the bullpen.
Tigers looking for bullpen help?
Detroit is trying to bolster its bullpen in light of the recent injury to Joel Zumaya. They will take a left-hander or a right-hander, but not anyone who plays "Guitar Hero."
Miguel Tejada to the Red Sox?
The Red Sox are looking to acquire a shortstop and may have targeted Miguel Tejada of the Houston Astros. If Tejada goes to Boston, it is expected that his name will be expunged from the Mitchell report.
Cash considerations to be dealt?
Cash considerations is one of the most coveted properties on the trade market right now. Teams such as the Pirates and Royals are said to be offering quality veteran players in exchange for cash, which they plan to keep within the organization for years.
Yankees considering Barry Bonds?
The Yankees are still holding internal discussions about signing Barry Bonds. Hank Steinbrenner reportedly is intrigued by the idea of batting Bonds in front of Jason Giambi, a duo that produced back-to-back-to-back championships at the beginning of the decade for the BALCO slow-pitch softball team.
DJ Gallo is the founder and sole writer of the sports satire site SportsPickle.com. He also is a regular contributor to ESPN The Magazine and has written for The Onion and Cracked. His first book, "SportsPickle Presents: The View from the Upper Deck," is on sale now.