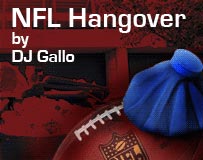 Dark days in Boston. The Dreamboat reportedly has a torn sail. But cheer up, Patriots fans! It's onward and upward! Remember Drew Bledsoe? He started eight-plus seasons in New England, went to a Super Bowl, was an NFL star, got hurt and then lost his job to lightly regarded Tom Brady. Brady has started seven-plus seasons, won three Super Bowls, is an international celebrity and now got hurt and will be replaced by the lightly regarded Matt Cassel. If the pattern holds, Cassell will win six Super Bowls in six seasons and then be injured under a pile of supermodels.
Of course, the reigning MVP's unfortunate injury immediately sent shockwaves throughout the league, garnering comment from all corners.
"I wonder if we can copyright 1-0?" -- Robert Kraft, Patriots owner
"Since when does Kimo von Oelhoffen play for the Chiefs?" -- Carson Palmer, Bengals quarterback
"Looks like knee braces will be the hot fashion item this fall." -- Editor-in-chief, GQ magazine
"Looks like I can call off the neighborhood watch for this year." -- Mercury Morris, 1972 Miami Dolphins
"Come give me a hug." -- baby goat
"Please say the postal carrier didn't pick up my letter last week … please say the postal carrier didn't pick up my letter last week … please say … (looks in his mailbox) … ah, crap!" -- Daunte Culpepper
Stat Line of the Week

Ravens rookie quarterback Joe Flacco won his first NFL start and was 15-for-29 (51 percent) for 129 yards, 0 TDs and 0 INTs. All but the interception total set new career quarterback records for the Ravens franchise. Congratulations, Joe.
Quotes of the Week

"The play before, he was talking trash, and the next play he was on my highlight tape." -- Reggie Bush, Saints RB, on juking past Tampa Bay safety Jermaine Phillips on the way to scoring a 42-yard, fourth-quarter touchdown. Note Bush said "highlight tape," because he as yet to produce any highlights since the introduction of DVD recording.
"There's been a lot of he said, she said back and forth." -- Brett Favre, Jets QB, to Dan Marino during the CBS pregame show about how Mike McCarthy and Ted Thompson handled his departure from Green Bay. So there's your big news of the week: Mike McCarthy or Ted Thompson is a woman. Or maybe they are both women and Favre was the "he." Or, or … oh my God … maybe Brett Favre is a woman. Your dreams might be answered, NFL press corps!
Week in Pictures

"Is Mike Smith gonna have to slap a Falcon?"
"I don't care what your play call is! God told me to run Trips Right 847 R-Swing!"
"Ahhhh. Good to be back in the warm glow of media adoration."
"Well, I guess this is the punishment we truly deserved for SpyGate."
"Yes! Bring on the supermodels!"
"You know, that polo shirt and khaki pants look isn't really in style anymore. I should take you shopping with me sometime."
"Hey! It's the guy from all those commercials!"
"What do these squiggly pictures mean?"
"Why don't you come over here and say that to my imaginary friend, huh?!"
"I can't tell you how fortunate I feel to get to coach against you in my first game."
Ten Things I Think I Recall Thinking I Thought I Pondered I Mused

1. While the NFL recognizes the name Chad Ocho Cinco, the league didn't let the former Chad Johnson wear his new jersey Sunday because he has to buy out the remaining stock of "C. Johnson" jerseys from Reebok. This is actually good news for Ocho Cinco because it provides him an opportunity for some good PR. Why not buy up all his remaining jerseys and ship them to a third-world country? No doubt there are plenty of poor, egotistical, annoying, overrated children who would love a "C. Johnson" jersey to keep them warm.
2. We all know LeBron James is a Yankees fan. But a Cowboys fan, too? A Yankees and Cowboys fan from Ohio? Goodness. What a pathetic, front-running loser. And while that information might be difficult for Cleveland fans to digest, at least they can rest assured he will never leave the Cavaliers. His favorite NBA team -- that would be whoever the reigning league champion is -- will never be able to fit him under the salary cap.
3. What time are you reading this? 1 p.m. ET or so on Monday? I'll bet you one Patriots season-ticket package (no doubt available for cheap on eBay!) that every store in New England is now sold out of Red Sox and Celtics memorabilia.
4. I will admit: I was roped in enough by Fox's advertisements for "Hole in the Wall" to watch a few minutes. But I quickly realized why I watch sports on television and almost nothing else. Awkward, unathletic people try to fit through tiny holes? Seen it before, Fox. On your network even. It's called "The Detroit Lions' Running Game."
5. While Adam Jones' pass interference penalty in the second quarter set up Cleveland's only touchdown, Dallas had to be happy it was the only rule he has broken in quite some time. And I did notice that if you watch the play with the volume all the way up, you can hear the official who threw the flag at Jones yell: "Makin' it rain on ya! Makin' it rain up in this end zone!"
6. In the movies, when robots become self-aware, they destroy humanity. In the NFL, when kick returners become self-aware, they destroy a team. I fear the latter has happened with Chicago's Devin Hester. At the beginning of the second half against the Colts he caught the kickoff in the end zone, stood there for a few seconds, and then suddenly ran out, only to be tackled at the 3. Not good. Not good at all. Once a great kick returner truly believes he can take any kick back for a touchdown, he begins taking stupid chances and regresses. Look at Dante Hall. He was once the NFL's premier returner -- the "Human Joystick." Then he became self-aware. Now he just runs 'round and 'round in a circle, spinning like a top, until he digs a deep hole into the surface of the field, requiring the opposing team to send a tackler with a miner's lamp down after him to touch the play dead.
7. And now I present the short play "Jessica Simpson Sees Tony Romo's Chin."
Simpson: "What is that on your chin? Sauce from buffalo wings?"
Romo: "No. It's blood. I cut my chin open."
Simpson: "You keep blood inside your chin? That is so gross."

And … scene.
8. Great job by the Ravens working Joe Flacco into the offense. The rookie completed his first pass for 9 yards to tight end Todd Heap. But the veteran immediately fumbled it over to the Bengals, as if to say: "Whoa there, rookie. Slow down. Completing your first pass? Positive yards? That's not how we do things around here. Take your time."
9. We're on to you, Colts. People started to wise up about you piping noise into the RCA Dome, so you built a new stadium. Yeah, one with an open roof and a hole in the wall beyond one end zone … so you can let in sound from the ENTIRE WORLD! You think we're stupid?
10. The Bengals, Lions, Rams and Texans all looked awful. But that's OK. They have reason to feel good about themselves. Remember, as last year proved, it's not worth going undefeated if you peak too early and then lose in the Super Bowl. And I will guarantee right now that none of those teams will lose in this year's Super Bowl.
DJ Gallo is the founder and sole writer of the sports satire site SportsPickle.com. He also is a regular contributor to ESPN The Magazine and has written for The Onion and Cracked. His first book, "SportsPickle Presents: The View from the Upper Deck," is on sale now.