The Pittsburgh Pirates lost their 82nd game of the season last weekend. With that loss, the Pirates clinched their 16th consecutive losing season, tying them with the 1933-48 Philadelphia Phillies for the longest such streak in professional sports history.
It's quite an accomplishment.
Now, you may be saying to yourself: "My team is often competitive, we even win championships now and again. But rarely, if ever, do we set professional sports history! Tell me, how can my team be like the Pittsburgh Pirates?"
Glad you asked. All you have to do is have your favorite team follow this 1,992-step plan.
(Note: Not all steps are included, as I am not a masochist. To fill in the remaining steps yourself, just use your common sense. And then act completely opposite of what your common sense suggests.)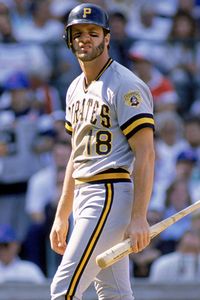 Jonathan Daniel/Getty Images
Would you build your team around Andy Van Slyke … or some guy named Bonds?
Step 1. Get the ball rolling by making one of the worst talent evaluation decisions of all time.
For example, decide Andy Van Slyke is your future, not Barry Bonds. Andy Van Slyke, nice guy. Barry Bonds, not so nice. But after the 1992 season, Van Slyke only hit 14 more home runs for the Pirates than Bonds did.
Step 2. Trade your only homegrown power prospect in two decades for a strikeout machine (in the bad way) a minor leaguer and a player to be named, who turns out to be this guy.
It's July 2003. And, hey, you're not so awful! You are less than 10 games behind the division leader. Kenny Lofton is jump-starting your offense at the top of the order, and the future of the franchise, Aramis Ramirez, is continuing to develop. Only one problem: You are so broke you might not be able to come up with enough cash to pay your players. Goodbye Lofton and Ramirez … hello Jose Hernandez, Bobby Hill and some guy named Matt Bruback!
Step 3. Reward mediocrity incompetence.
Come in, come in. Take a seat. Now, this franchise has gone from bad to somehow worse on your watch. Your signature offseason moves were signing Jeromy Burnitz and Sean Casey. Jeromy Burnitz! Seriously. You signed him to a contract. Anyway … care for a generous contract extension?
Step 4. Use the No. 1 overall pick on a college pitcher your GM says he is "comfortable" projecting into "a No. 3 starter."
Not only does a pick like this excite the fan base -- "No way! A No. 3 starter! Awesome!" -- but it allows you to bypass the likes of B.J. Upton, Prince Fielder, Scott Kazmir and Cole Hamels.
Step 5. Then release that player when he doesn't even develop into a solid No. 3 starter in Triple-A.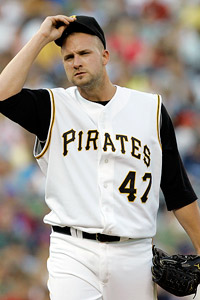 AP Photo/Keith Srakocic
"We know you led the NCAA in homers last season, but how do you feel about being a pitcher?"
Step 44. Use the eighth overall pick in the draft to select the NCAA's leading home run hitter.
Great move!
Step 45. Immediately announce you are making him a pitcher.
Curious move!
Step 46. Wonder why he can't keep his ERA below 10.00.
Move! You are about to be struck by another home run ball rocketing into the bleachers!
Step 72. Turn down the trade offer of a legit, power-hitting prospect (Ryan Howard) for Kip #@!%ing Wells.
Who needs a potential home run hitter when you can have a proven home run pitcher?
Step 111. Inspire fans to protest.
They can't take it anymore. This has gone on long enough. Now those who love and support you the most will turn against you by walking out of a game en masse. Heads will roll! Changes will be made! Accountability will be demanded!
Step 112. But be so awful they can't bring themselves to do it.
No way! The Pirates are actually winning this game! Six runs in an inning? Why, I don't think that has happened in years. Forget the walkout, I'm staying in my seat to see this rare chance for a win.
Step 246. Shed salary and established major league talent at the trade deadline year after year after year.
If it's July in Pittsburgh, a veteran (or five) is getting traded.
Step 247. But then suddenly decide to add salary on an established washed-up major league talent at the trade deadline.
It's the 2007 trade deadline. You are far removed from the wild-card chase and are looking to build for the future. Wait … what's that? Matt Morris is available? No one else wants him? Why, we'll take on his entire $10 million annual salary for this year and next, thereby making him the highest-paid player in franchise history! And we'll also give you a prospect in return. Deal?
Step 319. Build your franchise by taking pitchers in the draft.
Between 1996 and 2006, the Pirates selected eight pitchers in the first round of the draft: Kris Benson, Clint Johnston, Bobby Bradley, Sean Burnett, John Van Benschoten, Bryan Bullington, Paul Maholm and Brad Lincoln.
Step 320. Then break them down and build them back up.
All but Maholm have suffered major elbow or shoulder injuries. He is now the ace of the Pirates staff. A pitcher who is healthy and better than a No. 3 starter in the draft! No way!
Step 355. Repeatedly pass over "can't miss" prospects in the draft out of fear of their price tag.
They'd just blow out their arms as Pirates anyway. Maybe this is the Pirates being more charitable than cheap. Why ruin a future star by making him a Pirate?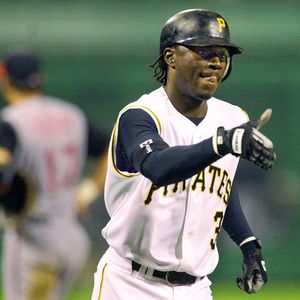 AP Photo/Keith Srakocic
The Pirates splashed into free agency by signing Pokey Reese prior to the 2002 season.
Step 400. Be active in the free-agent market.
In the way a frail moth caught in a spider's web is active. Mike Benjamin, Ed Sprague, Pokey Reese, Daryle Ward, Mike Kingery. As for the really bad ones, I have chosen to block those from my memory.
Step 500. Get it over with early.
The best April the Pirates have had in the past 16 years was 14-10 in 2002. That team finished 24½ games out of first. The best record they have had at the end of May in the past 16 years was 26-24 in 1999. That team finished 18½ games out of first.
Step 518. Ruin the ballpark experience.
When PNC Park was being built, the Pirates promised fans that a championship-caliber team would open the stadium. That inaugural PNC Park team went 62-100 in 2001. Since PNC Park opened, the Pirates are a combined 190 games below .500 -- an average of almost 24 games below .500 per year.
Step 679. Trade for players other teams want to release.
In 2006, the Pirates best trade chip was power-hitting first baseman/outfielder Craig Wilson. (Really!) They eventually traded him before the deadline to the Yankees for Shawn Chacon … who the Yankees were planning to release. Hey, can't risk having a talent like Shawn Chacon getting snatched off the waiver wire by someone else!
Step 892. Celebrate the acquisition of players who would serve as platoon players on other teams.
Sean Casey will get us over the hump! Adam LaRoche will lead us to the promised land! (Yes, if that promised land is continued high draft positions.)
Step 914. Screw with your phenoms.
Zach Duke was 44-18 with a 2.37 ERA in the minors. In 2005, he arrived in the majors at age 22 and went 8-2 in 14 starts with a 1.81 ERA. When new manager Jim Tracy and his staff arrived for 2006 spring training, they settled on the brilliant decision to change Duke's delivery. Since then, he is 18-36 with a 4.84 ERA.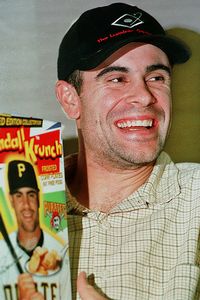 AP Photo/Keith Srakocic
Not only was Jason Kendall Pittsburgh's $60 million slap hitter, he also had his own cereal: Kendall Krunch. (Yes, we're serious.)
Step 1,232. Splurge on singles hitters.
Jason Kendall, the $60 million man. That worked out to $5 million per Pirates home run.
Step 1,233. Splurge some more on singles hitters.
Pat Meares: four-year, $15 million contract. (Yes, for the Pirates, this is splurging.)
Step 1,419. Trade productive players for bad players.
Specifically, Jason Schmidt for Armando Rios and Ryan Vogelsong.
Step 1,420. Trade more productive players for bad players.
Specifically, Jon Lieber for Brant Brown.
Step 1,421. Trade still more productive players for bad players.
See 98 percent of the trades the Pirates have made over the past two decades.
Step 1,699. Decimate your farm system.
Pittsburgh's Double-A franchise, the Altoona Curve, celebrated its 10-year anniversary this season and asked fans to vote for an all-time team. After 16 years of trading veterans for prospects, one would think the Pirates farm system would be loaded. But no! Check out the "stars" from 10 years of Altoona baseball. If you would like to have more than three of these players on your team, you are a Royals fan. Somehow, the Pirates manage to both continually trade away veterans for prospects AND have no decent prospects at the same time … a unique and almost admirable ability!
Step 1,897. Raise ticket prices … after a 100-loss season.
The Pirates went 62-100 in 2001. So, logically, ticket prices were raised for 2002. (Logic being, I suppose: "We need more money if we're going to lose fewer than 100 this year." Well, mission accomplished! The 2002 Pirates were a robust 72-89.
Step 1,992. Cause players to lose self-awareness.
Only for the Pittsburgh Pirates could a player coming off a season in which he hit .173 with five homers and 13 RBI think he could do something called "Operation Shutdown." "Meet my demands! I hit .173! I'm a star!" Unfortunately, on the Pirates of the past 16 years, Derek Bell almost was.
DJ Gallo is the founder and sole writer of the sports satire site SportsPickle.com. He also is a regular contributor to ESPN The Magazine and has written for The Onion and Cracked. His first book, "SportsPickle Presents: The View from the Upper Deck," is on sale now.