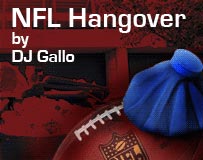 Ed [Hochuli] came over, the official, and said he blew it. And that's not acceptable to me. This is a high-level performance game, and that's not acceptable.
-- San Diego Chargers head coach Norv Turner
Say goodbye to Norv Turner, ladies and gentlemen. Ed Hochuli tried to play nice. He tried to apologize. But Norv Turner would not accept his apology. And now it is so on.
Ed Hochuli versus Norv Turner. Let's see how they match up.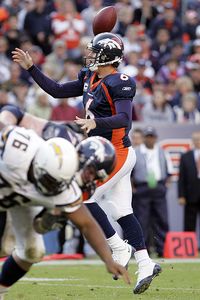 AP Photo/Jack Dempsey
Will Jay Cutler's non-fumble fumble spawn a Ed Hochuli-Norv Turner grudge match?
Ed Hochuli vs. Norv Turner
Ed Hochuli
Norv Turner
Nickname
Guns
Norval Eugene
Biceps
How much tape you got?
7 inches
Chest
Stacked
19 inches
Chest (expanded)
Stacked + x
19.1 inches (including windbreaker)
Backup
Roger Goodell and the ever-ominous NFL security
Nate Kaeding
Go-to move
Ripping coach's head off, splitting it in half, putting a chunk on each end of a pike, and doing 100 curls with it
Screen pass
Favorite sayings
"First down!" and "The beach is thataway."
"I am confident that I will find another job."
Weakness
Mercy
Pressure situations
Other skills
Attorney (specializing in personal injuries … to you!)
Microsoft Word; skilled with Monster.com; weathered skin should allow blood to clot quickly when Eddie Guns' punches rain down upon him
Who you got?
Quote of the week

Vikings quarterback Tarvaris Jackson, on losing to the Colts: "You can get mad, throw a chair, whatever. It really doesn't matter. We've just got to go out there and execute."
I disagree, Tarvaris. Let that anger out. Go ahead and throw a chair. Don't worry -- you won't hit anyone.
Week in pictures

"Like this? Is this how I wear it?"
"I would consider you the Ford Edsel of NFL general managers."
"If I get fired, I can count on you to come out and help me drink away my sorrows, right?
"Can you tell me your name?"

"No."
"Not a problem. I don't know the names of any of our receivers anyway. You can get up."
"Not now, fellas. I'm making animal faces at the giant video screen. Roooooaaaaaar. Naaaaaaay. Hisssssss."
"Umm, I don't think you're supposed to be talking to me. You are supposed to be talking to the backup quarterback, you second-string loser."
"LJ! Long time no see, buddy! Give me a hug."
"Whaddaya say we head back to the sideline and change out of these face masks?"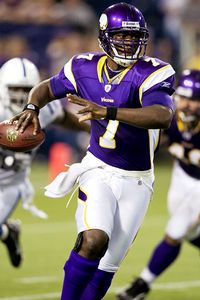 David Stluka/Getty Images
Tarvaris Jackson shouldn't be shy about letting out his emotions.
"I can't believe I was dropped to 17th on the depth chart."
"Send in … the clowns. Don't bother … they're heeeeeere."
How they spent their bye week

Baltimore Ravens: … Bonding as a team by taking a camping trip deep into the wilderness of Joe Flacco's unibrow … Asking God to sponsor other positions. … Watching "The Cosby Show" DVDs with Rob Ryan.
Houston Texans: Joining Will Demps in a search for fulfillment beyond the needs of their libido … Going door-to-door to see whether anyone still thinks they should have drafted Vince Young.
Ten things I might have thought I mused while thinking about pondering my thoughts

1. Why all the surprise that Mike Shanahan decided to go for two and the win against the Chargers? You think that sort of decision stresses him out? You think that makes him sweat? Ridiculous. This is a man who regularly faces the heat of a thousand sun lamps. Going for two is nothing.
2. I am disappointed in you, fans of Detroit. Still with the brown paper bags on your heads? What are you thinking? It is time to switch to green, canvas grocery bags. They are Earth-friendly, and you can use them again and again and again. And again and again and again. And again and again and again.
3. According to Charlie Casserly on CBS' pregame show, Terrell Owens is paying back the bonus money he still owes the Eagles via payroll deduction.
Here is an example of Owens' pay stub:
Gross pay: $323,923.08
Minus federal tax withholding: $111,153.85
Minus a-hole tax (to Eagles): $20,000
Minus 401(k): $32,392.31
Minus agent's fee (to Drew Rosenhaus): $666
Net pay: $159,710.92
4. It's hard to accurately say how big it was for the 49ers to go into Seattle and get a win. But I will try. I'd say it was big enough that today, a lot of kids are wearing 49ers gear at Bay Area schools for the first time. But not so big that any of those same kids are running to the local barber or hairdresser saying: "Give me the J.T. O'Sullivan!"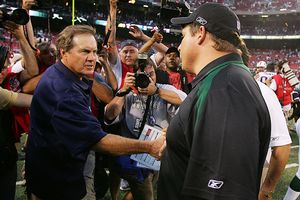 Jim McIsaac/Getty Images
The postgame handshake between Bill Belichick and Eric Mangini is always one of Page 2's most-awaited highlights of the NFL calendar.
5. After New England's win over the Jets on Sunday, Patriots safety Rodney Harrison had this to say: "To come in here, to this hostile environment, and win when everyone picked you to lose, is great."
Now I present the short play "Patriots Postgame Locker Room."
Bill Belichick: "Great win today."
Patriots players: "Yeah! No one believed in us! We were expected to lose!"
Belichick: "That's true. We were one-point underdogs."
Patriots players: "That means EVERYONE picked us to lose."
Belichick: "Well, not actually. With a one-point spread, I would guess that literally millions of people bet on us to win. And that's not counting the tens of millions of nongamblers who thought we would win, including near-unanimous support in and around Boston. It's just that a few Vegas oddsmakers set the opening line at minus-1, and then a very narrow consensus among big-money gamblers was able to keep it … wait, what am I doing? No one believes in us! We are persecuted like no other humans in history!"
Patriots: "Yay!"
6. I will say that the reports of how greatly the Patriots would have to cheat to prevent their demise were greatly exaggerated. (Or however that saying goes.)
7. Corporate executive : Burger King manager :: NFL quarterback : game manager.
8. Two fumbles yesterday for Bears tight end Greg Olsen. Not good. This is what Olsen said about the fumbles after the game: "Any time you have two critical errors that lead to your team losing, it's tough to swallow." That's all well and good. But this is what the former Miami "7th Flo' Crew" member should have said -- you know, for the sake of levity: "(What's your name?) G-Reg! (What you do?) Fumble! (How you do it?) Get stripped! The footballs be big, brown and slick. And when I take the field I like to drop them out quick."
9. What is Chad Ocho Cinco waiting for? He needs to get his jersey changed, and quick, if he wants to capitalize on his marketability. That Bengals stuff has to go.
10. I think Raiders head coach Lane Kiffin will be able to keep his job. More winning will help, yes. But he should be able to plead his case well when team owner Al Davis calls him in for a meeting.
Kiffin: "Yes, sir?"
Davis: "You are fired."
Kiffin: "I am?"
Davis: "Yes."
Kiffin: "But who are you to fire me?"
Davis: "I am Al Davis."
Kiffin: "No, you're not. I am Al Davis."
Davis: "You are? Then who am I?"
Kiffin: "You are Lane Kiffin."
Davis: "Who the %$!@ is Lane Kiffin?"
Kiffin: "I mean you are Art Shell, not Lane Kiffin. Art Shell."
Davis: "Well, then I'm fired! You may go."
Kiffin: "Thank you, sir."
DJ Gallo is the founder and sole writer of the sports satire site SportsPickle.com. He also is a regular contributor to ESPN The Magazine and has written for The Onion and Cracked. His first book, "SportsPickle Presents: The View from the Upper Deck," is on sale now.