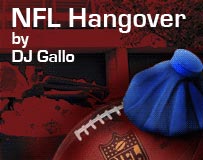 The Pittsburgh Steelers put in one of the worst displays of pass protection in history Sunday, surrendering nine sacks and departing Philadelphia with their first loss of the season and -- somehow -- a living Ben Roethlisberger.
Why were the Steelers unable to block? Let me take you down to Pittsburgh's sidelines.
After sack No. 1

Line coach: "OK, what happened there?"
Lineman 1: "Sorry, that one was my fault."
Lineman 2: "No, don't take the blame. That was my guy who got through."
Lineman 3: "No, that was my guy."
Lineman 4: "Stop covering for me, guys, that was my assignment."
Lineman 5: "Knock it off. I'm the one who got beat."
Line coach: "Actually, you all are telling the truth. That's why Ben got sacked by five guys. But I appreciate your accountability, if not your blocking ability."
After sack No. 2

Line coach: "What's the story on that one?"
Lineman 1: "I thought Alan was going to block that guy."
Line coach: "Alan who?"
Lineman 2: "Whaddaya mean Alan who? Alan Faneca. Our Pro Bowl guard."
Line coach: "He plays for the Jets now."
Lineman 1: "Hmm."
After sack No. 3

Lineman 5: "That one was Ben's fault, Coach."
Line coach: "How so?"
Lineman 5: "I got wide open downfield, and instead of throwing it to me he just took a sack."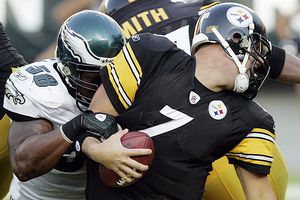 AP Photo/Tom Mihalek
Pittsburgh's offensive line didn't do Ben Roethlisberger any favors on Sunday.
After sack No. 4

Line coach: "What happened?"
Lineman 2: "Willie Parker was supposed to pick up the blitz on that play."
Line coach: "He did."
Lineman 2: "But then why did Ben get sacked?"
Line coach: "Because you let your assignment run right past you and sack the quarterback. You were actually sitting on the ground during that play picking grass."
Lineman 2: "But I thought Willie was supposed to pick up the blitz."
Line coach: "He is! But you still have to block."
Lineman 2: "You should have told me that before, shouldn't you?"
After sack No. 5

Line coach: "What happened?"
Lineman 4: "We just wanted to remind Ben that he should always wear a helmet."
After sack No. 6

Line coach: "And that one?"
Lineman 3: "Well, would you prefer I hold and get a 10-yard penalty?"
After sack No. 7

Line coach: "And that one?"
Lineman 1: "You know, Coach, there is a school of thought that says Ben is actually better when he has to run around making plays instead of just standing in the pocket. I think you should be more appreciative."
After sack No. 8

Line coach: "And that one?"
Lineman 3: "That one was me. Their third-string defensive tackle hadn't registered a sack yet, and he said he'd get yelled at in a film session if he didn't get one. So I let him through."
After sack No. 9

Lineman 4: "We did it, Coach! Ben didn't get sacked that series."
Line coach: "I know. But Byron Leftwich did."
Lineman 4: "So we're improving, right?"
Week in photos
"Dear God, give me the right words so I can tell him I hate his stupid beat-box routine."
"I'm gonna try one with my eyes open."
"Who's gonna get fired? This guy."
"Hey, do you want me to show you the secret game manager's handshake?"
"Where be your jibes now, your gambols, your songs, your flashes of merriment that were wont to set the table on a roar?"
"This is from John Sacrimoni!"
"I wish I didn't always make Bill Parcells' team win."
"What are you staring at? You never seen a carny before?"
"I wonder whether he could play receiver for us."
"Nooooooo! The sun is beginning to set. Come back! I'm not done crisping!"
"No one will even care if I blow a call in this game."
Stat of the week

176 -- Donovan McNabb's second-quarter touchdown pass to Correll Buckhalter on Sunday gave him 176 for his career, one ahead of Ron Jaworski's total. If I'm not mistaken, to commemorate his place atop the team's all-time list, the Eagles will give McNabb an expensive pair of gold ladies' glasses.
Ten things I think you thought you think I thought you thought I thought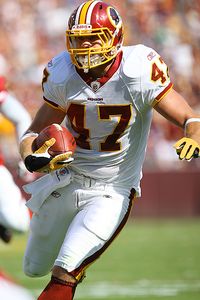 G. Newman Lowrance/Getty Images
Chris Cooley keeps finding new ways to elude coverage.
1. I really like how the Redskins are using tight end Chris Cooley this year. Seven catches for 72 yards Sunday, and each seemed to keep a drive going. It's safe to say no one can cover Cooley this season.
2. It's time for Brady Quinn in Cleveland. The Browns are 0-3, and Derek Anderson hasn't had a game with a passer rating above 100 since October. I realize that some Browns might not be keen on turning the team over to a man who is such a fan of wearing tights, but I think the pregame speech Quinn has planned for his first start will win over the team. Take a look.
3. Shameful showing by thousands of Patriots fans Sunday. Leaving at the start of the fourth quarter? Booing a team with an NFL-record 21-game win streak? There is no excuse for that. But cheer up, Patriots. You still have some true fans out there. Despite your blowout loss, there will no doubt be children proudly wearing 19-0 T-shirts all over third-world nations.
4. Now I present the short play "Patriots Postgame Locker Room."
Bill Belichick: "Men, no one believes in us."
Rodney Harrison: "Come on, Coach. That disrespect thing is starting to get a bit old."
Belichick: "No. Really! I'm serious this time."
Tedy Bruschi: "Sure, Bill. Sure. This time you're serious. Whatever."
Belichick: "I am! With Tom out for the season and our getting killed at home by the Dolphins, no one believes in us. For the first time ever, it's really true!"
Harrison: "We've taken you at your word every other time, but this just seems ridiculous now. Of course people believe in us -- we are the most successful franchise of the decade. And we're 2-1 and in a weak division. We'll be fine. And everyone knows it."
Belichick: "But half our crowd left! We had won 21 in a row, and half our crowd left! That's disrespect!"
Bruschi: "That's called beating traffic so you can go out and enjoy a beautiful September afternoon, Coach. Plus, half the crowd stayed."
Belichick: "But, but, but … disrespect!"
Harrison: "Coach, enough. How about you take the bye week to learn how to stop the spread offense, then come back and coach us up, OK? Or do you not know what you're doing and really had all that success only thanks to Tom Brady and cheating?"
Belichick: "Disrespeeeeeeeeeeeeect!"
Scene.
5. If someone had told you before the start of the season that after Week 3, the Bills, Cardinals, Ravens and Titans would be in first place, would you have believed them? Or, more likely, would you have said: "Why are you giving me a prediction on just four divisions through less than 20 percent of the season? Give me some useful information or please leave."
6. The Rams lost in Week 1 to the Eagles by 35, in Week 2 to the Giants by 28 and in Week 3 to the Seahawks by 24. If the pattern holds, the Rams should lose only four more games, each by narrower margins, before winning out to finish 9-7 and attain a possible playoff spot. Or, if another -- perhaps more likely -- pattern holds, the Rams will go 0-16 and lose every game by 24 to 35 points.
7. I appreciate consistency. For example, if a player credits God for a victory after a big win, I have no problem with that -- as long as the player also blames God after a big loss. So I wasn't happy to see Saints kicker Martin Gramatica miss a potential game-winning field goal, walk off the field, skip his shower and leave the stadium without speaking to the media. I feel that if he runs around, leaping into the air after every made field goal, he should give us a similarly energetic show after a miss. Or at least stick around after the game so the cameras can film him running around, leaping into the air while trying to avoid his teammates' punishment of atomic wedgies and swirlies.
8. If Apple chooses to fire back at Microsoft's new "I am a PC" commercials, all it needs to do is create a 10-second ad in which somebody says: "Yeah, but the person who thought up those Jerry Seinfeld-Bill Gates commercials is also a PC. So we rest our case."
9. There's an NFLshop.com commercial that shows someone's den decked out in Pittsburgh Steelers paraphernalia from floor to ceiling. The camera pans the room, then finally pauses on a traditional lamp with the text: "What's with the lamp?" The commercial is a bit of a cheap shot. Do you want to know what happened to the lamp, NFL Shop? Do you? The Steelers' offensive line was house-sitting for a fan and was asked to protect that lamp. Despite their best efforts, a whole wave of burglars broke in and stole it the second the owner left. But I'm glad you find robbery and home invasion so funny, NFL.
10. I am a golf fan, but I didn't watch more than 10 minutes of Ryder Cup action. Because football was on and Tiger Woods wasn't playing, my interest wasn't there. Plus, Redskins head coach Jim Zorn filled Tiger's void by giving us all the Sunday viewing pleasure of seeing a man's nipples poke through a red mock turtleneck. Thanks, Jim!
DJ Gallo is the founder and sole writer of the sports satire site SportsPickle.com. He also is a regular contributor to ESPN The Magazine and has written for The Onion and Cracked. His first book, "SportsPickle Presents: The View from the Upper Deck," is on sale now.