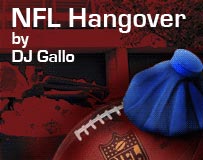 The Constitutional Convention. The Yalta Conference. The Geneva Summit. For decades, great men have come together to make important decisions for the future.
On Sunday, Terrell Owens and Chad Johnson met to set bylaws for how future receivers can be attention-seeking divas the way they are.
I call it the Diva Wide Receiver (or DWR) Summit. Here is what was agreed upon:
Resolution 1: Work hard
Above all else, a diva wide receiver is a good player. There are no shortcuts to success. You must put in as much work as everyone else on the team. Then you must stay late and put in extra work choreographing dances, building props and developing catchphrases.
Resolution 2: Demand touches
You are a diva probably because you didn't get enough love and attention as a child. But you're in luck! That human interaction you missed out on in the past can be satisfied by the nonjudgmental touch of a football.
Resolution 3: Know the plays
You can't get open and get touches if you don't know the plays. Just be sure to adjust your patterns slightly so you are always running in the direction of a TV camera.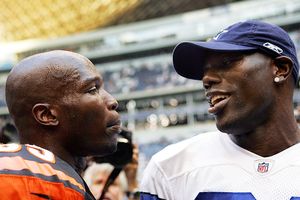 Ronald Martinez/Getty Images
"Don't move T.O. ... I can totally see myself in your eyes."
Resolution 4: Demand a bigger contract
So what if you just signed your current contract? You still have a right to complain about it. And what if you change your name to something different than what's on the contract? Then what?
Resolution 5: Always look for other opportunities
Is your team not winning? Do you have a personality difference with your quarterback? Hint about wanting to play elsewhere. Dropping hints is a great way to overshadow all of your dropped passes.
Resolution 6: Get your popcorn ready!
Entertaining the fans is your primary objective. Plus, popcorn is a light and healthy snack for a finely tuned professional athlete. Just remove your gold teeth before eating, or you'll be stuck picking popcorn shells out of your grill when you could be talking to the press.
Week in photos
• "Yes, my refrigerator is running, Terrell. Why do you ask?"
• "Oh, yeah. John Fox likes me some of that."
• "Ha-ha! Yeah, well, keep pointing at the scoreboard and I'll crush them."
• "Jeez, I really blew this game."
"Jeez, he really blew this game."
• "I remember playing with Charles Haley."
• "What do you mean you don't know what 2+2 is? I thought you went to Stanford."
• "Thanks for making me perfect."
• "OK, what ridiculous, overly intense face options do I have for this situation?"
How they spent their bye week
Cleveland Browns: Practicing with Brady Quinn in Lake Erie.
New York Jets: Coming up with excuses for why they are unfortunately unavailable to help Brett Favre move.
Oakland Raiders: Waiting for Tom Cable to be fired.
St. Louis Rams: Waiting to hear how their new head coach will fix their terrible defense.
Horrible fantasy football team that crushed your team this week
Kyle Orton, QB, Bears: 24-of-34, 334 yards, two touchdowns
DeAngelo Williams, RB, Panthers: 148 total yards, three touchdowns
Le'Ron McClain, RB, Ravens: 11 carries, 51 yards, one touchdown
Domenik Hixon, WR, Giants: four catches, 102 yards, one touchdown
Sinorice Moss, WR, Giants: four catches, 45 yards, two touchdowns
Justin Peelle, TE, Falcons: two catches, 15 yards, one touchdown
10 things I should have thought had I thought to think them
1. It seems this season that games haven't gone more than a play or two before a player's helmet flies off. If Roger Goodell really wants to focus on player safety, he must remedy this issue. He should require players to buckle their helmets properly or allow them to go back on steroids so their melons expand again and fill the helmets properly.
2. Tennessee's game-winning drive Sunday was extended when Ravens linebacker Terrell Suggs received a questionable flag for hitting Titans quarterback Kerry Collins in the head. Said Suggs of the call: "We are the bad boys of football. They are always going to look at us like that. From the way the game was going, I think the referee just probably wanted to feel important."
How right he is. Most referees make calls for selfish reasons. Just look at how Sunday's official capitalized on the Suggs call at a bar after the game:
Official: "Well, hello there, beautiful."
Woman: (not interested) "Um … hi."
Official: "Do you know who I am?"
Woman: (still not interested) "I don't know -- a Foot Locker employee?"
Official: "No, no, no. Far more important than that. I am an NFL referee."
Woman: (still not interested) "Huh. Well, good for you, I guess. But if you'll excuse me, I'm talking to my friends."
Official: "I'll have you know I made a call of quite some consequence today. Changed the game, in fact."
Woman: (suddenly intrigued) "Really? Which one?"
Official: "Terrell Suggs. Fourth quarter. Titans-Ravens."
Woman: "Ohmigod! That was you? You are important. Want to come back to my place? You can flag me all night long, you big, important referee."
3. Chad Ocho Cinco is dating one of Adam "Pacman" Jones' cousins. I think Mrs. Pacman Ocho Cinco has a nice ring to it. And it would be a beautiful wedding. Jessica Simpson could sing. Cedric Benson could have the reception out on his boat. Pacman Jones could rain rice down on them as they exit the church. The only thing that could ruin it is if Terrell Owens were to complain to the bride about not getting enough touches.
4. Kurt Warner, father of seven, said he spent the week working on protecting the ball by holding onto a football with two hands at home while his kids chased him around "trying to simulate the Buffalo Bills." Sounds like a good idea. Unless one of his kids runs over his sister on a tricycle while trying to simulate Marshawn Lynch.
5. Terrell Owens after the Cowboys' win: "God used me today for his glory. Reality is where glory resides. That's all I've got to say." That is unfortunate. Because I have no idea what you are saying. Confusion is where I reside.
6. I thought the Seahawks were supposed to improve when they got healthy. They are sort of like an injured hawk that is nursed lovingly back to health. Then, when they are finally healthy and ready to soar again … they fly right into the engine of a passing jet.
7. Credit where it is due: Ray Lewis is having a strong season. In recent years he looked as if he had lost a step. He was the third guy to jump on a pile and one of the first guys to celebrate. Now, he is usually the second guy on the pile and always the first guy to celebrate.
8. Lions head coach Rod Marinelli said the team had its best week of practice in the three years he has been on the job. Then it went out and lost to the Bears 34-7 at home. That doesn't mean Marinelli was wrong, though. It just means he probably shouldn't get too excited when his team plays well against the Lions.
9. Great job by the Dolphins on Sunday in not getting a single delay of game penalty, and great job by head coach Tony Sparano in using just three timeouts. Any more downtime than that and you only lead Ricky Williams into temptation.
10. Miami expertly used Ronnie Brown in the Wildcat formation again on Sunday in beating the Chargers. Because Tennessee is talking about using Vince Young the same way in the future, expect to hear the term more often. And in case you don't know, the Wildcat formation is a variant of the double-wing formation, which Pop Warner invented in 1912, only it features a direct snap to either back. Don't confuse this with the cougar formation, in which two or more single women in their 40s go into a bar.
DJ Gallo is the founder and sole writer of the sports satire site SportsPickle.com. He also is a regular contributor to ESPN The Magazine and has written for The Onion and Cracked. His first book, "SportsPickle Presents: The View from the Upper Deck," is on sale now.