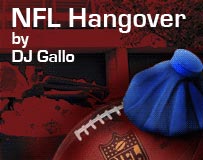 Week 6 didn't look as if it would be all that great at 1 p.m. Eastern Time on Sunday. Few notable games were on the schedule.
It didn't even look as if it would be too good at 3:45 p.m. Few notable plays had been made.
But minutes later, four games were decided in dramatic endings. And after the conclusion of the Cardinals-Cowboys game three hours later, five games in one week were decided in the final minute for the first time in NFL history. Let's recap the excitement:
Texans 29, Dolphins 28
What a final play! It was so exciting, they kept showing Matt Schaub's quarterback keeper over and over in slow motion. And they didn't even need to use the slow-motion technology.
Vikings 12, Lions 10
If you aren't excited to see a 12-10 Vikings-Lions game end, you don't love good football.
Rams 19, Redskins 17
As his winning kick flew through the uprights, Rams kicker Josh Brown pointed to his name on the back of his jersey. Ah, the cocky kicker. A hero one week, shoved in a locker the next.
Falcons 22, Bears 20
Anyone who has questioned the value of a 40-yard dash time need only watch the Matt Ryan-to-Michael Jenkins hookup that set the table for Jason Elam's winning kick. Five seconds, 26 yards. See? That equates to a 7.69 40 time. Therefore, it is obvious that speed does not equal football production. Maurice Clarett awaits your call, Bengals.
Cardinals 30, Cowboys 24
It wasn't all that surprising that a blocked punt ended a game full of miscues and poor officiating. What was surprising was that Terrell Owens didn't block the punt in order to get another touch.
Week in photos
• "These guys are like Appalachian State good."
• "We really could use one of your patented blown calls here."
• "Oh, jeez -- so that's why there were voices in my head. That's a relief."
• "Standing up is a bit too aggressive for my tastes."
• "He's an insane old man, right?" "Oh, totally."
• "Ah, crap. We're the Titans today. Well, whatever … go Titans!"
• "Can't we all just get along?"
• "I thought Fat Albert would be a better run-stopper."
• "I shouldn't have to wear this girly hat just because I'm hurt."
Quote of the week
Tom Cable on Drew Brees: "You have to use him as a model." Is the new Raiders coach pegging Brees as the ultimate in NFL quarterbacking? Or is an awestruck Cable going for the manlier alternative to "I must paint you"? You decide.
Stat of the week
59 -- A game after Lane Kiffin had Sebastian Janikowski attempt a 76-yard field goal, Tom Cable let Janikowski try from only 59 and 57 yards. If Cable won't have confidence in his players, they won't have confidence in him. I truly believe this Raiders offense can put points on the board -- if Cable trusts his kicker and if Janikowski can consistently knock it through from 120 yards.
Web site of the week
Longsnapper.com -- "Perfect snap to punter … 15 yards … in only … .70 of a second [flash, flash, flash] … then sprint! [flash, flash, flash] … 42.6 yards … shedding blockers … cutting down angles … and make the tackle … just another day in the life … of an NFL long snapper."
If you like your job half as much as Bears long snapper Patrick Mannelly does, you are blessed. "Perfect stapling of the paper … 15 pages … in only … .70 of a second [flash, flash, flash] … then walk! [flash, flash, flash] … 42.6 steps … ignoring interns … passing cubicles … and delivering the document to boss … just another day in the life … of an administrative assistant."
How they spent their bye week
Buffalo: Trying to get to second base with Canada.
Kansas City: Seeing whether anyone will bite on a trade of Tony Gonzalez for a starting QB, offensive line, wide receiver, linebacking corps, defensive backs and punter.
Pittsburgh: Practicing picking Ben Roethlisberger up off the ground.
Tennessee: Trying to book Vince Young on "Saturday Night Live."
Horrible fantasy football team that crushed your team this week
Dan Orlovsky, QB, Lions: 12-of-21, 150 yards, TD
Dominic Rhodes, RB, Colts: 25 carries, 73 yards, TD
Patrick Cobbs, RB, Dolphins: 138 receiving yards, 2 TDs
Bernard Berrian, WR, Vikings: 5 catches, 131 yards, TD
Vincent Jackson, WR, Chargers: 5 catches, 134 yards, TD
Marcedes Lewis, TE, Jaguars: 3 catches, 64 yards, TD
10 things I think I can I think I can I think I can I think
1. I can't get over the significance of how Lions quarterback Dan Orlovsky casually ran out of the back of the end zone against the Vikings while rolling out to pass. And I don't just mean how it meant two points in what ended up being a two-point game. I mean, it is significant in the historical progression of Lions football. Think about it: Their stink can no longer even be confined by the dimensions of an American football field. This is postmodern stink.
2. The Colts finally won at Lucas Oil Stadium. The entire preseason and five weeks of the regular season passed before Indianapolis officially christened its new stadium. Colts fans were getting worried it would never happen. But I knew it would. Eventually. Although Lucas Oil Stadium is beautiful, don't forget that it's a stadium with traditional Midwest values. It wasn't going to just give up a win in the first game. It was going to make the Colts work for it. Make them show they wouldn't just use it for some wins, then discard it for a new stadium as they did to the RCA Dome. It wanted the Colts to prove they were in it for the long haul. Only after all that did Lucas Oil Stadium give up a win. That win was well worth the wait. The Colts scored all day.
3. It was easy to view Sunday's Jets-Bengals game as a snapshot of the divisions in this country. On one team, you had Brett Favre, the veteran, tractor-driving, down-home, country fella. On the other, you had Ryan Fitzpatrick -- a young, Harvard-educated elite. And then there were the rest of us, stuck in the middle, forced to watch as nothing happened, just hoping something positive would develop so we wouldn't lose our life savings. (Note: The analogy kind of fell apart there at the end if you didn't also bet $10,000 on the over.)
4. Now I present the short play: "Nike Pitches This Ad to LaDainian Tomlinson."
SCENE: A conference room.
Nike: "We have a great new ad concept to share with you, LT. Troy Polamalu is on board with it, too."
Tomlinson: "Great. I love Troy. Let me hear it."
Nike: "It will show both of you from birth to present day, cutting back and forth between the two of you running through the house as kids, playing biddy basketball and football, playing in college, then finally meeting each other head-on in the NFL. And the whole thing is set to some pretty cool music."
Tomlinson: "Sounds awesome. I'm in."
Nike: "Oh, one thing. The ad concludes with Polamalu stopping you dead in your tracks, even though you have a full head of steam going."
Tomlinson: "Ummmm … "
Nike: "Yeah. Tough break."
Tomlinson: "Do I get replaced by Darren Sproles in the next ad?"
Nike: "No."
Tomlinson: "OK, cool. I'll do it."
5. So in light of the Redskins' loss to the previously winless Rams, the Cowboys' loss to the Cardinals and the Eagles' decidedly mediocre performance, perhaps the NFC East is not the greatest division in the history of dividing things. (Sorry, East Coast media elite!)
Let's rerank the best divisions:
1. division of church and state
2. division of the Red Sea
3. 1st Infantry Division
4. division without remainders
5. division with remainders
6. Division III
7. Division II
8. Smythe Division
9. NFC East division
10. NCAA Football Championship Subdivision
6. Bill Belichick's change in demeanor from recent seasons to this season is stunning. Before, he always looked confident ahead of the game, as if he knew what would happen. Now, at times he looks just as clueless, powerless and unsure of himself as the average coach. More so, even. For the record, this is not my attempt to imply subtly that Belichick is nothing without cheating and Tom Brady. Seriously. I am straight-out saying: Belichick is nothing without cheating and Tom Brady.
7. So if Bill Belichick isn't the best coach in the NFL, who is? Well, I think it's pretty obvious: Arizona Cardinals defensive coordinator Clancy Pendergast. I could give you a bunch of statistics about how Arizona's defense has improved under his direction. But I won't. In fact, I don't even know whether such statistics exist. What I do know is that he didn't play football in college or the pros. And I know that he looks like this. And, most of all, I know that his name is Clancy Pendergast. So the fact that he is even able to get his players to take the field instead of giving him wedgies and stealing his lunch is pretty amazing. Any positive performance on the field beyond that is just cake.
8. This latest Pacman Jones controversy is a joke. Yes, the guy has made more than his share of mistakes. But getting in a fight with his own bodyguard is not one of them. It's like kicking the tires on a new car -- it would be irresponsible not to. What's next, judgmental media: Pacman won't be allowed to make it rain on his own grandmother?
9. Another sloppy game Sunday by the Cowboys. (No way! Sloppy? A team coached by this guy?) Four fumbles, 12 penalties, four dropped passes, a blocked punt. There's no doubt that owner Jerry Jones would love to just skip to the inevitable and replace Wade Phillips with offensive coordinator Jason Garrett. The only problem is that Garrett's offense is leading the underachieving charge. But something has to change. And soon. Terrell Owens is running out of people to bicker with. He was reduced to yelling at center Andre Gurode on Sunday. That's not an exciting feud! T.O. is like a TV show that has run out of plotlines. "Umm, well, he's fought with pretty much everyone else. I don't know. … I guess we could try having him yell at the center? And then, if we still can't come up with anything fresh, we'll have to have one of the players have a baby. That's always good for ratings. Then T.O. can yell at the baby for being selfish."
10. The Jonas Brothers were in Arizona for the Cardinals-Cowboys game. Here they are. (Oops, I'm sorry. Easy mistake. Here they are.) Anyway, Jerry Jones brought them along to announce that they will perform during halftime of the Dallas-Seattle game on Thanksgiving. Said Jones: "There are no artists more in touch with America's youth than the Jonas Brothers." But before you laugh at a 66-year-old man saying what the youth of American are into, remember that Jones is a savvy businessman and marketer. And also that several parts of his face are young enough to be in the band's core demographic.
DJ Gallo is the founder and sole writer of the sports satire site SportsPickle.com. He also is a regular contributor to ESPN The Magazine and has written for The Onion and Cracked. His first book, "SportsPickle Presents: The View from the Upper Deck," is on sale now.