The Titans are 11-1. The Steelers are 9-3. The Jets are 8-4.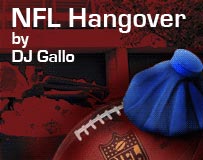 If the NFL were college football, which team would the AFC send to the Super Bowl? Well, let's think about it.
The Titans have the best record but have played a weak schedule, and their one loss came decisively and at home to the Jets.
The Jets, as stated, beat the Titans in Tennessee but have lost a few games to bad teams, both at home and on the road.
And the Steelers have the second-best record and have played a far tougher schedule than either the Titans or Jets, but have not faced either of them head-to-head.
So I ask again: If the NFL were to use the college football system, which team would the AFC send to the Super Bowl? I think it might be the 1-10-1 Bengals because the college football system makes no sense and is stupid, insulting and a waste of everyone's time.
Week in photos
• "I knew this team was bad, but he is on our team?! Wow."
• "Don't look at the field, or the nausea will come back."
• "You know, from where we're sitting, we are undefeated."
• "Behold the wild turkey formation!"
• "Hear that, ears? That's what something other than booing sounds like."
• "Oh, come on. It's bad enough that you missed the kick."
• "Behold! Your new king of the bag people!"
• "Hey, ref, I told you that I'd rip your beating heart out of your damn chest."
• "Not you, too! Please say that's just paint on the back of your pants."
• "No, you didn't lose a step. I just stole a step from you when I left."
• "With all the extra time we'll have in the offseason, I thought I'd get a little nip-and-tuck right here."
Quote of the week
"We love RAC, and we're going to play for RAC. That's the biggest thing in the last four weeks." -- Derek Anderson, QB, Cleveland Browns
When Anderson said this, I first thought he said "crack." And although I found his statement to be refreshingly candid, I felt sorry for him that he was so hopelessly addicted. Then I realized he was saying "RAC" -- as in, the nickname of Browns head coach Romeo A. Crennel. And so I of course felt that he is even more hopeless.
Book of the week
"Giant: The Road to the Super Bowl" by Plaxico Burress
"Giant" provides a great inside account of the 2007 Giants' Super Bowl season from one of their best players. At 240 pages and in hardcover, it's too big to slip into your pocket, but it can provide some great extra protection if you strap it to your thigh.
Horrible fantasy team that crushed your team this week
Shaun Hill, QB, 49ers -- 14-for-23, 161 yards, TD
Peyton Hillis, RB, Broncos -- 22 carries, 129 yards, TD
Chester Taylor, RB, Vikings -- 65 total yards, TD
Mark Clayton, WR, Ravens -- 5 catches, 164 yards, TD
Amani Toomer, WR, Giants -- 5 catches, 85 yards, TD
Justin Peelle, TE, Falcons -- 3 catches, 38 yards, TD
10 things you'd think I'd think, wouldn't you?
1. Of the three interim head coaches -- Jim Haslett, Tom Cable and Mike Singletary -- Singletary clearly has the best chance to keep his job. The 49ers are improving under his leadership. Also, once a man drops his pants in front of you, you sort of have a bond, like it or not.
2. Lane Kiffin did well for himself using the Raiders job as a stepping stone to coach the University of Tennessee. Tom Cable has to hope for a similar jump. And, who knows? Maybe he can bring a relative along, just as Kiffin did. Just as long as it's not his twin brother. That guy does not seem like he'd be a good influence on impressionable, young men.
3. The Giants are clearly the team to beat in the NFC, if not all of football. I think most people, outside of New York/New Jersey, feel that their Super Bowl XLII win was a bit of a fluke. And maybe so. But the Giants have improved since last season, and it's mostly because of Eli Manning. He is no longer prone to self-inflicted wounds. (Or, as the kids say, "Plaxing himself.")
4. What does Troy Polamalu have against his quarterback teammates from college? He used to room with Cincinnati's Carson Palmer at USC, but he famously ran him over at the goal line to score on an interception return in 2004. Then on Sunday, he picked off another former USC roommate -- Matt Cassel -- and returned that ball 23 yards. And if Matt Leinart ever plays him, Polamalu no doubt will pick him off, too. But in case Leinart doesn't ever play him, maybe Polamalu will just tick him off by illegally downloading a Nick Lachey album.
5. And now I present the short play: "Matt Cassel and Troy Polamalu, Roommates."
(Scene: Dorm room. Cassel walks in.)
Polamalu: "Hey, Matt. How was class?"
Cassel: "Terrible. I'm really struggling with this Game Management 101 class."
Polamalu: "You'll be fine, buddy. It takes time. You may not figure it out for five or six years, but you'll get it."
Cassel: "I don't know. It just stresses me out so much."
Polamalu: "Would brushing my hair relax you?"
Cassel: "It sure would!"
(Brush, brush, brush, brush.)
Cassel: "Troy, can I ask you something?"
Polamalu: "Anything."
Cassel: "Do you think I'm as pretty as Matt Leinart?"
Polamalu: "Matt, stop brushing my hair for a second and look at me."
Cassel: "Yes?"
Polamalu: "I think you're prettier than Matt Leinart … and someday everyone else will, too."
Cassel: "Promise?"
Polamalu: "Promise."
(Cassel continues brushing with a content smile on his face.)
(End scene.)
6. And now I present the short play: "The Jets Are Clearly the Team to Beat in the AFC."
(Curtain rises.)
(Curtain stops halfway up.)
(Curtain falls.)
7. Charlie Weis got embarrassed again and could (should?) be fired. Romeo Crennel's Browns haven't scored a touchdown in more than two games, and he may (will?) be fired. Bill Belichick's coaching tree is about to look like this. (And because the Patriots were crushed at home to push them out of a wild-card spot, just imagine a little forest animal happening by and relieving itself on that stump.)
8. Romeo Crennel reportedly needs a "miracle finish" in order to save his job. Well, he's off to a good start: Ken Dorsey is his starting quarterback for the remainder of the season. If that doesn't set the stage for a miracle, nothing does.
9. We need to help the Dolphins' logo, people. And quick. The logo always has been strange. I mean, why is the dolphin on the Dolphins' helmet wearing a different helmet? And, really -- why is it wearing a helmet at all? But on Sunday I realized they are using the crime of poor design to distract us from a far worse crime: They are smothering those dolphins! Look at this. And this. Note the location of the blowhole. Now look at this. The helmet is not on the dolphin's head. No, it is affixed tightly over … the BLOWHOLE! It can't breathe! Why, that's not an angry face on the dolphin. It's just concentrating on holding its breath until we rescue it. To Miami: Save the dolphins!
10. I want to go back to Thursday and address this debate over whether the tradition of the woeful Lions playing on Thanksgiving Day should end. I can see both sides of the debate: tradition versus marketability. And I also see room for compromise. I say keep the Lions playing on a holiday every year, just not Thanksgiving.
Here are some better in-season holiday options:
National Grandparents Day (Sept. 13): Gather 'round Nanny and Pop-Pop and see if they can remember a time when the Lions were good.
Talk Like a Pirate Day (Sept. 19): "Arrrrrr, this is the worst bunch of scalawags I ever did see."
National Depression Screening Day (Oct. 8): Approximately one-quarter of the U.S. population suffers some level of depression. And approximately all Detroit Lions fans suffer some level of depression after one quarter.
Be Bald and Be Free Day (Oct. 14): Interestingly, these are the exact words that will be said to Rod Marinelli when he is fired.
Plan Your Epitaph Day (Nov. 2): "Here lies the Detroit Lions. Born: 1929; Died: 1958-."
Cliché Day (Nov. 3): "We are not executing well. We have to give 110 percent out there. We'll just go back to the drawing board and try to limit our mistakes."
Celebrate Your Unique Talent Day (Nov. 24): "My unique talent is being able to earn millions of dollars for stinking at football!" "My unique talent is dropping passes with both hands!" "I can punt backward!"
Cat Herders' Day (Dec. 15): Because herding cats is about the only thing as impossible as coaching the Lions to victory.
Underdog Day (Dec. 19): Too obvious?
DJ Gallo is the founder and sole writer of the sports satire site SportsPickle.com. He also is a regular contributor to ESPN The Magazine and has written for The Onion and Cracked. His first book, "SportsPickle Presents: The View from the Upper Deck," is on sale now.