The news conference of a baseball team's announcing the signing of a player is no different than the news conference of a company's announcing the release of a product: It's all spin.
So when Mark Teixeira says the Yankees are the "greatest organization in sports history," it's the same as when a brand manager says, "This is the most delicious, hearty soup we've ever made!"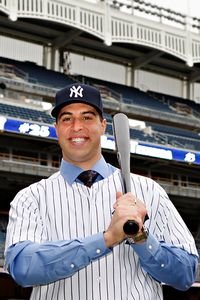 AP Photo/Kathy Willens
Mark Teixeira said all the right things at Tuesday's news conference. But did he actually mean what he said?
You have to look behind the quotes to see the truth. Let's see what Teixeira might really have been saying at his Yankees unveiling Tuesday:
What Teixeira said: "The excitement of being a Yankee and calling my family was very important to me because this is the closest I've ever been to them, being in Atlanta and L.A. and my first few years in Texas."
What Teixeira meant: "I grew up in the Baltimore-Washington area. And it's no coincidence I made this decision during the holidays when my family was around -- I decided the last thing in the world I wanted was to live and work around these people. They are so annoying. I needed to get as far away as possible. I couldn't sign with the Orioles or the Nationals. And although I guess New York isn't literally the farthest point from Baltimore and Washington, figuratively, the Yankees are as far away from the Orioles and the Nationals as can be."
---
What Teixeira said: "I've always said ever since I was a rookie that no one is going to expect more out of me than I expect out of myself."
What Teixeira meant: "If I hit .200 this April, you should totally expect me to call all the local sports talk radio stations and rip Mark Teixeira for being a bum who doesn't deserve his money and can't handle the pressure of playing in New York. Yep. No one is harder on me than I am."
---
What Teixeira said: "I'm trying to get better and better. I haven't accomplished anything yet. I don't have a World Series ring on my finger."
What Teixeira meant: "I have been on some bad teams in my career. Now I just want to win. But I'm not greedy. I don't have to validate my career with a championship. But I would like to play on team that's better than .500. A team that at least finishes in third place in its division. A team that might be deeply flawed but still can be somewhat competitive. A team that is in the race for a wild-card spot year in and year out. A team you can pencil in every year for around an 89-73 record. And I think the Yankees can be that team."
---
What Teixeira said: "I would go to Orioles games … and I would wear a Yankees hat. Back in the '80s and '90s, that wasn't a safe thing to do in Baltimore."
What Teixeira meant: "Other things that were unsafe to do in Baltimore in the '80s and '90s: wearing an Orioles hat, wearing no hat, wearing hair, wearing a face."
---
What Teixeira said: "This [free-agency] process was confusing at times."
What Teixeira meant: "I couldn't wrap my head around it. I was like, 'How many commas are in this dollar figure? Wait, this number doesn't include decimals? $180 million? I don't know whether I can comprehend that much money! What would it look like? Could I roll around naked in it? Could I swim in a huge silo full of gold bullion like Scrooge McDuck? Or would diving into it like he did be quite painful? Can I use twenties to light cigars? Or would that be gauche? Should I use hundreds instead?"
---
What Teixeira said: "Finally [my wife] said, 'I want you to be a Yankee.' That's when it was done. Once we got the contract figured out, it was a no-brainer to me."
What Teixeira meant: "Yeah, once the Yankees offered me $180 million, I was more than happy to go along with my wife's wishes. Just yesterday, she said, 'Mark, I want you to take the trash out.' And I will, just as soon as she pays me $180 million."
---
What Teixeira said: "I think everyone is going to miss Yankee Stadium, but the new Yankee Stadium is going to create some memories that we'll all remember for a long time."
What Teixeira meant: "A Yankees fan came up to me today and said, 'I'm so excited that we signed you. I bought five tickets for my family for Opening Day, and it maxed out my $12,000-limit credit card. I'll have to pay for that for a long time.' It's neat to think that he'll remember that day for the next 15 years or so every month when his bill arrives."
---
What Teixeira said: "It took Scott [Boras] and I probably a month just to narrow it down to five teams that we would want to negotiate with."
What Teixeira meant: "It was weird. We discovered there were 25 teams that decided they didn't want to commit $22.5 million per season to me for eight years in this economy. So we're like, 'Well, if that's how you are going to be, you are not someone we want to negotiate with. So there.'"
DJ Gallo is the founder of and sole writer for the sports satire site SportsPickle.com. He also is a regular contributor to ESPN The Magazine and has written for The Onion and Cracked. His first book, "SportsPickle Presents: The View from the Upper Deck," is on sale now.