Red Sox Nation. Gator Nation. Poughkeepsie Junior High Fightin' Squirrels Nation.
Any team that has at least one backer in a state other than its own is now dubbed a "nation" -- the most overused term in sports fandom.
But only a handful of teams have a true national following. One of them is the Pittsburgh Steelers.
Every Sunday, fans assemble at sports bars all across the country to cheer on their "Stillers." Stumble into one unprepared, and you'll be overwhelmed by a sea of black and gold, Terrible Towels, Iron City beer, and maybe -- if you're lucky (?) -- even a few polkas.
The Pittsburgh Post-Gazette's Web site lists nearly 1,500 "Steelers bars" across the nation and around the world. That's right -- 1,500. There are Steelers bars in every state. There are two in Thailand. Two in Costa Rica. One in Peru.
Here's a look at six of them.
Tampa, Fla. -- Tank's Tap Room
Distance from Heinz Field: 1,022 miles
Tank's Tap Room owner Christopher Jaksec is ready for Super Bowl Sunday.
A Johnstown, Pa., native, Jaksec moved to Florida with his family in 1986. He opened Tank's in January 2008. "We had 50 beers on tap. All we needed was a theme," he said. "Being from western Pennsylvania, that was easy -- we made it a Steelers bar."
The game plan for Sunday is set:
1. Turn on some polkas
2. Cook up some homemade halupkis and pierogies
3. Tap the Iron City and Iron City Light kegs
4. Open the doors.
"We are going to be overrun," Jaksec said. "But it's like when we have hurricane warnings down here -- with us Steelers fans, we know they're coming in droves, you just have to prepare."
And Jaksec has to prepare every Sunday of the season. His bar may be in Tampa, but on a typical Sunday, only 10 percent of the crowd is Buccaneers fans. Most of the rest are dressed in black and gold, brought in by the promise of the Steelers on NFL Sunday Ticket and the look and feel of a hometown bar.
"People always tell me that it reminds them of home," he said.
This week, Tank's is hosting both a Pittsburgh radio and TV station. Jaksec has been getting 20 to 30 calls a day from Steelers fans on their way to Tampa for the game.
And Tank's is one of only a half dozen or so Steelers bars in the Tampa area. But when you do a Google search for Steelers bars in Tampa, it's the first one listed.
"I don't know why," Jaksec said. "But I know people would kill for that."
Glendale, Ariz. -- Barwinkles Bar & Grill
Distance from Heinz Field: 2,095 miles
Barwinkles owner Brent Milburn grew up in central Pennsylvania and opened Barwinkles in Glendale in December 2005.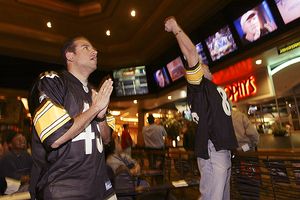 Todd Bigelow/Aurora/Getty Images
Wherever you live, there's probably a Steelers bar nearby.
"I've been open barely three years, and already the Steelers have been to two Super Bowls," Milburn said.
Barwinkles is only a few miles from University of Phoenix Stadium, but it looks as if it's across the street from Heinz Field. Black and gold covers the walls -- Steelers pictures, Fatheads, even Steelers drapes. Black-and-gold streamers hang from the air vents. Milburn even has Iron City on tap -- "although I don't think I ever sell any, other than on Sundays," he said.
Despite being in now-enemy territory, Barwinkles will be packed for Super Bowl Sunday.
"Oh, yeah, this will always be a Steelers bar," he said. "There's a bit of a bandwagon thing going on around here now with the Cardinals, but you can't really blame them. I guess they've never been worth rooting for."
Seattle -- Floyd's Place
Distance from Heinz Field: 2,525 miles
Floyd's Place is a Steelers bar, and it has been for as long as anyone who works there can remember. But on the night of Super Bowl XL three years ago, enough Seahawks fans showed up to make it almost 50-50. Needless to say, the Seattle natives did not go home happy.
But being a Steelers bar hasn't hurt Floyd's business now that Seattle has become staunchly anti-Steelers.
"No, it has actually helped," bar manager Vincent Montalvo said. "Seahawks fans come in now on purpose to try to start stuff. Nothing physical, just taunting. The Steelers fans never start it."
Hermosa Beach, Calif. -- Sharks Cove
Distance from Heinz Field: 2,448 miles
Sharks Cove in Hermosa Beach, southwest of Los Angeles, has been booked up to standing-room only for Sunday's Super Bowl since the day after the AFC Championship Game.
But that's typical, said owner Shane McColgan, a Steelers fan who grew up in Massachusetts and has owned Sharks Cove since 1993. Steelers fans always have to call in advance to reserve seats throughout the regular season and playoffs to make sure there's enough room to hold them all. It doesn't matter whether the Steelers play well or poorly that season. For the AFC Championship Game against the Ravens on Jan. 18, there was a line around the block. Once Sharks Cove reached capacity, it had to start turning fans away. "The overflow filled up several of the neighboring bars," McColgan said.
Sharks is decorated with all the requisite Steelers bar paraphernalia -- Jack Lambert and Terry Bradshaw gear, signed helmets, Terrible Towels. On weekends, when breakfast is served, patrons can order the Bettis Burrito -- hash browns, eggs, bacon. "You can put anything on it," McColgan said, "just like Bettis would."
Casper, Wyo. -- Sidelines Sports Bar & Grill
Distance from Heinz Field: 1,589 miles
Sidelines is not exclusively a Steelers bar. "Casper is a football town. And we are a football bar," bar manager Geno Greer said. It's also one of only three establishments in town that has the NFL Sunday Ticket package. So, every Sunday, Sidelines welcomes in 30 or so Terrible Towel-waving Steelers fans dressed in black and gold, outnumbered only slightly by fans of the Denver Broncos, who play a four-hour drive away.
"I don't understand why so many people are fans of a team that is so far from here," Greer said. "A good friend of mine has a Steelers tattoo on his leg. Why? He's never been to Pittsburgh. It doesn't make sense."
Plano, Texas -- Austin Avenue Grill & Sports Bar
Distance from Heinz Field: 1,235 miles
"People just identified with the Steelers," said Bryan Capps, owner of Austin Avenue. "They were a blue-collar, hardworking team, and a lot of people around the country liked that. The Steelers were the first dynasty from when the NFL was really popular. So they just built a big fan base back in the '70s."
Plano is Cowboys country. But Capps runs a Cowboys-hating sports bar. He grew up a Redskins fan in Albuquerque, and when he opened Austin Avenue, he catered to fellow Cowboys haters -- primarily Redskins, Eagles and Packers fans.
"Steelers fans always wanted to come -- they hate the Cowboys more than Redskins fans do -- but there wasn't enough room for them," Capps said. "They had already outgrown the bar down the street they used, but I couldn't fit all of them."
Capps expanded Austin Avenue in 2001, doubling the size. Steelers fans instantly filled up all the new space.
"I thought they would just come with the 150 or so who went to the other place," he said. "But there were apparently a lot more who wanted a place to watch games together. That 150 I expected instantly became 300 every Sunday."
The special Steelers section at Austin Avenue is bigger than the Redskins, Eagles and Packers areas combined. So high is the demand to get into the room for Steelers fans that restaurant employees won't let in anyone who isn't decked out in Steelers attire. The local Steelers fan club decorates the room in black and gold, and Capps prints up special gold-and-black Austin Avenue Terrible Towels.
"Dallas is always called America's Team," Capps said. "But anyone who says that is gravely mistaken. That's just a name they gave themselves. It doesn't matter where you go -- Colorado, Hawaii, Mexico -- Steelers fans are everywhere. If there is an America's Team, it's the Steelers."
DJ Gallo is the founder and sole writer of the sports satire site SportsPickle.com. He also is a regular contributor to ESPN The Magazine and has written for The Onion and Cracked. His first book, "SportsPickle Presents: The View from the Upper Deck," is on sale now.