With our economy in a rut, we red-blooded, baseball-loving Americans need free crap more than ever.
So without further ado, I present the best and worst major league baseball promotions of 2009.
THE WORST PROMOTIONS OF 2009
Bleachers & Boog's (Orioles, April 9)
For $23 you can get a bleacher seat and a Boog's Barbecue sandwich. All you have to do is "enter promo password 'BOOGS' when ordering tickets." No I will not.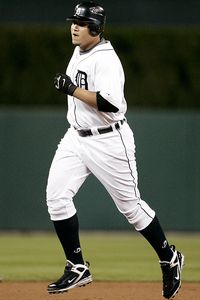 AP Photo/Duane Burleson
Miggy's a big boy, but he's a terrific hitter too.
Miguel Cabrera Bobblehead Presented by Little Caesars (Tigers, April 13)
Also presented by Little Caesars: Miguel Cabrera's waistline.
10th Season Blanket (Astros, April 18)
The Astros have been in their new home for 10 years now, and all fans in attendance this night will get a blanket commemorating the stadium. Unfortunately, the people who really need the blankets are living on the street: those who had 401(k)s with former stadium partner Enron and can't afford a ticket to the game.
Justin Morneau Fishing Lure (Twins, May 1)
This is different from the large wad-of-money lure the Red Sox or Yankees will use to reel in Morneau when he become a free agent.
Pre-Game On-Field Clinic (Tigers, May 2)
"OK, kids, here he is: Jim Leyland." "Thanks for the introduction. Now, listen up everyone: This is the right way to hold a cigarette. Got it? Now, who wants to learn how to blow smoke rings?"
Lawyer Appreciation Night (Marlins, May 22)
How desperate are the Marlins for fans, putting on a Lawyer Appreciation Night? What's next, Certified Public Accountant Appreciation Night? (Well actually, yes; that's scheduled for June 9.)
1970s Fireworks Night (Indians, May 29)
I assume this is just fireworks set to '70s music. But on the off chance it's fireworks set with 1970s safety codes, I'm going to keep this among the worst promotions.
Passport Holder Night (Yankees, June 3)
Bad idea. If you fly back into the country and into any airport other than JFK, LaGuardia or Newark, you're probably going to be detained by customs officials simply for their own enjoyment.
Replica Rogers Centre (Blue Jays, June 7)
A depressing reminder that this Rogers Centre serves you as much alcohol as the real Rogers Centre on occasion.
Adam Jones Bobblehead Night (Orioles, June 17)
The Adam Jones Bobbleflask giveaway the Dallas Cowboys had this year was more original.
Kent Hrbek Bobblehead Night (Twins, June 19)
Unfortunately, it's not a very accurate likeness of Mr. Hrbek. It could use way more neck bulge.
Mark McGwire '89 Replica Jersey (A's, June 22)
Mark McGwire does not support this promotion. He only wants to focus on the future, not the past.
Braves Wives Toy Drive (Braves, June 30)
With that title, it could mean one of two things. And I know which I'd prefer.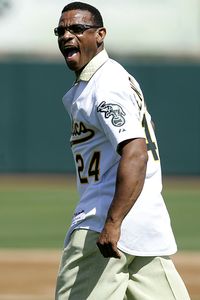 AP Photo/Jeff Chiu
Rickey Henderson, one of the masters when it comes to referring to yourself in the third person.
Rickey Henderson T-Shirt Giveaway and Rickey Henderson Day (A's, August 1)
Just two of the 1,000,000 times you will hear "Rickey Henderson" that day.
Marlins Wives Back to School Drive (Marlins, August 1)
Congratulations, Marlins! You are holding this season's earliest back-to-school event. The children of America would like to collectively present you with their middle finger.
The Village People Concert and Fireworks (Marlins, August 1)
I don't know. Miami. Fireworks. That seems like it might be a bit too glitzy and over-the-top for The Village People. They like to keep things pretty subtle.
Fausto Carmona Hat Clip Figurine (Indians, August 13)
"Why do I have a three-inch-tall Fausto Carmona clipped to the bill of my hat? I say why NOT have a three-inch-tall Fausto Carmona clipped to the bill of my hat?"
Mathletics Day (A's, August 23)
A transparent attempt by Billy Beane to kidnap the best young math whizzes in the Bay Area and make them into his sabermetrician drones.
Ladies Nite Out; All You Can Eat Seats (Marlins, August 28)
Umm … why not make it a Single Ladies Night promotion that night? That way, the Venn diagram of single ladies and ladies who want all-you-can-eat seats will meet in that plump, lonely overlap.
Indians Logo History Fleece Blanket (Indians, September 12)
Aaah, nothing like the warmth of wrapping yourself in 100 years of insensitivity.
THE BEST PROMOTIONS OF 2009
Kids' Pillowcases (Padres, April 12)
The perfect gift for every young Padres fan who will cry himself to sleep this summer.
Joe Mauer Bronze Statue (Twins, April 18)
Treasure this moment, captured forever in bronze, in which Joe Mauer was not hurt.
Kerry Wood Bobblehead Night (Indians, April 25)
This is a much better idea than the Kerry Wood Voodoo Doll the Cubs used to give away.
Cubs Car Flag (Cubs, April 30)
It sends a consistent message, whether it's sticking up out of the window of your 1909 Model T or your 2008 Escalade.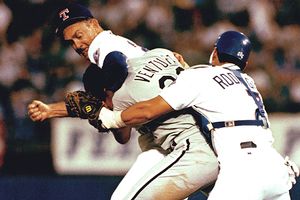 AP Photo
One of the best tussles ever, don't ya think?
Nolan Ryan Replica Statue (Rangers, May 2)
Here it is. I'm going to use mine to fight my Robin Ventura replica statue.
Tigers Luggage Bag Tag (Tigers, June 2)
Finally moving out of Michigan? This bag tag will help you remember where you came from.
Father/Daughter Day (White Sox, June 6)
Any day at Comiskey that's not Father/Son Day is a good day.
Shin Soo Choo '80s Bobblehead Night (Indians, June 13)
Admit it, Indians, you just bought a bunch of old Philip Michael Thomas "Miami Vice" bobbleheads on the cheap and decided to call them Shin Soo Choo dolls, didn't you?
Crab Mallet Set (Orioles, June 13)
You're an Orioles fan. It's mid-June. Now's about the time you'll be jonesing to beat the @#%& out of another living thing.
Baxter Soap Dispenser (Diamondbacks, June 14)
Wash your hands with this Diamondbacks mascot soap dispenser. Or use it to flush your eyes out after watching the entire Arizona lineup go down on strikes again.
Rick Vaughn Bobblehead Night (Indians, June 15)
This bobblehead is available to all fans in attendance. And any prostitutes who have slept with Charlie Sheen pay half-price for any general admission ticket.
Rangers Nightlight (Rangers, June 18)
Stick it in a hallway outlet. At night it will remind you that there is a faint ray of light at the end of the tunnel for Rangers baseball.
Beerfest (A's, June 27)
As well-conceived a promotion as there ever was.
Kids Pirates Pillow (Pirates, July 19)
This one is only available to those 14 and under. So everyone who gets this item will not have been alive the last time the Pirates had a winning season. And they very well might be asked by their father to hold the pillow over his face until he is sent to a place where the Pirates don't suck.
5K Sausage Run/Walk (Brewers, July 25)
All those who participate in the run/walk get a free hot dog and a Pepsi. Because in Milwaukee no healthy deed will go unrewarded with a sausage.
Tom Henke Figurine (Blue Jays, August 9)
They're only giving these away to the first 10,000 fans. So ladies, get there early if you want to get yourself some of this.
Calculator Day (Yankees, August 29)
Don't worry. It's an extra-large screen that goes out to 15 digits. So you can calculate how much money you spent on your tickets to get into the stadium.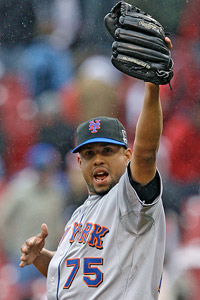 AP Photo/Al Behrman
Better keep up the good work, Frankie.
Adopt a Pet at the Park (Nationals, September 5)
Go to a Nationals game, come home and forget about the loss with a new dog or cat! By the way, while this doughy, frightened animal looks like it might be up for adoption, it is merely Nick Johnson. You cannot take him home.
Francisco Rodriguez Bobblehead Night (Mets, September 6)
Fair warning, Francisco Rodriguez: If you don't do the job you were brought to New York to do, by the time this promotion is held it will be renamed Pummel Francisco Rodriguez With His Own Bobblehead Night.
Chris Young Growth Chart (Diamondbacks, September 13)
This is a great tool for parents to track their children's growth. And, as a side note, where were these growth charts back in the '90s? It would have been helpful to track how major league players grew year-to-year with steroids use.
Foreigner and Fireworks (Pirates, September 26)
Woooooooooo! (Note: This concert could be cancelled should any members of Foreigner come down with a fever of 103.)
DJ Gallo is the founder and sole writer of the sports satire site SportsPickle.com. He also is a regular contributor to ESPN The Magazine and has written for The Onion and Cracked. His first book, "SportsPickle Presents: The View from the Upper Deck," is on sale now.