Commentary
The debut of Page 2's Mr. Manners
Originally Published:
June 17, 2009
By
DJ Gallo
| Page 2
Sports are full of unwritten rules. Athletes are subject to a silent code that governs behavior on and off the field of play.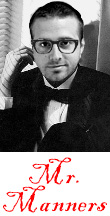 But where can they turn when the answers are not so clear? Whom can they ask for advice when the silent, unwritten code fails them?
They ask Mr. Manners, of course.
Dear Mr. Manners,
I recently won a hockey championship. After the game, I was celebrating and forgot to shake hands with some of the losing players. They got upset and said I was disrespectful. I think they should have waited for me to finish celebrating. Who is right?
-- Sidney C. (Pittsburgh, Pa.)
Dear Shaking Sid,
You both are right. And you both are wrong. Remember that compromise is the art of the refined sporting gentleman.
Instead of a prolonged celebration with your teammates after the final horn sounded, you should have queued for the handshake line -- and then celebrated while also shaking hands with your defeated foes. That way your opponents get their handshakes, and you get to really revel in your win by celebrating right in their faces.
-- Mr. Manners
---
Dear Mr. Manners,
I am a college basketball coach. I recently accepted a large contract to coach at a different program. In the months since then, my former program has come under a good bit of scrutiny for things (allegedly!) done during my tenure. My former program is probably going to face significant sanctions. Is there a way to apologize to them without implicating myself in any way?
-- John C. (Lexington, Ky.)
Dear Coach in Crisis,
Etiquette changes over time. In olden days, women were expected to wear long dresses with long sleeves when going out at night. Now? The more skin the better. It's the same with college basketball coaching. In years past, what you oversaw at your old school would have been unconscionable. Now? Eh. Every school does it. You have nothing to apologize for.
-- Mr. Manners
---
Dear Mr. Manners,
A few weeks ago my team lost in the NBA playoffs. At the end of the game I walked right off the court without shaking a single hand. Now I am regretting my actions. How can I practice better manners?
-- LeBron J. (Cleveland, Ohio)
Dear Clueless in Cleveland,
A great way to practice proper manners is by role-playing. For example, get yourself a puppet. Then treat the puppet the way you would want to be treated. Next, imagine those around you as puppets. Your teammates, for example. Imagine your teammates as lifeless objects made of fabric. It shouldn't be hard.
-- Mr. Manners
---
Dear Mr. Manners,
I am having a terrible season. I can't hit anything. I have too much pride to pull myself out of the lineup, but I don't feel like I should be in there either. I'm hurting the team, but they are too loyal to get rid of me. How can I make this easier on them?
-- David O. (Boston, Mass.)
Dear Blue in Boston,
If you truly want to end their suffering, take steroids. Either your production will turn around and their loyalty will be rewarded, or you will test positive for steroids and be suspended -- taking the decision out of their hands. It's a win-win.
-- Mr. Manners
---
Dear Mr. Manners,
A batter I'm about to face hit a home run against us in his last plate appearance. My manager wants me to hit him in his next at-bat. What should I do?
-- Confused in New York
Dear Confused in New York,
I wish I knew what New York borough you are writing from. If it's the Bronx, plug him. Right in the face. If it's Queens, don't do it. Especially not if you're a starting pitcher. Remember that you also have to bat. They could come after you. Do you have any idea how hard major league pitchers throw? No way you want to risk getting hit by one of those guys. Don't be stupid.
-- Mr. Manners
---
Dear Mr. Manners,
I was supposed to turn myself in to the authorities in Texas awhile ago, but I totally forgot. Whoops! How can I apologize for my tardy surrender?
-- Ryan L. (San Diego, Calif.)
Dear Forgetful Fugitive,
Gifts are always a great way to say "I'm sorry." Have your lawyer find out some personal information about the district attorney to help you with ideas for what gift to get. For example, is the D.A. a football fan? If so, a great gift might be a helmet or jersey signed by All-Pro quarterback Peyton Manning. Everyone likes him, right?
-- Mr. Manners
---
Dear Mr. Manners,
I feel like everyone is starting to hate me because I change my mind all the time. How can I be more decisive?
-- Brett F. (Hattiesburg, Miss.)
Dear Waffling Brett,
Vow to never announce a decision without being positive it is your final decision. The more you waffle, the less people will trust you about anything. And before long, your reputation will be in tatters.
-- Mr. Manners
---
Dear Mr. Manners,
A few minutes ago I wrote you a letter stating that I struggle with indecision. I changed my mind. I don't struggle with indecision. Please ignore my previous correspondence.
-- Brett F. (Hattiesburg, Miss.)
Dear Waffling Brett,
I will say this with the best manners possible: I can see why people might be starting to dislike you.
-- Mr. Manners
---
Dear Mr. Manners,
I am dating a really hot woman whose name currently escapes me. I like her a lot. But I'm only 34 years old -- I don't want to settle down yet. How can I tell her I'd like to see other hot women? Maybe all at the same time … if you know what I mean.
-- Derek J. (New York, N.Y.)
Dear Dirty Derek,
Good manners are a two-way street. You send me a letter describing a bunch of hot women … and don't even have the courtesy to include a photo? You're a jerk.
-- Mr. Manners
DJ Gallo is the founder and sole writer of the sports satire site SportsPickle.com. He also is a regular contributor to ESPN The Magazine and has written for The Onion and Cracked. His first book, "SportsPickle Presents: The View from the Upper Deck," is on sale now.