Commentary
The nine people at every golf tourney
Updated:
July 15, 2009, 9:39 PM ET
By
DJ Gallo
| Page 2
Going to a golf tournament offers everyone the opportunity to come out and enjoy being in a family atmosphere, walk around, have a good time, and not have it cost an arm and a leg.
Those aren't my words -- they're the words of Tiger Woods himself.
And he's right. The value of a PGA Tour tournament ticket can't be beat. You can enjoy as many as 10 to 12 hours of action in one day; the four major sports offer a small fraction of that. Plus, you can get within a few feet of the biggest names in the sport. You'd be arrested for getting that close elsewhere.
But like any sport, golf has its share of unique patrons. I've been to a number of PGA Tour events -- majors and regular tour stops -- and have seen the same collection of fans at every single one. Beware.
Golf Spikes Guy
You don't wear ice skates to a hockey game. You don't go barefoot to a swim meet. And you don't wear riding boots to the horse track.
But apparently you wear golf spikes to a golf tournament. Or at least some people do, because you see them everywhere. Why? I do not know. Maybe these people own golf spikes that are far more comfortable than any I've ever put on my feet. Maybe they need extra traction and a good, solid base for the more intense golf clapping that accompanies chip-ins and eagles. Maybe they take people out Ty Cobb-style to get ahead in the Porta-John lines. Maybe they're wayward golfers I don't recognize who are wandering among the gallery looking for their tee shots. I doubt it, though.
There's an old saying about how you can judge a man by his shoes.
There's also a new saying I just invented about how you can judge a man for wearing golf shoes to a golf tournament he's not playing in.
And I do judge such a man. I definitely do.
Baby People
There are two items not allowed at any golf tournament: cell phones and cameras. For obvious reasons. Golfers demand silence. Cell phones and cameras make noise. Pretty simple: Things that make noise are banned.
[+] Enlarge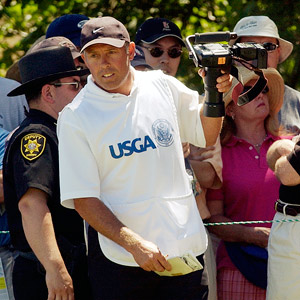 AP Photo/Julie JacobsonTiger's caddie has been known to snatch a camera or two. Would he ever snatch a baby?
Of course, you can put a cell phone on silent mode, and you can make sure your camera doesn't make any noise during a golfer's swing, two things you can't do with a … oh, I don't know … a baby.
I'll be honest: I'd like babies a lot more if you could silence them or put them on vibrate. But you can't. So they shouldn't be at a golf tournament. (Nor should they be outside in the sun all day for no reason, Parents-of-the-Year candidates!)
Yet Tiger, of all people, actually wants tiny, noisy, uncontrollable little humans at golf tournaments. He even admits children 12 and under into his tournament in Washington, D.C., for free.
And that's all well and good. But it's on him that inevitable day when his caddie punches a colicky baby.
"You Da Man! Get In The Hole!" Guy
You don't have to go to a golf tournament to experience this moron. You can hear him on TV. And that's his goal.
Tee shot on a par-5? "Get in the hole!"
Golfer walking by who is 10 shots off the lead? "You da man!"
Forget those clichés. This guy should really just scream: "I desperately want to get my voice on television!"
Oh, want to know what the "You Da Man! Get In The Hole!" Guy looks like? Just watch a baseball game. He's the guy on his cell phone behind home plate.
(I Think) I Am Tiger Woods
Black Tiger Woods Nike golf hat, check. Shiny red Nike golf polo, check. Black pants, check. These fans desperately want everyone to know they are Tiger fans. So they're just like everyone else in Woods' massive gallery … only they look like fools.
But as ridiculous as they might look, Woods wannabes are harmless at a golf tournament. It's far more jarring to encounter them playing on a public golf course. From a distance, they look like Tiger himself. Then you see them swing and … horror of horrors. If an obese woman trying to fit into Halle Berry's bikini could be captured in a golf swing, that would be it.
The Grandstand Denizen
The gates to the course grounds open at 6 a.m., an hour or more before the first tee time of the day. The Grandstand Denizen is already there, waiting. The gates open, and the Grandstand Denizen makes a beeline to his bleacher section of choice. Now it's a waiting game. No way the Grandstand Denizen is giving up a seat he arrived so early to secure, not with only 12 hours of play left for the day! A trip to the souvenir tent? No way. A stop at the concession stand for a bite to eat? Not a chance. A bathroom break? Never! Wait, what? It's still only 8:30 in the morning? Uh-oh. Should have worn a Stadium Pal, Grandstand Denizen.
The Expert
The Expert exists at every hole. Once a shot lands, or a putt is missed, he'll share his analysis with anyone within earshot.
[+] Enlarge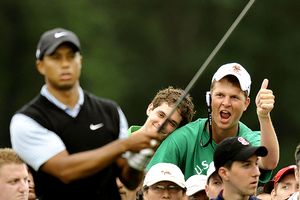 Timothy A. Clary/AFP/Getty ImagesYou kinda want to smack this guy, don't you?
"Oh, you can't miss it on that side of the green. Little chance for birdie now." (You mean he should have hit it to the side of the green that contains the hole? Bold opinion, friend.)
"He should have laid up there." (Oh, so you're saying that hitting the ball into the green-side pond was not the right play?)
"He's talking to his caddie about what the yardage is on this shot." (Ah, OK. Keen insight. So it's not a pitching change, then?)
"I haven't seen anyone make that putt all day." (Well, maybe if you'd pull your head out of your …)
And it's not just golf wisdom The Expert will share. He'll also tell you how he saw the stock-market collapse coming, and that he had a hunch Michael Jackson would pass away soon. Ah, but could he predict you'd walk away before he finished talking?
The Date
Unless your girlfriend or wife is a golf fan, do not take her to a golf tournament on a date. Trust me on this. For them, it's six to 12 hours outside, walking around watching something they don't care about in the least. It's like you having to exercise while watching four consecutive viewings of the "Sex in the City" movie. Pure hell. So hundreds of bored, unhappy women fill the grounds at each PGA Tour tournament, all plotting revenge. It's not worth it to be able to enjoy a few up-close glimpses of Tiger or Phil Mickelson. Because you won't be seeing any up-close glimpses of your lady friend any time soon.
The Corporate Sponsor Guests
Why is that group of well-dressed people loudly rooting for that golfer you've never heard of? Because he's sponsored by their company. And if he gets some TV time Sunday, their pharmaceutical consulting management and business development company is going to go through the roof!
The Player's Wife
Oh, yes. They walk among you. And just when you think you've heard one too many "Get in the hole!" screams. Seen one too many golf spikes. Tried to ignore a few too many screaming, sunburned babies, you will turn and -- like an angel sent down from the golf gods -- a player's wife will be standing right beside you. (And I'm talking about one of the really hot ones.) A sunbeam will illuminate her face. Nearby, someone will yell "You da man!" You will imagine it was her yelling it to you. All will be right with the world. And you'll vow to return to golf tournaments again and again. Next time wearing golf spikes, so it's harder for security to drag you off the premises.
DJ Gallo is the founder and sole writer of the sports satire site SportsPickle.com. He also is a regular contributor to ESPN The Magazine and has written for The Onion and Cracked. His first book, "SportsPickle Presents: The View from the Upper Deck," is on sale now.