Commentary
DJ Gallo's NFL Hangover, Week 1
Originally Published:
September 14, 2009
By
DJ Gallo
| Page 2
I try not to focus on the negative. Really.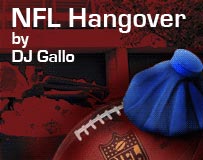 I don't see myself as a glass-half-empty kind of guy. In fact, I'm so positive that I've been known to go around filling people's half-empty glasses all the way to the top. (Granted, I worked as a waiter at the time, and it was solely to get good tips.)
But I'm not a negative person.
Yet it was hard to watch Sunday's NFL action and not see the major storylines as three negatives: Jake Delhomme's continued implosion, the Cincinnati Bengals' improbable loss and Jay Cutler's disastrous Chicago Bears debut.
Jake Delhomme: After six turnovers in Carolina's playoff loss to the Arizona Cardinals last season, Delhomme showed he's already in playoff form by committing five more in three quarters against the Philadelphia Eagles on Sunday. Panthers coach John Fox eventually pulled him for Josh McCown, but McCown subsequently was hurt. Then Fox put third-string QB Matt Moore into the game (to throw an interception). Bad form, Fox. This is how you lose your team. You're not a players' coach. You should have put Delhomme back in there so he could go for the record.
Cincinnati Bengals: The Music City Miracle. The Immaculate Reception. Plays like Brandon Stokley's touchdown usually get special names. I submit this one for Denver's winning touchdown: A Play Not Entirely Unexpected Against The Cincinnati Bengals. Catchy, no? And then with all future such plays, we can just tack on Part 2, Part 3, Part 4, etc.
Jay Cutler: Four interceptions? What was he looking at? Or, perhaps, what was he looking through? (Bangs and ridiculous sunglasses, maybe?) I'll give him this, though: Cutler immediately succeeded in a way an all-time great athlete like Alex Rodriguez could not. Cutler is already a true Chicago Bears quarterback. Hopefully for Bears fans, he'll soon snap out of that.
Pictures of the week
• "Be fearsome out there. Like a hungry tiger. RAWR!"
• "You know, you should really consider doing a Rogaine commercial next."
• "Ha-ha-ha-ha. I love Detroit Lions jokes." "So do I. I'll admit it."
• "Hey! I asked for the dessert menu, not the dinner menu!"
• "So you're one of those visor guys, huh? A visor and some sort of smock. Interesting choices for your first game."
• "Send in ... the clowns ...":
• "So what's it like to be universally loved and then universally hated? That has to be a weird feeling, huh?"
• "But this helmet burns! It burns!" "Just work through it, buddy. We all had to do it at first. It will go away."
• "What's taking Bob so long? Other people need to use the ATM, you know."
Quote of the week
"I've never seen anything like that."
-- Carson Palmer, on Denver's winning score
Really, Palmer? You've played for the Bengals for six years. Do you not watch your games?
Stat of the week
71: Cardinals WR Larry Fitzgerald had only 71 receiving yards against the 49ers, the first time he was held to fewer than 100 yards in seven games. He also had one touchdown. So he's currently on pace for 1,136 receiving yards and 16 touchdowns. Considering he's also a "Madden" cover boy, that's not too bad at all. Fitzgerald definitely got off better than Troy Polamalu, who clearly must have said something disparaging about turducken at a "Madden" event.
Horrible fantasy team that crushed your fantasy team this week
Brodie Croyle, QB, Chiefs: 16-for-24, 177 yards, 2 touchdowns
Cedric Benson, RB, Bengals: 108 total yards, touchdown
Willis McGahee, RB, Ravens: 75 totals yards, 2 touchdowns
Patrick Crayton, WR, Cowboys: 4 catches, 135 yards, touchdown
Devery Henderson, WR, Saints:5 catches, 103 yards, touchdown
Robert Royal, TE, Browns 4 catches, 60 yards, touchdown
10 things I think I should think to think
1. Quite a debut for Josh McDaniels. Not only did he win in improbable fashion in his first game as a head coach, but he also likely watched Jay Cutler's performance and giggled like a little schoolboy. (Which, for the record, is how he would have to laugh, as he is the approximate size and age of a schoolboy.)
2. Play-by-play announcer Gus Johnson provided Brandon Stokley's fluke touchdown with the appropriate amount of "ZOMG!" freak-out-itude. But he displayed the same enthusiasm on about 30 other plays in the game before that. And that's the catch-22 with Johnson. It's hard for him to dial it up more. The only fitting way for Johnson to call that Stokley touchdown would have been for him to light himself on fire and jump out of the press box. But no one would want that.
3. I hope you now have the RedZone channel. It's a must for NFL fans. The only problem is, there were stretches Sunday when I saw quarterbacks like these in a row: Brodie Croyle, Kevin Kolb, Jake Delhomme, Chad Pennington and Kyle Orton. The RedZone channel needs to limit that sort of thing, or ratings will plummet and the channel will get canceled.
4. I read an article recently about how environmental experts feel that global warming can be curbed by making all roofs white. That way, sunlight would be reflected back into space instead of being absorbed. Anyway, I mention this because it was 80 degrees and sunny Sunday in Charlotte, but Eagles coach Andy Reid was dressed all in black. Andy Reid! Of all people! Stop ruining the environment, Reid. It's rude.
5. For all the new "player safety" rules the NFL adopted this year, I didn't see much of anything this week that suggested the league has become excessively wimpified. So that's good. Although, granted, I'm still getting used to it not being solely baseball season. My toughdar is off. Once hockey gets going, I'll probably think the NFL is the wimpiest sport I've seen since ... baseball.
6. Browns coach Eric Mangini is getting criticized because his quarterback "secret" didn't seem to give the Vikings much trouble. But I'm sure it did give them something extra to think about in practice. One of Mangini's quarterbacks overthrows receivers, while the other underthrows. Minnesota's defensive backs probably had no idea where to position themselves.
7. Referee Ed Hochuli's guns seem significantly less ripped. And consider how much smaller they must be for me to risk saying that. They have to be small enough that I don't fear retaliation. This is kind of the same reason it took years for "Walker, Texas Ranger" to get canceled. No executive dared tell Chuck Norris that his show was one of the worst ever.
8. If Chiefs quarterback Brodie Croyle had led his team to victory over Ray Lewis and the Ravens, it would have proven that The Beatles are bigger than Jesus. Or at least bigger than God's Linebacker.
9. The Cowboys looked pretty good Sunday, and coach Wade Phillips' job is a bit more secure. But Phillips still feels there is room for improvement, specifically with him. Here is what he tweeted after the game as @sonofbum: "1st win was fun for our team but it was hot and I need mopre sunscreen." Next week's keys to the game: (1) Win the battle at the line of scrimmage; (2) limit turnovers; (3) more SPF 45!
10. Brett Favre's numbers: 14-for-21, 110 yards, 1 touchdown, no interceptions. Those aren't gunslinger numbers. They ... they ... they are ... game manager numbers. I don't know what to call Favre anymore. Is he a game slinger? A gun manager? So many questions, so few passes forced into triple coverage. I am confused.
DJ Gallo is the founder of and sole writer for the sports satire site SportsPickle.com. He also is a regular contributor to ESPN The Magazine and has written for The Onion and Cracked. His first book, "SportsPickle Presents: The View from the Upper Deck," is on sale now.