Commentary
DJ Gallo's NFL Hangover, Week 7
Originally Published:
October 26, 2009
By
DJ Gallo
| Page 2
Before we wrap up Week 7 in the NFL, let's not forget that Halloween is almost here.
If you are still in a jam for a costume, here are a few NFL-themed suggestions. I hope they help.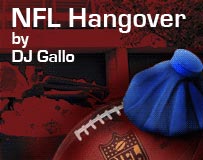 Josh McDaniels: Giant diaper, headset, hoodie, Broncos hat, gratuitous fist-pumping. Easy.
JaMarcus Russell: Fat suit, Mohawk, JaMarcus Russell jersey. And then stare everyone down.
Joe Flacco: Buy a strip of sod, spray paint it black and glue it over your eyebrows. That's all you should need. But I guess you could also wear a Flacco jersey, although that's probably overkill.
Peyton Manning: Peyton Manning jersey, of course. But then you have to audible out of all of your initial selections. "No, instead I want a Kit Kat. Kit Kat! Kit Kat, everybody! Kit Kat, and I want two!" "Audible! Audible! Audible! Make that a gin-and-tonic with Tanqueray."
Jeff Fisher: Mullet, mustache and a Peyton Manning jersey. Then have a friend wear a Titans jersey and repeatedly stab him in the back.
Jeff Reed: Spiked blonde wig, Jeff Reed jersey, and then just drink. A lot. And kick away all of your empties. And throw a fit about the paper towel situation in the bathroom. However, be wary of this costume because you could be upstaged when you're out and the actual Jeff Reed shows up doing all that stuff.
Miami Dolphins: Cat costume, Dolphins jersey. And then maybe a boom box blasting the music of Gloria Estefan, Marc Anthony, Jennifer Lopez, Jimmy Buffett and Fergie. Although maybe no one will want to hang out with you then.
Mike Singletary: Hat, glasses, 49ers shirt, stopwatch, cross, no pants.
Matt Hasselbeck: A bald cap and then just wear the ugliest shirt you have in your closet. But somewhere on it tape a small Seahawks logo. People will assume you somehow got hold of a game-used alternate Seahawks uniform. You might even win an award for most realistic costume.
Mat McBriar: Why dress up as the Cowboys punter for Halloween? What -- you don't want to have a reason to kick a football into the flat-screen TV at the bar?
Jim Zorn: Spike your hair up and put on a Redskins mock turtleneck. In one hand hold a headset, in the other a giant check. Then just hand your playbook to random people who pass by.
Tom Brady: This is a two-person costume. You dress up in a No. 12 Patriots uniform. Then you have a friend dress up in a referee outfit and blow the whistle all night any time someone gets near you. Authentic!
A zombie: Face paint to make you look dead. Torn and ripped clothing. Walk like a zombie. Or, if you don't have face paint and don't want to rip your clothes, any sort of Rams apparel works fine.
This Week's Horrible Fantasy Team That Crushed Your Team
Alex Smith, QB, 49ers: 15-for-22, 206 yards, 3 TD, INT
Shonn Greene, RB, Jets: 19 carries, 144 yards, 2 TD
Darren Sproles, RB, Chargers: 99 total yards, TD
Miles Austin, WR, Cowboys: 6 catches, 171 yards, 2 TD
Mike Wallace, WR, Steelers: 91 total yards, TD
Spencer Havner, TE, Packers: 2 catches, 59 yards, TD
Stat of the Week
39.6 -- That's a quarterback's rating under the NFL system if all he would do is drop back all day and throw the ball directly into the ground. A quarterback can do that 1,000 times -- go 0-for-1,000 with 0 yards -- and still, 39.6 it is.
Yet five starting quarterbacks had a rating lower than that yesterday: Derek Anderson (36.4), Marc Bulger (37.3), Matt Cassel (25.3), Josh Johnson (29.2) and JaMarcus Russell (31.1). All five of their teams lost.
Next week their offensive coordinators may want to call more passing plays in which the quarterback just drops back and throws the ball directly into the ground. Although maybe those were the calls Sunday, and these gentlemen just had trouble completing it to the grass.
Quote of the Week
"I want to apologize for that. I wasn't feeling very good and didn't eat much before the game, so I was feeling a little queasy. Toward the end of the game, I probably should have eaten one of those bars or something, but someone offered [a hot dog], so I grabbed it and tried to be discreet about it, but obviously not discreet enough. So I shouldn't have done that, and it won't happen again."
-- Mark Sanchez, on eating a hot dog on the bench in the fourth quarter.
I'm not sure if Sanchez is saying he won't eat a hot dog again or, if he does, he'll be more discreet about it. If he wanted to be more discreet about it against the Raiders, he should have just hid in the shadow cast by JaMarcus Russell as Russell devoured a whole steer.
Pictures of the Week
•"I'm exhausted. I'm usually napping at this time on a Sunday afternoon."
•"Look at the Texans' offensive coordinator -- Kyle Shanahan. He would be nothing without his father. Absolutely nothing."
•"You're the taller one, so I'm gonna call you Stretch."
•"Please, God, tell me what more I can do to get benched. I beg you."
•"No, I have no idea what's going on out there either."
•"I honestly didn't think I'd need sunscreen in late October."
•"I wonder if I ever will be able to make this franchise as good as the Arizona Cardinals?"
•"Does it feel strong enough to make another turnover?"
•"I really enjoyed watching you out there today. No, really. I mean it. Especially in the fourth quarter."
•"I felt very welcome. Many fans told me they find me even more womanly than David Beckham, which is quite an honor."
•"That Harvard education is worth nothing if they didn't teach you who your playmakers are."
•"Maybe I should grow a neckbeard."
•"Oh, goodness gracious. Jessica Simpson has really let herself go, y'all."
DJ Gallo is the founder of and sole writer for the sports satire site SportsPickle.com. He also is a regular contributor to ESPN The Magazine and has written for The Onion and Cracked. His first book, "SportsPickle Presents: The View from the Upper Deck," is on sale now.
NFL WEEK 7 COVERAGE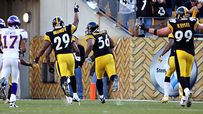 COMMENTARY/BLOGS
MNF: Eagles 27, Redskins 17