Commentary
UFL: Here's how to improve your league
Originally Published:
November 11, 2009
By
DJ Gallo
| Page 2
Baseball season is over.
Football completely rules the sporting world. NFL. College. High school. UFL. Yes, UFL. Our newest professional football league is now six weeks old, and I have watched all or part of every game. Yes. Really.
UFL executives, if you are reading, I am your league's No. 1 fan. Here's how I think you can improve your product.
Change your league slogan
The UFL: Where Future Stars Come To Play! That's the league's motto. Really. I'm not making it up. Check out the UFL Web site if you don't believe me.
[+] Enlarge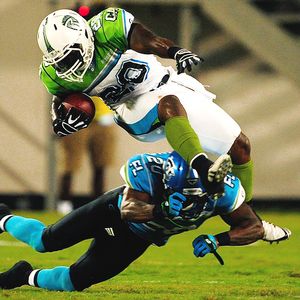 Sam Greenwood/Getty ImagesFlorida Tuskers cornerback Ricky Manning Jr., a Chicago Bears castoff, upends California Redwoods running back Cory Ross, a Baltimore Ravens reject.
Here's the problem with that slogan: It's absolutely 100 percent wrong. No future stars are playing in the UFL. It's blatantly false advertising.
A random sampling of UFL players: Simeon Rice, Todd Sauerbrun, Sonny Shackelford, Tim Rattay. So that's a former kind-of star, a punter with a checkered reputation, a guy I never heard of yet can guarantee will never be a star, and an NFL washout who is best known for tearing his groin muscle off the bone. And that's a pretty fair sampling of UFL players (nausea-inducing groin injuries excepted).
There are no future NFL stars in this league. None. There may not even be any future UFL stars in this league. If you're going to lie, at least go big. Like … "The UFL: It Cures Emphysema!" Or … "The UFL: Our Games Are Played On The Moon And 10 Lucky Viewers Will Win 1 Trillion Space Bucks Redeemable At All Space-Marts!" Both are as accurate as the "Future Stars" bit.
Here is what I propose … "The UFL: It's Their Last Chance."
True? Definitely. Refreshingly so. But does it sell the league? Absolutely. People will watch if they know there's a chance to see someone's lifelong dream die. Sad, but true. It's the same reason millions watch figure skating and gymnastics every four years.
Get bigger-name players
The USFL gave it a run in the 1980s by signing guys such as Herschel Walker and Jim Kelly. That's not the UFL strategy, and that's fine. But the league still needs to do better than the likes of Rice, J.P. Losman, Brooks Bollinger and DeDe Dorsey. Not a single person in America will buy a ticket or turn on the TV to see those guys.
The UFL needs players people are curious enough to see that they'll flip a game on for a few minutes.
Failing to bring in Michael Vick was probably a mistake. But he desperately wanted to play in the NFL and for big money. Not much the league could do there.
Plaxico Burress, though, should already be signed to a contract. Same with college stars such as former Texas Tech quarterback and Heisman candidate Graham Harrell. If a guy who still has name cachet can't hook on to an NFL team as a rookie, the UFL should snatch him up, benefit from his name for a year, and then cut bait.
That brings us to Matt Leinart. He's still stuck on the bench in Arizona and is closer to moving down the depth chart than up. Perhaps he needs a change in scenery. Perhaps he needs to be told there's a UFL team in Vegas. Done and done.
Now which would you rather watch: A league featuring the likes of J.P. Losman and Obafemi Ayanbadejo … or one flush with talented ex-cons, collegiate legends and high-profile NFL draft busts who might get your league some mention in US Weekly? Exactly.
Reconsider your broadcasters
[+] Enlarge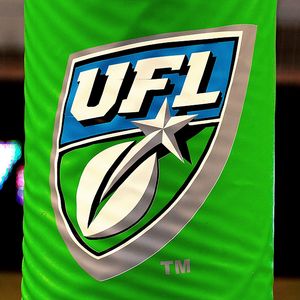 Sam Greenwood/Getty ImagesThe UFL already has sweet goalpost pads. Now it just needs some cool rules, pronto!
Doug Flutie does color commentary for UFL games. Kordell Stewart is a sideline reporter. Both of them do a fine job. Here's the problem, though: Either could step on the field and instantly become the best quarterback in the UFL. By a mile. For all the knocks that Stewart took in his career, for all those who said Flutie was too short, they are still light-years ahead of Losman, Rattay, Bollinger, Quinn Gray, Mike McMahon and Ingle Martin. Everyone knows that.
It's bad if at any point during the broadcast your viewers wish the guys calling the game were playing. Really bad. I mean, I've never watched an NFL game and thought: "You know, John Madden would have made that block." Or: "No way Cris Collinsworth doesn't come down with that pass." (Unless I'm watching the Rams, of course.)
Press reset on the uniforms
What are these things? It's like they were designed for a direct-to-Nickelodeon football movie. Also, two teams with nearly identical white helmets? Bad idea. As though the quarterbacks playing in the UFL don't already have enough problems spotting open receivers. I mean, I know there are four teams in the UFL, so it's hard to come up with different helmet colors for everyone. But still. Invent a new fourth color or something.
If you're launching a start-up league, you want gear that fans will want to buy and wear. Stuff they think will make them look cool, like they're in on a hip, new trend. Columbus Crew T-shirts, for example. Very cool. Yet under no circumstances would I watch a Columbus Crew game.
But these UFL jerseys are terrible. The only people you'll ever see wearing them outside of a UFL game are Seattle Seahawks looking to improve their wardrobe.
Change up the rules
The UFL is not gimmicky like the XFL. It wants to play traditional football. I respect that. For example, unlike the XFL, the opening possession is not determined by two guys running full speed at a football placed at midfield. There is no place for that in legitimate football. Unless it's used as a means to determine who will start at quarterback for the Browns.
But if viewers know they're not watching something better than the NFL, we need to think we're watching something a little bit different from the NFL.
Granted, the UFL does have a few rules different from the NFL. For example, there's no tuck rule. (Sorry, Tom Brady, you'll never play in the UFL.) And players can celebrate after scoring. (What? Fun and spontaneous joy in sports? NOOOOO!) And the UFL's overtime system actually, you know, allows both teams to get the ball. (Insanity!)
But more can be done.
Adopt some of the XFL rules. Not all of them were stupid. For example, people aren't watching B-leagues to see kicking. So, like the XFL, do away with extra points and implement one-point conversions. Vince McMahon's bonus system for players on the winning team was smart, too.
But I'd like even more.
Let's get rid of place-kicking completely. If you cross the 50, you have to go for it on fourth down; a team can punt only from its own side of the field.
Give coaches one do-over a game. Really. It would be like the challenge flag in the NFL. Only in the UFL you get to use it only once a game. Your quarterback throws an interception that's returned for a touchdown? Do-over flag! You give up a crucial fourth-and-long late in the game? Do-over flag! The only downside is that the UFL has quality head coaches in guys such as Jim Fassel. I'd much rather see this rule in the NFL where someone like Andy Reid would blow his one do-over in the first quarter on a 40-yard completion when he thought his receiver went for 41 and got a bad spot.
Go hockey-style on penalties and implement power plays. If you commit what's now a 5-yard penalty, such as offsides, you don't lose a down or yardage -- you just play short-handed for one play. A 10-yard penalty like holding puts you short-handed for two plays. A personal foul equals three plays.
Power plays in football? What are you -- stupid?
Maybe. Like I said, I've watched every UFL game.
DJ Gallo is the founder of and sole writer for the sports satire site SportsPickle.com. He also is a regular contributor to ESPN The Magazine and has written for The Onion and Cracked. His first book, "SportsPickle Presents: The View from the Upper Deck," is on sale now.