Commentary
DJ Gallo's Offseason Pigskinpalooza!
Originally Published:
April 8, 2010
By
DJ Gallo
| Page 2
We're getting closer and closer to real football. Spring practice has started. The draft is almost here. It's time to break the Pigskinpalooza down into positional meetings -- the five topics found in most any football column: Money, Coaches, Quotes, Laws and Miscellaneous. (Some also include a sixth category -- actual football insight -- but let's not get carried away. It's only April. Maybe I'll have something for that when the college football playoffs start.)
MONEY
• Tim Tebow has reportedly signed an endorsement deal with Nike worth $300,000 annually. Finally Nike has someone who can sell its football apparel like Michael Jordan moved basketball product. The Jumpman brand begat the Jump-pass-man brand.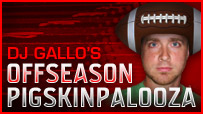 • A U.S. District Judge has confirmed the ruling of an NFL arbitrator and has ordered Charles Rogers, the No. 2 overall pick in the 2003 draft, to replay $6.1 million of his $9.1 million signing bonus to the Lions. Ouch. Tough one, Charles. But I say do it. We're talking about the Lions here. They're dumb enough to take your money and then use it to sign you to a five-year deal with a fat $6.1 million signing bonus.
COACHES
• New Tennessee head coach Derek Dooley will likely choose either Tyler Bray or Matt Simms as his quarterback. Simms, the son of Phil and brother of Chris, has been playing better in the spring. So if Simms is named the starter, only one question remains: Will he follow the lead of his brother and get his coach's initials tattooed on his leg?
• Steve Spurrier says he will be calling all of South Carolina's plays this season. In the past Spurrier had delegated many of his play-calling duties to his son, Steve Spurrier Jr. That was not popular among Gamecocks fans. You could say that the Young Ball Coach is as popular at South Carolina as Jay Paterno is at Penn State, or as Jeff Bowden was at Florida State. Football coaches of America: You always talk about wanting to spend more time with your families. Great. But, please, consider making quality time a non-staff position.
• Urban Meyer plans to play two quarterbacks this year, much like he did in 2006 with Chris Leak and Tim Tebow. Of course, two starting quarterbacks require twice as much coaching as one starting quarterback does. And you can't forget their backups in case they need to play due to injury. And you really have to put in time to develop everyone at the position for the future of the program and just to fulfill the most elementary requirements of a coach's job. And, well ... it's a good thing Urban Meyer is all rested up from that overnight retirement. He's going to be busy.
QUOTES
• William & Mary, in an official statement announcing a Griffin as its new mascot: "William & Mary's Griffin is a mythical creature with the body of a lion and the head of an eagle. ... Throughout history, the Griffin has been known as a guardian of treasure." Yes. I would say so. Look at the picture from that link. I understand the "treasure" it's guarding. And I ask the Griffin to continue standing to the side with its leg the way it is currently positioned, because I think we're one move away from seeing its "treasure," and that would scar me forever.
• Rams GM Billy Devaney on evaluating draft prospects: "A couple of weeks ago we were at [Ndamukong] Suh's workout and we left and said, 'Oh my gosh, this guy's really something!' A week before that we watched Gerald McCoy and it was like 'Oh my gosh, this guy's really something!' It's like a beauty contest; you can't go wrong. One is more beautiful than the other." Oh my gosh! I can't believe he said that. Staples needs to sign Devaney for their next batch of ads: "Oh my gosh! These prices are really something!"
• Michigan head coach Rich Rodriguez, on Tate Forcier being challenged for the starting quarterback job: "We've talked to Tate about how we are going to challenge him both on the field and academically." Nice. "Academically." Well-played, Rich. A 3-13 Big Ten record during your tenure is no reason to stop bringing the LOLZ. In fact, they're needed more than ever.
• Jason Taylor's agent, Gary Wichard, on his client's contract offer from the Jets: "This is a guy that I can honestly say the contract is not a motivating factor. The only things that matter are winning, enjoying football and getting a Super Bowl ring." Whoa, Gary. For your own job security, you might want to stop mentioning that. If money and a contract aren't important to him, why does he need to give you 10 percent of his salary? If he wants to win, I can tell him that he should sign with the Jets instead of the Raiders for 8 percent. OK, 6 percent. Final offer: 3 percent? OK, 2 percent -- one for telling you that the Raiders are bad, the other for the same information on the Lions. DO WE HAVE A DEAL?!?!
LAWS
• The police in Milledgeville, Ga., have finally handed their case over to the local district attorney. It's up to the DA whether to bring charges. The Ben Roethlisberger case, of course, is one of two cases that will really affect the value of this collectible.
• Maurice Clarett has been moved to a smaller detention facility, clearing his way for a release from incarceration within six months. The former Ohio State star's attorney says Clarett took classes on geriatrics and gerontology while in prison and hopes to work with the elderly. Looks like Al Davis finally found a feature back.
• Browns defensive tackle Shaun Rogers attempted to board a plane to Texas carrying a loaded gun. Oh, Shaun. You can only do that once you're IN Texas. It's how seating priority is determined there. "We will now board first class or anyone with a weapon big enough to convince us that you should be allowed into first class."
MISCELLANEOUS
• Brett Favre is a grandfather. His daughter, Brittany Favre -- that's right, Britt Favre -- gave birth to Parker Brett, 7 pounds and 7 ounces of grizzled baby. Better diaper that poopslinger, Brittany. But congratulations to the happy family. Enjoy these years. They go fast. The next thing you know, 20 years will go by and Brett will steal an NFL quarterback job out from under Parker and it will be incredibly awkward.
• Missouri State is losing athletic scholarships in basketball and football because it fell short of the required NCAA Academic Progress Rate, which measures player retention, eligibility and progress toward graduation. The basketball team is losing one scholarship for 2011-2012 and the football team will lose 2.83 scholarships for 2010-2011. Really: 2.83. That's not a typo. How a team can lose 2.83 scholarships, I am not sure. But if Missouri State can figure out this riddle, I think its academic reputation will be restored.
• Reggie Bush is running a football camp this summer. According to the Web site, participants receive "expert speed and agility training," an Army gift bag, lunch and the "opportunity to win awards and prizes." Of course, your opportunity to win awards and prizes is dependent on the kind of weapon you get in your Army gift bag. I mean, if you're carrying around a bazooka, I doubt camp organizers will deny you a free pair of iPod buds.
• Hey, did you hear Donovan McNabb got traded? It's true. He should help upgrade Washington's offense. Well, that is if he ever gets over his indigestion from watching the Redskins' 2009 highlight reel. Turn it off, Redskins! TURN IT OFF! You know the man has a weak stomach! You ever try to clean Chunky Soup out of a carpet?! It's impossible!
DJ Gallo is the founder of SportsPickle.com. His first book, "SportsPickle Presents: The View from the Upper Deck," is available from only the finest bargain book retailers. His next book project will be released soon. You can follow him on Twitter at @DJGalloESPN.