Commentary
Give me free stuff, or give me death
Originally Published:
April 9, 2010
By
DJ Gallo
| Page 2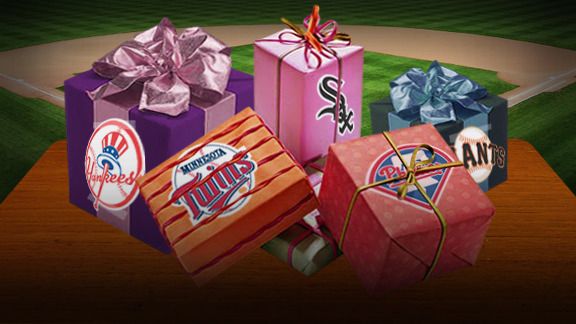 ESPN.com Illustration
As American sports fans we hold these truths to be self-evident, that all teams are created equal on Opening Day, and that we are endowed by our Creator with certain unalienable Rights, that among these are Life, Liberty and the pursuit of Free Crap.
Here are the best and worst MLB promotional giveaways on the 2010 calendar:
WORST
Mike Scioscia 2009 AL Manager of the Year Bust (Angels, April 8)
Great idea for a giveaway. Too bad the bust looks like demon Mike Scioscia. It's going to be hard for the Angels to play with the crowd shrieking in terror all night long.
PAGE 2 PODCAST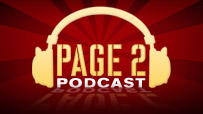 It's time for Friday's Page 2 Podcast with your hosts Mike Philbrick and DJ Gallo. Have a listen and you'll learn why:
• Older sports are better.
• You don't mess with Yanks-Red Sox.
• Tiger haters need to step up.
• Mr. Patterson needs to make up his mind.
Click here to listen up!

• Subscribe to the Page 2 Podcast through iTunes or the RSS feed reader of your choice for automatic updates as soon as the latest show is posted.
Singles Night (Reds, April 9)
The first 20,000 fans at Singles Night get this T-shirt. It's the perfect promotion for all the ladies who still haven't found that one special brah.
Scarf (Mets, April 10)
Wear this bright orange and blue scarf around your neck and Yankees fans will be able to spot -- and mock -- you from blocks away!
Oakland A's Fleece "Sluggie" (A's, April 15)
Finally, a way to make a snuggie even more of a punch line: It's a snuggie with A's logos all over it.
Indians Recycled Cap (Indians, April 17)
Everyone supports recycling. Except maybe bitter Indians fans who suspect their small-budget team is just giving them the old hat of a player it couldn't afford to sign.
Dante Bichette Collectible Lapel Pin (Rockies, April 26)
I realize he was one of the better players in Colorado's short history. But I don't think anyone wants this guy on his chest.
Cubs "W" Banner (Cubs, April 30)
It's the Cubs. The W here can't mean Win, can it? I think they accidentally left off the T and the F.
Amateur Baseball Day (Blue Jays, May 2)
Blue Jays versus A's. And also something else. Possibly. Maybe.
National Anthem: Maytag Repair Man (White Sox, May 3)
Whoa, whoa, whoa. So you don't have a lot of washers to fix. Fine. But who suggested you fill your spare time by singing the national anthem? This has all the markings of another ill-considered Kenny Williams move.
Luggage Tag Night (Yankees, June 1)
Want to have your luggage thrown around, kicked and dropped on purpose by baggage handlers on every flight outside of the New York metro region? Attach this handy Yankees luggage tag.
O's Ravens Rally Cap (Orioles, June 12)
What do you do when your team hasn't had a winning record since 1997? Hey! Let's give out a hat in the colors of the far more successful football team across the street!
Comic-Con Night (Padres, July 16)
Baseball stat geeks mixed with Comic-Con geeks? The world may contract into a nerdy black hole. (A nerdy black hole everyone in attendance at this game complains did not have good special effects.)
Tim Lincecum Bobblehead (Giants, July 17)
Bad idea. This could easily -- and will be -- hollowed out into a bobblebong by many fans.
Mullet Night and Fireworks (White Sox, July 30)
(A) I don't think it's wise to mix mullets and fire. It's fire-igniting hairspray up top, kindling in the back. And (B) this promotion only encourages these guys to show up.
Country Fireworks (Indians, Aug. 6)
The Indians have themed fireworks shows this year: Patriotic, Christmas, Beatles and the like. On Aug. 6 it's "Country Fireworks." I grew up in the country. Country fireworks are a drunk guy blowing his hand off with an M-80. Bad idea, Indians.
CC Sabathia Bobblehead (Brewers, Aug. 29)
Ummmmmmmm. I wonder when the Brewers are having Derek Jeter Bobblehead Night.
Kids PNC Park Puzzle Poster (Pirates, Sept. 19)
If this September is like the past 17 Septembers, this puzzle will be way too hard for kids. All the empty seats look exactly the same!
BEST
Super Cowbell (Rays, April 8)
Cowbells: fun. 40,000 people doing their Christopher Walken impression: not fun. (Well, it's a Rays game. Let's make that 4,000.)
Plush Cow Giveaway (Orioles, April 11)
What does a cow have to do with the Orioles? Oh, right. Cows are also often slaughtered. Well played, Orioles marketing department. Well played.
Bernie Brewer Bobblehead (Brewers, April 11)
The man spent years jumping into beer. This may be the most obvious -- and necessary -- bobblehead ever. If only there was a pull string so we could hear him slur his words as he bobbles.
John Fogerty Postgame Concert (Rays, April 24)
A million dollars says he plays "Centerfield" (although Tampa could use him more in left field since Carl Crawford will leave at the end of the season as a free agent).
Justin Verlander "K-Counter" Bobblehead (Tigers, April 30)
Count along with every Verlander strikeout. And no worries if he doesn't have a good game. The bobblehead is sponsored by a chip company. You can also use it to count all the calories you consume at the game. (Unfortunately, the counter stops at triple digits.)
Target Field Fishing Lure (Twins, May 7)
It's rare in this modern, litigious age to get something free that can poke your eye out. You have to support that. And what good Minnesota fish won't happily chomp down on this lure in excitement over the new stadium?
Mother's Day White Baseball Hat (White Sox, May 9)
A promotional item for females at a baseball game and it is NOT the color pink? This might just be the best promotional item of all time!
Brandon Inge Replica Glove Kids Day (Tigers, May 16)
A little glove made just for kids! Probably the same size as Inge's real glove!
Willie Mays "The Catch" Bobblehead (Giants, May 16)
A very cool and historic bobblehead. Although if you don't have it facing backward, it's just a bobblehead of Mays making a catch using very poor fundamentals. Explain it to your kids, parents, or they'll be taking a lot of fly balls to the face in Little League.
Andre Ethier Action Figure (Dodgers, July 8)
Do your kids like soccer more than baseball? Not a problem. Just tell him or her it's a Cristiano Ronaldo action figure.
Manny Ramirez Action Figure (Dodgers, July 22)
With real loafing action!
Cubs White T-Shirt (Cubs, July 23)
Turn it inside-out and ... VOILA! A white flag.
Beer and Pitcher Cup Set (Nationals, Aug. 13)
Watching the Nationals play baseball would drive anyone to drink. May as well drink with Nationals-logoed beer accessories.
"Tigers Fan Parking Only" Sign (Tigers, Sept. 10)
Eh. Not that great of a giveaway. Plus, no one should be encouraging anyone to park in Detroit. Don't want to be walking to your car late at night there. However ... if you just take a marker and add a little apostrophe between the R and the S in Tigers, you've got yourself a whole new collectible. You might even be able to convince a tabloid you had an affair with him.
DJ Gallo is the founder of SportsPickle.com. His first book, "SportsPickle Presents: The View from the Upper Deck," is available from only the finest bargain book retailers. His next book project will be released soon. You can follow him on Twitter at @DJGalloESPN.