Commentary
Philadelphians can read the phine print
Originally Published:
May 4, 2010
By
DJ Gallo
| Page 2
A teenage Phillies fan was Tasered on Monday night after he ran onto the field during a game. This comes just a few weeks after an intoxicated Phillies fan vomited on an 11-year-old girl.
As we all know, these incidents are far from the first such displays by Philadelphia fans. We've come to the point that you almost expect something like this to happen if you go to a sporting event in Philadelphia.
Here's an incomplete history of previous boorish behavior by Philadelphia fans:
• Aug. 21, 1949: Phillies fans shower the field with glass bottles in protest of an umpire's call. The Phillies forfeit the game to the New York Giants.
• 1960s: Fans routinely pelt All-Star Phillies third baseman Dick Allen with batteries -- to the point he begins to wear a batting helmet in the field.
• Dec. 15, 1968: Fans infamously boo a man dressed as Santa Claus.
• Jan. 6, 1972: Flyers fans pelt St. Louis coach Al Arbour with debris, causing Arbour and Blues players to enter the stands at the Spectrum to fight fans.
• Dec. 10, 1989: Eagles fans pelt Dallas players and coaches -- and the broadcasting crew in the open television booth -- with snowballs. Future Pennsylvania Gov. Ed Rendell purportedly is among the hooligans.
• Aug. 10, 1999: Phillies fans litter the field with debris to show their displeasure with Cardinals outfielder J.D. Drew, who had previously been drafted by Philadelphia but refused to sign. Umpire Ed Montague confiscated two D-cell batteries that had been thrown at Drew.
• Oct. 10, 1999: Eagles fans cheer as Dallas receiver Michael Irvin lies motionless on the field and when he is removed on a stretcher after what turned out to be a career-ending injury.
• Nov. 23, 1997: In response to alcohol-fueled lawlessness at Eagles games, city officials establish a criminal court at Veterans Stadium.
• March 29, 2001: A Flyers fan fights with Toronto right winger Tie Domi after falling into the penalty box during a heated exchange.
So, why is this such a problem specifically in the City of Brotherly Shove Love?
Page 2 has the answer. Our dubious network of sources has uncovered the "actual" fine print found on the back of Eagles, Phillies and Flyers tickets. (No one cares enough to act belligerent at a Sixers game.)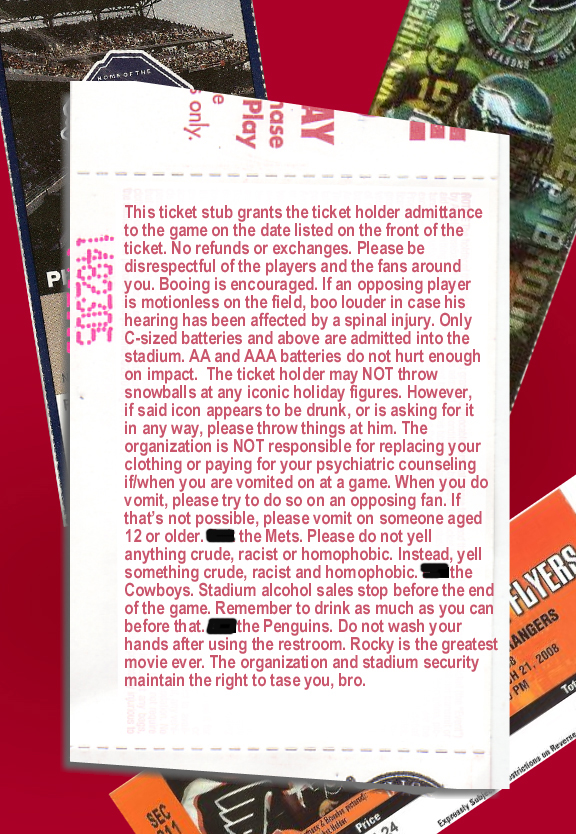 Illustration by Kurt Snibbe. Page 2 editor Thomas Neumann contributed to this article.
DJ Gallo is the founder and sole writer of the sports satire site SportsPickle.com. He also is a regular contributor to ESPN The Magazine and has written for The Onion and Cracked. His first book, "SportsPickle Presents: The View from the Upper Deck," is on sale now.