Commentary
Page 2 rates the livability of sports cities
Originally Published:
May 14, 2010
By
DJ Gallo
| Page 2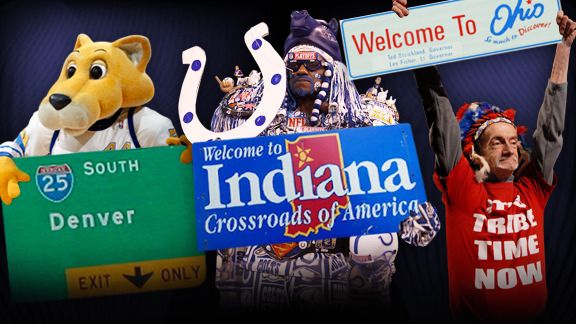 ESPN.com Illustration
Last week Forbes released its annual list of the "Most Livable Cities" in America. Using vast amounts of data -- including the arts, job prospects, safety and affordability -- Pittsburgh was deemed No. 1.
Yet in its calculations, Forbes did not include team winning percentage, ticket prices, tailgating or anything else vitally important to the livability of a sports town. So I decided to determine which North American sports cities are "livable" and which are "unlivable."
Note: This list includes only cities with three-plus professional teams, or two professional teams and a major college program within an hour's drive. So, Indianapolis is included; San Diego is not. (As though there's any question whether it's rough living in San Diego.)
ATLANTA
Livable:
The Braves, the Hawks, the Falcons, the Thrashers, and Georgia Tech football and basketball all are decent. But far from great.
Unlivable: The Braves, the Hawks, the Falcons, the Thrashers, and Georgia Tech football and basketball all are decent. But far from great.
Verdict: Unlivable. There really is no hope of any team in town winning a title. It's a .500 sports town ... with championship traffic.
BALTIMORE
Livable:
The Ravens are consistent playoff contenders. And Maryland's solid basketball program is a manageable drive down I-95. Also, if you're into lacrosse, this is the city for you.
Unlivable: Just as Camden Yards is the perfect template for all future baseball stadiums, the Orioles are the perfect template for baseball failure. Worst of all, they're stuck playing in the American League East. It would be like dropping Ralph Friedgen in the SEC.
Verdict: Unlivable. Eight Ravens games a season don't outweigh 81 Orioles games. Just as Gary Williams doesn't outweigh Friedgen. You know ... figuratively.
BOSTON
Livable:
The Celtics, Bruins, Patriots and Red Sox all have made the playoffs in the past year. They also have combined for six championships in the past decade. It doesn't get much better than that.
Unlivable: The Celtics, Bruins, Patriots and Red Sox all have made the playoffs in the past year. They also all have been left for dead by the Boston media and many fans in that same time period. It doesn't get more Boston than that.
Verdict: Livable. But barely. You have no idea the anguish that comes from constant success!
CHICAGO
Livable:
The Blackhawks are the only good team in town right now. But having a livable sports town is more than just winning, as the experience of taking in a game at Wrigley Field proves.
Unlivable: I just gave the Blackhawks and Cubs as the two positive examples. Yikes.
Verdict: Livable. But just barely, thanks to history and tradition. Jay Cutler could easily turn this decision over.
CINCINNATI
Livable:
The Bengals are coming off a division title, the Reds have young talent and a winning record, and the Cincinnati Bearcats have been to two consecutive BCS bowls.
Unlivable: The Bengals are hoarding troubled players, the Reds are managed by Dusty Baker and the Bearcats lost their football coach to some mid-major in Indiana.
Verdict: Livable. It's a small sports town, but good things are happening. You know, as long as it being a small sports town doesn't mean you have to regularly cross paths with a Bengal. That definitely could have a negative impact on your quality of life.
CLEVELAND
Livable:
Well. It has enough oxygen to sustain life. So that's nice.
Unlivable: The Cavaliers. LeBron James could be gone. The Indians. The Browns. My God. Oh, and the past 46 years.
Verdict: Do I really have to say? I mean, why rub it in?
DALLAS
Livable:
They call the Cowboys "America's Team." That's quite a stretch, but they're definitely Dallas' Team. As are the Mavericks and Stars, who both are consistent winners. And the Rangers have an exciting ballclub. Plus, Jerry Jones is bringing major events into town with the new Cowboys Stadium.
Unlivable: Tony Romo and Dirk Nowitzki can't win in the playoffs. Jerry Jones and Mark Cuban are more tolerated than beloved. Despite winning records, the Stars have missed the playoffs the past two seasons. If the Rangers were really that exciting, their manager probably wouldn't have done coke. And the cost of every event at Cowboys Stadium is so high, it's difficult for the average person to go. (Although for just $29 you can watch a Cowboys game on TV in the same complex in which they play! Yippee!)
Verdict: Livable. But just barely. The chance to meet Jerry Jones in a bar is what puts it over the top.
DENVER
Livable:
The Nuggets, Avalanche and Rockies are consistent winners. The Broncos have been down, but now they have Tim Tebow, and he gives Denver unmatched livable intangibles. Plus, if you actually like to, you know, participate in athletic activities, you can't do much better than living in Denver.
Unlivable: Be careful with all that activity. You could tear your hamstring or something.
Verdict: Livable. Although that's a gross understatement. Tim Tebow is in town. I don't think anyone would refer to heaven as "livable."
DETROIT
Livable:
Well, the Tigers are off to a fairly good start. And you and a few friends could always
buy an arena
and live in it if you wanted to. That's extremely livable.
Unlivable: The Red Wings' run might be over. The Pistons stink. And the Lions remain nothing to get aroused about, regardless of Jim Schwartz's tastes in tailbacks. When things used to be bad in Detroit, you could always escape west to Ann Arbor and the success of University of Michigan athletics. Not anymore. Now it's probably best to go east and just walk into the depths of Lake St. Clair.
Verdict: Unlivable. It's good Jim Leyland can't smoke anymore. If the Tigers caught on fire, Detroit would have nothing left.
HOUSTON
Livable:
There's a choo-choo in the outfield at Minute Maid Park!
Unlivable: The Rockets are a constant disappointment. As are the Astros. The best thing the Texans have going for them is that no one expects much of them. And unlike a city like Denver that is great for outdoor activities, the only outdoor workout that's advisable in Houston is carrying your new air conditioner from your car into your house.
Verdict: Unlivable. I don't care what Jim Nantz says.
INDIANAPOLIS
Livable:
On the pro side, it has the Colts and the Pacers. Indiana University is an hour away. Final Four darling Butler is in town. And the Indianapolis Motor Speedway is the home of racing. That's a great sports mix.
Unlivable: The Colts are really the only consistent team in the bunch. Butler has a great program, but at its size, it's obviously not a frequent national title contender. If you want a true Cinderella story, the Pacers or Hoosiers finishing above .500 might fit the bill.
Verdict: Livable. Wait ... Marvin Harrison no longer lives there, right? OK. Just wanted to check. So, yeah: Livable it is.
LOS ANGELES
Livable:
It's Los Angeles. It's plenty livable. You've got the Lakers and the Dodgers and ... I don't know. It's Los Angeles.
Unlivable: The traffic is slow. And there's no NFL team. But no one cares. You know why? It's Los Angeles. And guess who just passed me while I was sitting in traffic on the way to the Dodgers' game? Blake Lively. Oh, no! The Rams are gone!
Verdict: Livable. Sure, it's not like being a sports fan in New York or Philadelphia. But that's the point.
MIAMI
Livable:
There's plenty of sun and fun. And, if it's raining or something, you can go to any number of sporting events.
Unlivable: You could actually build a house in the empty seat acreage at Marlins games. The Miami Heat retired No. 23 in honor of Michael Jordan. The dolphin on the Dolphins helmet is wearing a mini helmet. There's a hockey team in South Florida. The Miami Hurricanes' football program now values other things beyond winning. There are many things wrong here.
Verdict: Unlivable. For a sports fan. Because it makes you discover there are far more exciting things in life than watching people play sports. And we don't need that sort of reality check.
MINNEAPOLIS-ST. PAUL
Livable: Minneapolis-St. Paul joins Boston and Chicago as the only cities with a BCS program in town and teams in all four professional sports. (Sorry, Miami. The Panthers aren't really in Miami. The Panthers. Your NHL team? Ah, never mind. Oh, and don't get cocky, Chicago. Northwestern doesn't really count.)
Unlivable: Of those five teams, only the Vikings and Twins are good. And the Vikings resorted to hiring (former) enemy of the state Brett Favre. The death of your soul is not really worth a trip to the NFC Championship Game.
Verdict: Livable. There's plenty of losing, but with so many teams to root for, hope is always just one season away. Especially because Favre's contract runs out in one season.
NEW YORK
Livable:
Well, there's the Yankees, of course. The Giants and Jets should contend this season in their shiny new stadium. But the rest are tragi-comedies the likes of which Broadway has never seen.
Unlivable: Ticket prices are outrageous, and that shiny new stadium is in New Jersey. But worst of all is the onslaught of media coverage. Every tweaked hamstring is a tragedy, each loss a reason to panic. It's tough to enjoy even a championship season in that atmosphere. Forget trying to enjoy the Knicks.
Verdict: Unlivable ... for most cities. But if you live in New York, you think it's the center of the universe. In fact, if I were a New Yorker, New York probably would be the only city I'd rate as livable.
OAKLAND
Livable:
The Raiders, the A's and the Warriors aren't much. Neither is Cal. But as they say, a rising tide lifts all boats. It also beaches whales. And JaMarcus Russell is gone. So maybe the Oakland tide is rising.
Unlivable: You have seen Raiders fans. No one who is happy and balanced would dress like that.
Verdict: Unlivable. Just as you would expect a sports town lorded over by Dark Lord Al Davis would be.
PHILADELPHIA
Livable:
The Phillies have a star-studded team that has become a consistent winner. The Eagles and Flyers are consistently in the playoffs. Villanova, Temple and Saint Joe's give Philadelphia a healthy college basketball scene. And for all the criticism of Philadelphia fans, you can't discount their passion.
Unlivable: The city rightfully enjoyed the Phillies' 2008 World Series title. But that championship also reinforced the constant postseason failures of the Eagles and Flyers. And while all of Philadelphia's pro teams have nice, new venues, they are set far off from downtown. (Although that also could be seen as a positive if it discourages you from going to a Sixers game.)
Verdict: Livable. But even when it's going well, there is always a sense in Philadelphia that things will end poorly. You're happy and carefree and frolicking through the outfield and then -- ZAP! -- suddenly you're Tasered to the ground.
PHOENIX
Livable:
The Suns and Cardinals are playoff regulars. Even the Coyotes made it this season, thanks to getting rid of that no-good Wayne Gretzky. The Diamondbacks have potential and, best of all: a pool.
Unlivable: The baseball stadium needs a pool. Dear God. Sure, it's a dry heat. Big deal. I've never seen a wet oven.
Verdict: Livable. Mostly. But if you're wearing a Los Suns jersey, don't be surprised if you're stopped by the cops. And it won't be to give you a high-five.
PITTSBURGH
Livable:
The Steelers have won two of the past five Super Bowls. The Penguins have a Stanley Cup, the best player in the world and a new arena set to open. Pitt football and basketball will open the upcoming seasons in the top 20. And you can get to every venue in an easy walk from downtown.
Unlivable: The Pirates have more consecutive losing seasons than any other team in professional sports history. They are incredibly awful. As for the Steelers, it's bad when almost everyone in town wants to punch the face of your franchise.
Verdict: Livable. Five of the six teams in town are good. And PNC Park remains a draw with its view, great food options and many trash receptacles in which to discard unwanted Ben Roethlisberger memorabilia.
RALEIGH
Livable:
It's the perfect mix of pro and college, with the Carolina Hurricanes, Duke Blue Devils and North Carolina Tar Heels all nearby.
Unlivable: The NFL and NBA are a long way off in Charlotte. Same with the closest NASCAR track. And for baseball, it's either the Braves to the south or the Phillies to the north. (The Nationals and Orioles can't really be considered baseball.)
Verdict: Livable. Unless you are a North Carolina fan this year. Or a Duke fan last year. Which I suppose basically covers everyone. So let's change it to unlivable.
ST. LOUIS
Livable:
The Cardinals have one of the most devoted fan bases in sports, and those fans are rewarded by getting to root for Albert Pujols day after day in a great new stadium.
Unlivable: The Cardinals play only from April through September. Perhaps they have so much fan support because everyone wants them to play into October every year. You know, to distract them from the Blues and Rams for an additional month. Worst of all, the Rams play in a dome. That's not real football. Oh. Right. Good point. The Rams don't play real football.
Verdict: Livable. St. Louis is a baseball town. Which is good. The citizens might be willing to donate to pay for Pujols' next contract.
SEATTLE
Livable:
Ichiro is an international superstar. Pete Carroll is hoping to do for the Seahawks what he did for USC. The Washington Huskies are a consistent NCAA tournament team, and Jake Locker might contend for the Heisman.
Unlivable: The SuperSonics are gone. Worse: They're gone and becoming very good. And while Ichiro and Carroll are nice names, their teams are terrible. Then there's this. It's bad when a team plays practical jokes on its fans.
Verdict: Unlivable. Seattle is a great place to live if you're a person. But not so great if you're a person who likes sports. I think this Ken Griffey Jr. quote sums it up best.
TAMPA
Livable:
The Rays are up, and the Lightning and Buccaneers are down. I said: "The Rays are up, and the Lightning and Buccaneers are down!" Hello?! If anyone in Tampa is reading, maybe consider attending some Rays games.
Unlivable: It's not only the Rays who don't draw. The Buccaneers got fewer fans this season than South Florida, and the Lightning averaged only 78.4 percent of capacity this season. That's nearly full capacity apathy.
Verdict: Unlivable. Whatever.
TORONTO
Livable:
The Blue Jays and Raptors might not be much. But Toronto is a hockey town, and the Maple Leafs? They had the worst record in the Eastern Conference this season. Dammit!
Unlivable: The Argonauts were 3-15 last season. Yikes.
Verdict: Unlivable. But cheer up, Toronto sports fans! The G20 is in your city next month. No one says you can riot about sports. Just ask Montreal Canadiens fans.
WASHINGTON D.C.
Livable:
The D.C. metro makes it really easy to get around town to all of the city's sports venues.
Unlivable: The city's sports venues are home to the Redskins, Wizards, Nationals and Capitals. Washington sports fans would be spared a lot of heartache if it was much more difficult to get to games. Perhaps the metro lines can be replaced with gravel paths.
Verdict: Unlivable. But help is on the way. Dan Snyder will soon charge $500 for a Personal Grief License.
DJ Gallo is the founder of SportsPickle.com. His first book, "SportsPickle Presents: The View from the Upper Deck," is available from only the finest bargain book retailers. His next book project will be released soon. You can follow him on Twitter at @DJGalloESPN.