Commentary
College football's mega-stadiums
Originally Published:
July 15, 2010
By
DJ Gallo
| Page 2
Michigan has expanded The Big House, pushing its seating capacity ahead of Penn State's home field and making it the biggest football stadium in America again.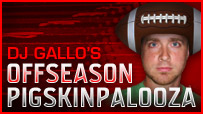 Let's take a look at the 10 biggest football venues (subject to change at any time when some school's boosters and alums get jealous):
10. Tiger Stadium -- 92,400
The home of the LSU Tigers is considered one of the loudest venues in sports. As any acoustics expert will tell you, this has a lot to do with the construction of the stadium and also how drunk voices are louder than non-drunk voices.
Tiger Stadium opened in 1924 with only 12,000 seats but has expanded gradually over the years. At its current rate of expansion, it will have 180,000 seats by the end of the century -- which will come a lot quicker than you might think with Les Miles managing the clock.
9. Rose Bowl -- 92,542
The Rose Bowl is the home of UCLA football and, of course, the Rose Bowl. It opened in 1922 and was modeled after Yale Bowl, apparently in that it had seats encompassing a football field. (Yale people are super smart! How did they think of that?) It holds the record for highest attendance for a bowl game (106,879, 1973 Rose Bowl) and for a Super Bowl (103,985, Super Bowl XIV). There are no plans to expand the venue, thereby preventing the Rose Bowl from having the record for most empty seats at an NCAA football game (tens of thousands as far as the eye can see, UCLA home games).
8. Sanford Stadium -- 92,746
Known for its row of hedges, the home of the Georgia Bulldogs had the hedges temporarily removed in 1996 so the stadium could host Olympic soccer. Yes, soccer. As you can imagine, this went over incredibly well in Georgia.
Sanford Stadium's most recent expansion of stadium seats came in 2003 with the addition of a 5,500-seat upper deck, much of which is reserved for fans of the visiting team. Well-played, Georgia. But you should have faced the seats away from the field.
7. Los Angeles Memorial Coliseum -- 93,607
USC's home field boasts 1,065 more seats than the home stadium of rival UCLA. This is likely for reasons of bragging rights and utility (those extra seats can be used for player agents, realtors, financial advisors and the like).
Originally the Coliseum could seat more than 100,000 fans, but seating was reduced in the '60s and '70s. USC football has struggled to draw capacity crowds during down periods, but to the credit of its fans, they packed the house in 2005 even though the Trojans went 0-13.
6. Darrell K Royal-Texas Memorial Stadium -- 100,119
Everything is bigger in Texas. Except their football stadiums. They're still smaller than many stadiums in the SEC and Big Ten. (Admittedly, the preceding is not a very good state slogan.)
Interestingly enough, while Texas Memorial Stadium has more seating, the new Cowboys Stadium can fit more people with 30,000 standing-room-only "party plaza" spots that can push attendance to 110,000. And you know, Cowboys fans, if you're willing to ignore that whole "fire code" and "public safety" thing, I'm sure Jerry Jones would be cool fitting more of you in. As long as you pay full price.
5. Bryant-Denny Stadium -- 101,000
The Alabama Crimson Tide have sold out every home game since 1988, which is insane because, if memory holds, they were coached during that period by Mike DuBose, Dennis Franchione and Mike Shula. Sounds like there's a state out there that needs a hobby.
In 2006 seating in the north end zone was expanded, and stadium capacity will grow to 102,500 this season with an upper-deck expansion in the south end zone. But don't worry, Alabama fans. While you may not actually be able to see diminutive coach Nick Saban from upper-deck seats, remember that his ego is visible from space.
4. Ohio Stadium -- 102,329
Ohio Stadium was huge when it opened in 1922 with 66,210 seats for a Buckeyes home game against Ohio Wesleyan University. Unfortunately, only 25,000 people attended that first game as the state's football fans had yet to develop a taste for delicious cupcakes. But two weeks later, the venue was packed for a game against Michigan and has been pretty much ever since.
The stadium was heavily renovated in 1999 and 2000, allowing more fans to watch Ohio State play (and beat) Michigan while they enjoy seeing the band spell out Script Ohio. (By the way, there is no truth to the rumor that Cavs owner Dan Gilbert is paying the school to change it to Comic Sans Ohio. He may be nearby in Cleveland, but he went to Michigan State.)
3. Neyland Stadium -- 102,459
In 2000, the home of the Tennessee Volunteers reached a capacity of 104,079. That was reduced to 102,037 in 2006. And reduced again to 100,011 in 2009. And then increased to 102,459 for this season. I have no idea what they're doing. Is Tennessee aware that people bringing their own lawn chairs to the stadium doesn't count as far as official capacity?
2. Beaver Stadium -- 107,282
The Penn State Nittany Lions began playing in Beaver Stadium in 1960 when it opened with 46,284 seats. Expansion projects pushed it to 90,000 in 1991. A recent expansion that increased seating to its current level was controversial because the new upper deck concealed views of nearby Mount Nittany. It also apparently concealed views of elite recruits. (Ohhhhhhhhh SNAP!)
1. Michigan Stadium -- 109,901
Michigan Stadium held 107,501 seats before temporarily reducing capacity to accommodate construction, thereby dropping it below the seating number of Beaver Stadium. Ultimately, Michigan has added 2,400 seats to that original number for this season. And the school probably isn't stopping there. Said athletic director Dave Brandon: "We're already looking at future expansion." Sorry, Michigan fans. He was talking about seating capacity, not win totals.
DJ Gallo is the founder of SportsPickle.com. His first book, "SportsPickle Presents: The View from the Upper Deck," is available from only the finest bargain book retailers. His next book project will be released soon. You can follow him on Twitter at @DJGalloESPN.