Commentary
DJ Gallo's NFL Hangover, Week 1
Originally Published:
September 13, 2010
By
DJ Gallo
| Page 2
The opening week of the NFL season tends to be sloppy, and Week 1 of the 2010 season was no different. In fact, officiating and a penalty were among the biggest stories.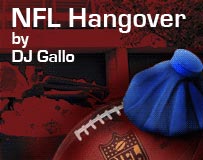 Calvin Johnson's (non-)catch -- In the past three months, Detroit sports fans have had a perfect game and a dramatic, comeback, Week 1 victory stolen from them. All that was missing Sunday was the head referee having a Jim Joyce mustache.
Yes, Johnson's catch was not really a catch based on the rule, the official name of which in the NFL rulebook is, and you can look this up: "A rule as dumb as the tuck rule … but for receiving! YAY!" But everyone knows he caught the ball. Even the annoying guy in every rec league who challenges every call wouldn't have tried to take that catch away.
Yet Lions coach Jim Schwartz took it in stride: "The time I stand up here and start blaming officials for a loss is the time I don't need to be doing this anymore."
Well, Jim, you'd better start winning so you don't get fired. Because with that attitude, you would make a terrible fan.
Alex Barron's holding -- Only Tony Romo can throw a game-winning touchdown on the last play and have it result in a loss. Barron's holding penalty -- his third in the final 31 minutes of the game -- took a touchdown to Roy Williams off the board. Fun fact: Barron is the most penalized offensive lineman in the NFL since 2005. (Note: This fact is probably only fun to the large portion of America that hates America's Team.)
But although some are calling for Barron to be cut immediately, I don't see it happening. One, the reason he was playing at all is because the Cowboys' line is decimated by injuries. So they don't have a lot of options. And two, I bet Alex Barron can hold a roster spot better than anyone else in football. It's what he does.
All the illegal activity in Houston's win over the Colts -- I didn't really see the Texans cheating, but I'm sure the league office will receive a letter Monday that reads something like this:
Dear NFL,
We do not care for whatever rule it is that allows some running back we've never heard of on what is barely an NFL team to run for 231 yards against the Colts, an NFL flagship franchise. If it's not completely illegal, it's at the very least rude! We demand this Colts loss be overturned immediately!
Also, we demand that Ed Hochuli no longer call Peyton's games, as he did Sunday. How can we complain to referees if we are afraid they could kill us?
-- Peyton and Archie
Horrible Fantasy Team That Crushed Your Fantasy Team This Week
David Garrard, QB, Jaguars -- 16-for-21, 170 yards, 3 touchdowns
Arian Foster, RB, Texans -- 33 carries, 231 yards, 3 TD
Matt Forte, RB, Bears -- 201 total yards, 2 TD
Hakeem Nicks, WR, Giants -- 4 catches, 75 yards, 3 TD
Nate Washington, WR, Titans -- 3 catches, 88 yards, TD
Marcedes Lewis, TE, Jaguars -- 2 catches, 31 yards, 2 TD
Quotes of the Week
"I feel like if I had been out there for four quarters, maybe we would've had a chance to win the game."
-- Michael Vick
Prison would humble many people. Michael Vick is not "many people."
"I don't want to say the organization, but I think around here in the New England area, there are some people who don't want to see me do good."
-- Randy Moss
Umm. Hellooooooo. Do well. There are some people in the New England area who don't want to see you do well. Maybe if you used proper grammar, Randy, the people of Boston would love you. It ain't no rocket science.
Stat of the Week
231 -- Arian Foster's Texans-record 231 rushing yards against the Colts was also the second-best opening week rushing performance since 1933, bested only by a 250-yard performance in 1973 by … O.J. Simpson. Wah-waaaaaah.
I feel as though any time an NFL player accomplishes something that puts him in the same sentence as O.J. Simpson, Roger Goodell should send him flowers and a card that reads: "Sorry to bring you into all that. Congratulations anyway. And please be good."
Pictures of the Week
• "This would be easier to watch if I were near-sighted."
• "OK, perfect. Now show us sexy."
• "The only way this day could get worse is if we somehow get completely screwed out of a win."
• "What's it like to have worse hair than a 69-year-old man?"
• "This is as high as I will reach for a ball unless I get a new contract."
• "How can you get as famous as me? Well, I'd say maybe don't try so hard. Oh, and maybe win something."
• "Should we start a feud or do you think we're so bad that no one will care?"
• "I'm sorry. I can't follow you. I don't have a Twitter account."
• "No, this is the side facing Manhattan. We sell bro-grams on the side facing New Jersey."
• "I'll have to take you into the locker room for tests to confirm it, but I'm pretty sure you have delhommitis."
• "I'm probably going to produce a lot of plaques this year."
• "Little help? Actually, no. A lot of help?"
• "Tell me your workout routine and tell me now."
• "Remember when you beat Brett in the playoffs at Lambeau in 2003? That was awesome."
DJ Gallo is the founder of SportsPickle.com. His first book, "The View from the Upper Deck," is available from only the finest bargain book retailers. His next book project will be released soon. You can follow him on Twitter at @DJGalloESPN.