Commentary
Josh McDaniels era ends, fans rejoice
Originally Published:
December 7, 2010
By
DJ Gallo
| Page 2
Last year around this time I interviewed Mark Leher, owner of the site FireJoshMcDanielsNow.com, for the Page 2 blog.
The site originally launched as a Fire Josh McDaniels blog and then briefly changed to Keep Josh McDaniels when the Broncos started the '09 season 6-0 ... before changing back to its original name.
I e-mailed Mark a few hours after Monday's announcement that Coach McDaniels was finally let go.
Page 2: How did you hear the good news?
Leher: I heard the news on the radio just seconds after the Broncos posted it on Twitter. A single tear rolled down my face and I called my wife and said "We did it, baby!" For many Bronco fans, McDaniels being fired was our Super Bowl. Horrible things like that have to become your Super Bowl when you are having your worst season in 40 years.
Page 2: So the mission of your website has come to pass. Now what? Shut the site down? Keep it running as a Broncos blog? Or sell it to some poor fan of a team where McDaniels lands next?
[+] Enlarge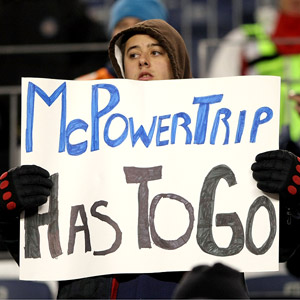 Doug Pensinger/Getty ImagesMark Leher may have the website, but he certainly isn't alone in his thinking.
Leher: I may continue it as a Broncos blog under a new name, but I think many of my readers are probably sick of me and not having to see my blog anymore could be at least half of the reason so many fans are happy about this firing. As far as the domain name goes, it is like a public trust that I just oversaw for a year and a half. It will always be available to be passed along to somebody in the next city where Josh McDaniels is hired.
Page 2: Have you received a call from Pat Bowlen yet apologizing for not listening to you sooner?
Leher: Pat Bowlen doesn't communicate with fans anymore except through carefully worded statements. That could be because he may be too busy reading ESPN Page 2, in which case I have a message for him: Mr. Bowlen, please show up to your own press conference tomorrow. I am happy you fired McDaniels, but even he deserves for the owner of the team to show up and answer questions from the media. Broncos fans are still confused about what is going on at the top of the organization, and you must clear it up. P.S. Please make the orange jerseys the primary home jersey.
Page 2: What's the feeling now on Tebow? He was the ball to McDaniels' juice. Or was it the other way around? Whatever.
Leher: People want to see Tebow on the field -- you can actually download a "Release the Tebow" ring-tone from a local Denver radio station -- 1043thefan.com. Tebow may be the only way to prevent a lot of empty seats at Mile High Stadium for the last two home games. I personally think if he is every going to be a successful NFL quarterback, then he needs to sit on the sidelines longer and learn -- a la Aaron Rodgers. Kyle Orton is the least of this team's problems -- keep him in place for now. Mid to long term, I really hope that Tebow is the answer at QB, because the Broncos cannot afford to spend another first-round draft pick on a quarterback with the total absence of an impact player on the defensive front seven.
Page 2: Josh McDaniels' little brother is still on the staff. Will you only know true peace when the entire staff is McDaniels free?
Leher: If the Broncos had a sense of humor, Ben McDaniels would have made a dynamite interim head coach.
Page 2: FireEricStudesville.com and FireEricStudesvilleNow.com are both available. Any thought of purchasing them just in case they'd come in handy?
Leher: At the risk of kicking McDaniels when he is down, Eric Studesville is a metaphor for why McDaniels was not successful. When the Cowboys fired Wade Phillips, Jason Garrett was there to be interim head coach. When Brad Childress was fired, Leslie Frazier was there to take over. The Broncos' assistant coaches/coordinators were so poorly put together that there was nobody like that to take over. Most people in Denver have not heard the name Eric Studesville before today. If this happened last year, Mike Nolan would have been ideal, but McDaniels ran him out of town. With all due respect to Eric Studesville, he probably shouldn't bother moving his things into the head coach's office.
Page 2: Anything you want to add?
Leher: It feels great to be able to cheer for the Denver Broncos once again -- I love the Broncos. It sucked to have to silently cheer for the Raiders, Chargers and Chiefs to beat us so we could get on with firing the head coach. To everybody in Denver, the McDaniels Era was dark and it divided us, but it's time to heal. Show your support for the Broncos and wear your orange and blue on Friday. I'll close with a prediction (don't forget that you heard it here first): At the end of Super Bowl L, the Denver Broncos will be hoisting the Lombardi Trophy.
Page 2: It is definitely true that I heard that here first. Thanks, Mark!
DJ Gallo is the founder of SportsPickle.com. His first book, "The View from the Upper Deck," is available from only the finest bargain-book retailers. His next book project will be released soon. You can follow him on Twitter at @DJGalloESPN.