Commentary
Your guide to Super Bowl prop bets
Originally Published:
February 3, 2011
By
DJ Gallo
| Page 2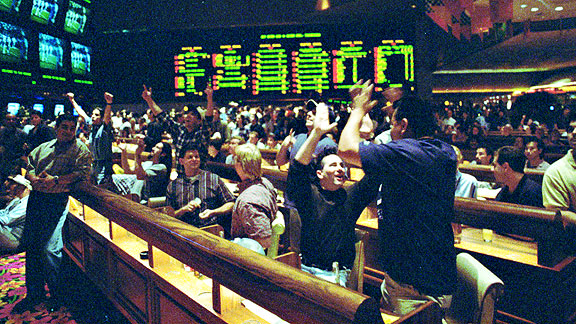 AP Photo/Lennox McLendonPut down your drink and swallow your nachos -- it's time to place some prop bets.
While the Steelers and Packers are preparing for the biggest game of the season, the rest of us must prepare to overeat, overdrink and lose money we don't have on ridiculous prop bets.
Here are some of the better prop bet options for this year's game (all from Bodog).
How Many Times will FOX mention "Brett Favre" on TV during the Game?
Over 2.5: -160
Under 2.5: -120
If you have any savings at all or can sell some plasma or something before kickoff, put everything you have on the over. Someone thinks Brett Favre could be mentioned fewer than two times during an NFL game? Featuring the Packers? I've watched amateur South American soccer matches on TV where he's been mentioned 50 times. Well, that's actually not true. I haven't watched amateur South American soccer matches. But only because I fear they will mention Brett Favre.
How Many Times will FOX mention "Lockout" on TV during the Game?
Over 1.5: -110
Under 1.5: -130
Another incredibly easy bet. We may all be millionaires come Monday. Not only will the biggest story in the NFL as soon as the clock hits zero be mentioned more than once, it will likely be mentioned more than once just in reference to Brett Favre! For example, I like the sound of this sentence: "Let's hope there is a lockout because it's the only way to keep Brett Favre from coming back again."
(By the way, the line on Brett Favre mentions in this column was 1.5. I hope you bet the over.)
How long will it take Christina Aguilera to sing the National Anthem?
Over 1 minute, 54 seconds: -160
Under 1 minute, 54 seconds: +120
Will Christina Aguilera wear a cowboy hat while singing the National Anthem?
Yes: +275
Will Christina Aguilera's hair color be anything except completely blonde when she sings the National Anthem?
Yes: +175
How long will Christina Aguilera hold the note "Brave" at the end of the National Anthem?
Over 6 seconds: -140
Under 6 seconds: EVEN
Are there any rules preventing the Super Bowl performers from betting on the game? Because Christina Aguilera could make millions singing the anthem by performing it quickly and in a cowboy hat and black hair.
How Many Times will FOX show Jerry Jones on TV during the Game?
Over 2.5: -135
Under 2.5: -105
I think we all really hope it's the over so we can enjoy really the most exciting story of Super Bowl XLV in Dallas: the Cowboys not being in it. But there's one problem with this line: You could argue that Jerry Jones could be shown exactly 2.5 times during the game if showing someone who is composed of 50 percent non-human/plastic parts five times equals 2.5 full-human viewings. It's a question for the gambling philosophers of our time.
Will B.J.Raji be on the field for at least 1 offensive play?
Yes: -185
No: +145
Another line with a possible loophole. If you consider having to watch B.J. Raji run offensive, then pick the over here.
Which Super Bowl commercial will have a higher rating on USA Today's annual Ad Meter?
Bud Light: 11/4
Budweiser: 11/4
Doritos: 11/2
GoDaddy.com: 10/1
Pepsi Max: 6/1
Skechers: 12/1
Teleflora: 15/1
Other: 5/2
I have no idea. But I know what company will have the most popular Super Bowl commercial next year when I launch my new web startup: TalkingBabyMonkeyCrotchPunch.com.
What will be the Result of the First Coaches Challenge in the Game?
Play Overturned: -105
Play Stands: -125
I am waiting to bet here until they offer Coach Is Questioned By 80 Million Drunken Americans For Using His Challenge, Even Though Many Are Watching Their First Football Game Of The Year.
James Harrison Tackles and Assists
Over 6.5: EVEN
Under 6.5: -130
If tackles include those that cause him to be fined by Roger Goodell, I'm going way over. But if fined tackles don't count, then under is the better bet.
LeBron James 1st Half Points vs. LA Clippers: -115
Green Bay Packers 1st Half Points: -115
Whoa. This seems very wrong. LeBron James being linked in some way to a title game? It doesn't feel right. Also: the Clippers. But especially LeBron.
Pittsburgh Steelers win Super Bowl, Pittsburgh Penguins beat Washington Capitals (2/6/11) and Pittsburgh Pirates win on MLB Opening Day (4/1/11)?
Yes: +900
Hmmm. I wonder which team might blow this. Tough one. If this guy would play, the only team standing in the way of big money would be the Steelers.
Heath Miller Receptions: +1/2 (-130)
Ben Hansbrough (Notre Dame) Assists: -1/2 (EVEN)
You know those ads on TV that talk about warning signs for a gambling problem? Understand that if you bet Heath Miller receptions versus Ben Hansbrough assists, your Super Bowl party should, and likely will, become an intervention.
What will Fergie be wearing when she first appears on stage during the Super Bowl Halftime Show?
Skirt/Dress: +110
Pants (Below Knees): +125
Shorts (Above Knees): +250
Thong/G-String/Bikini Bottom: +1000
I'm putting a dollar on the thong/g-string option and parlaying it with a bet that Roger Goodell will spontaneously combust during the halftime show. It's a smart bet.
Vegas missed an obvious Fergie option, though: Pants/Skirt/Shorts (peed).
Super Bowl XLV Specials -- What side of the ball will the Players that perform the Gatorade Shower be from?
Offense: +150
Defense: -200
Tough call, but the odds are slightly better than it will be a player from the offense because I know at least two defensive players -- Clay Matthews and A.J. Hawk -- appear to steer clear of anything related to showers.
Who will the Super Bowl MVP of the Game thank first?
Coach: +1000
Family: +400
God: +150
Teammates: +250
Does Not Thank Anyone: +200
"Hands" isn't even an option. RIP Freddie Mitchell.
What Color will the Gatorade be that is dumped on the Head Coach of the Winning Super Bowl Team?
Blue: 10/1
Clear/Water: 9/4
Lime Green: 11/2
Orange: 3/1
Red: 5/1
Yellow: 3/2
I have no idea. But if there's a prop bet about what color liquid will be dumped on the losing coach, I'll go with yellow.
What will happen with the Dow Jones the day after the Super Bowl?
Market Up: -140
Market Down: EVEN
I say Up. A Packers win or a Steelers win is good for the economy. Fun Fact: Cheeseheads and Terrible Towels are the only two products still made in the United States.
DJ Gallo is the founder of SportsPickle.com. His first book, "The View from the Upper Deck," is available from only the finest bargain-book retailers. His next book project will be released soon. You can follow him on Twitter at @DJGalloESPN.