Commentary
Charlie Sheen takes on the NFL lockout
Originally Published:
March 3, 2011
By
DJ Gallo
| Page 2
All reports suggest that NFLPA director DeMaurice Smith has done a fine job so far negotiating a new collective bargaining agreement with NFL owners.
But it's hard not to think that if Smith were replaced today with Charlie Sheen, the owners would quickly fold to Sheen's demands. He just wins.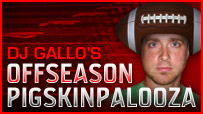 Take a look at how Sheen -- who currently needs a job and has experience fighting with management -- would craft the talking points on some of the major issues facing NFL players. (Note: All the quotes that follow are Sheen's actual words.)
On perceptions among NFL owners that the league just needs to wait out the NFL players, who will quickly blow through their money ...
"Sorry my life is so much more bitchin' than yours. I planned it that way."
"I'm a grandiose life, and I'm embracing it."
"They lay down with their ugly wives in front of their ugly children and then just look at their loser lives and then they look at me and they say, 'I can't process it.' Well, no, you never will. Just stop trying. Sit back and enjoy the show."
[+] Enlarge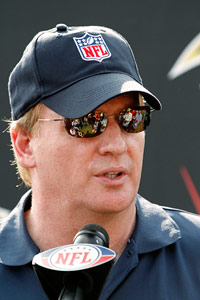 AP Photo/Rob CarrYou can rock the baseball cap all you want Commissioner Goodell, but you'll never be The Sheen.
On owners who doubt the strength of the players' convictions ...
• "If you borrowed my brain for five seconds, you'd be like, 'Dude! Can't handle it, unplug this bastard!'"
• "To have people think I'm insane or don't think what I'm saying is true, then I have no interest in their retarded opinions, I really don't."
On lingering hostilities from past CBA negotiations ...
• "People say: 'You have to work through your resentments.' Yeah, no, I'm gonna hang on to them and they're gonna fuel my attack."
• "Resentments are the rocket fuel that lives in the tip of my saber."
On the perception that the players have gotten the short end of past collective bargaining agreements, even though they are the ones the fans pay to see ...
• "I'm tired of pretending I'm not a total bitchin' rock star from Mars."
On past NFLPA directors who have been pushovers for the owners ...
• "Basically, they strapped on their diapers."
• "I have real fame. They have nothing."
• "Thought you were messing with one dude? Sorry."
• "There's a new sheriff in town and he has an army of assassins."
• "My success rate is 100 percent. Do the math."
• "I'm bi-winning. I win here, I win there."
On current public opinion coming down on the side of the players ...
• "I don't know ... winning, anyone? Rhymes with winning? Anyone? Yeah, that would be us."
• "It's been a tsunami of media and I've been riding it on a mercury surfboard."
On NFL owners' insistence that players attend offseason workouts and minicamps ...
• "To quote the great Allen Iverson: 'Practice. Come on guys, we talkin' 'bout practice.'"
On the public perception that the league's drug-testing program is toothless ...
• "Don't remember. Don't care. Drug tests don't lie."
• "I was bangin' seven-gram rocks and finishing them, because that's how I roll."
• "We're on a rocket ship to the moon some nights."
On the push to expand the testing program to include HGH ...
• "If you try it once, you will die. Your face will melt off and your children will weep over your exploded body."
On negotiating before a federal mediator ...
• "Who wants to deal with all the small talk and nonsense? And you're paying for something that eliminates that. But people are going to judge it, because they're so jealous."
• "We have to all sit in here and touch ourselves and frown."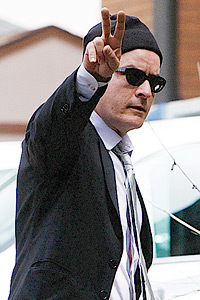 AP Photo/Ed Andrieski"Look it's a 'V' for victory ... or as I call it WINNING!"
On the belief that the owners and players are too far apart to come to an agreement anytime soon ...
• "We're Vatican assassins. How complicated can it be?"
• "I don't believe in panicking. Panicking is for amateurs and morons."
• "I don't have burnout in my gear box."
On Roger Goodell's steep penalties last season, which the commissioner claimed were to cut down on player injuries ...
• "I closed my eyes and in a nanosecond I cured myself."
• "I'm not recovering like some p----."
• "I have a disease? Bull----. I cured it with my brain."
• "I've got tiger blood, man."
On the special protection that star quarterbacks receive ...
• "Women are not to be hit. They are to be hugged and caressed."
On Roger Goodell's push to put an NFL team overseas ...
• "Did you say Cancun or caboose? I don't know, I was in a blackout, man."
On Roger Goodell's push for an 18-game regular season ...
• "Really dude? Really?"
• "Park your nonsense."
On NFL players who speak out against the union or cave to the owners' demands ...
[+] Enlarge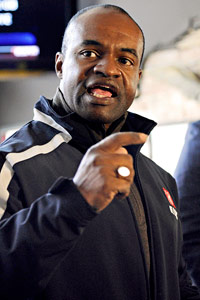 AP Photo/Craig LassigDon't sweat it DeMaurice, your warlock/white knight tiger-blood assassin is on the way.
• "They picked a fight with a warlock."
• "If you're a part of my family, I will love you violently. If you infiltrate and try to hurt my family, I will murder you violently."
• "Go back to the troll hole where you came from."
• "I am special, and I will never be one of you."
On what will happen if the owners cancel the entire 2011 season ...
• "I'm going to hang out with these smoking hotties and fly privately all around the world."
• "I'm just going to sail across the winds of the universe with my goddesses."
On reaching an agreeable compromise with the owners ...
• "I'm just giving them what I guess they want, I just don't know if they can handle it."
• "Oh wait, can't process it. Loser. Winning. Buh-bye."
On the percentage of the league's $9 billion in annual revenues that the players want ...
• "A little more, a little more. Add some gold! Add some gold! Bingo! ... I'm here to collect."
• "Gnarly Gnarlingtons."
On the NFLPA amending the last offer it put on the table ...
• "I'm done. It's on. Bring it."
And, finally, after inevitably getting Roger Goodell to cave to his wishes ...
• "Clearly, I have defeated this earthworm with my words. Imagine what I would have done with my fire-breathing fists."
• "Winning."
DJ Gallo is the founder of SportsPickle.com. His first book, "The View from the Upper Deck," is available from only the finest bargain-book retailers. His next book project will be released soon. You can follow him on Twitter at @DJGalloESPN.